Research and Creative Projects for Undergrads
The Research & Creative Projects Office helps undergraduate students find opportunities to apply what they learn in classrooms to dive deeper into a field of their interest. Doing research or having hands-on experience in creative projects boosts students' chances for employment or enhances their placement into a robust program in a professional or graduate school. All students are encouraged to participate in this high-impact practice.
Upcoming Events
Student Research Benefits
Students discover their passion and talents and continue to successful careers!
Research projects can lead to scholarships and/or awards; projects look good on student resumes and graduate school applications.
Research experience allows undergraduate students to better understand published works, learn to balance collaborative and individual work, determine areas of interest, and jumpstart their careers as researchers.
---
Find Research on the Connected Huskies Database
Find high-impact and experiential learning opportunities curated for UW Bothell students. This directory is growing and includes opportunities for research, merit awards and scholarships, creative projects, study abroad, and more. Use the filters in the sidebar to narrow down your search.

Connected Huskies Student Newsletter
Stay up-to-date with upcoming events, deadlines, and opportunities by signing up for Connected Learning's monthly newsletter. This email includes student events, student success stories, upcoming program deadlines, and more. When you sign up, you can also select optional specific interests you may have like research. Subscribe to student newsletter
---
Husky Cache: Student Research Repository
The Husky Cache opened in February 2023!
A hub where research and creative works enhancing the student journey can be collected and shared. Our goal is to foster a community of student researchers and promote the dissemination of knowledge. On the Husky Cache, you can find past projects from the UW Bothell student community. We invite you to share your own research projects and inspire others.
---
Research Symposiums, Presentations, and Fairs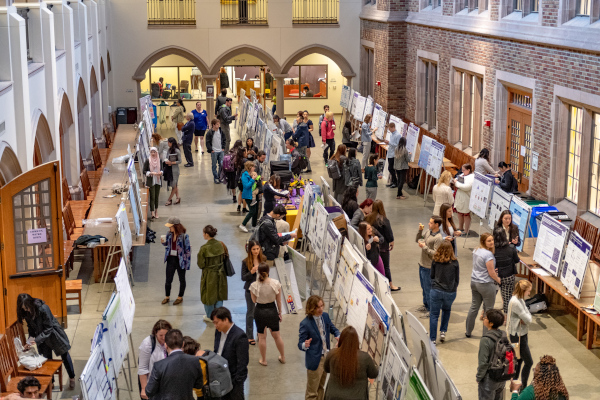 Students are encouraged to present their research or creative projects throughout the year. The UW Seattle Undergraduate Symposium takes place every May and features student oral presentations, visual arts & design displays, or research posters. Applications to present are usually due in February (check our calendar!).

At UW Bothell, most Schools have time to present at the end of the quarter with a research fair or capstone presentations. This is a great time to meet people with similar interests and practice presenting your research to a broader audience. It's time to celebrate!
Learn more about research fairs.
---
Get Published!
Many students share and publish their work before they even graduate! We recommend starting with journals or publications dedicated to undergraduates. Looking a little broader, many local organizations and non-profits would love to publish your work in their print journals. Some students even author in peer-reviewed literature because of the research contributions they made working with their faculty mentors!
Learn more about publishing.
---
Research Scholarships & Awards
Find undergraduate research scholarships on the Connected Huskies Database. These awards, grants, and fellowships allow students to focus more attention and time on their research. Use the checkboxes in the side filter to find them: check Award or Scholarship under the Program Type.
Look for research scholarships.
---
UW Undergraduate Research Leaders
Undergraduate Research Leaders (URLs) are a group of outstanding undergraduate researchers from a variety of disciplines. The URLs conduct outreach activities in conjunction with the Undergraduate Research Program and are available to share their experiences with other undergraduates. This program is managed by UW Seattle and open to UW Bothell students
Learn more about the URL Program!