Counseling Center
*** If you are feeling sick (e.g., experiencing flu or COVID symptoms), please do not attend your counseling session in person. Talk to your counselor about telehealth options or ask to reschedule. If you suspect that you might be exposed to someone with symptoms, please wear a mask to minimize contagion. ***
Welcome!
The UW Bothell Counseling Center serves actively enrolled UW Bothell and Cascadia College students by providing brief mental health services that enhance student wellbeing and assist their growth and academic success. Our professionally licensed clinicians are committed to compassionate, ethical services from a place of cultural humility to students of every background.
Fall Quarter 2023
Appointment Modes:
In-Person & Telehealth
Office Hours:
Monday – Friday
9:00 AM – 4:30 PM
closed for lunch 12-1 PM
Crisis drop-in hours:
Monday – Thursday
1:00 PM – 3:00 PM
Location:
UW1 – 080
T5 on this map
Email:
uwbcc@uw.edu
Phone:
425-352-3183
Fax:
425-352-3581
How to access services
All students seeking services at UW Bothell Counseling Center will be scheduled for a 30-minute Intake assessment where you will meet with a clinician who will listen to your needs and help you come up with your next steps. These steps may be ongoing services at the Counseling Center or referrals to more appropriate care. You can call, email, or drop by the office to make your initial appointment.
Services we offer
Intake assessment – One 30-minute in-person session with a counselor to determine your needs and best-fit service.
Crisis consultation – One 30-minute in-person session for students experiencing crisis/urgent concerns. Students can walk-in Monday through Thursday between 1pm and 3pm and ask for an appointment.
Group therapy – Eight 80-minute weekly in-person group sessions facilitated by licensed clinicians focused on developing emotion regulation skills in and peer support. Click here for more information

Take ACTion | Mondays 3:30-4:50pm | This experiential skills group is for students of all identities who want to attend to their mental health and work towards a full, rich, meaningful life. Learn to be in the present moment with full awareness and openness to experience and to take action guided by your values. Applicable to a variety of presenting concerns including anxiety, depression, and relationship difficulties. | Facilitators: Teresa Hoffman, PsyD & Ann Ellis, MS.

Workshops – Unlimited 45-minute weekly in-person meetings facilitated by licensed clinicians focused on specific mental health topics. Click here for more information

Drop Anchor | Tuesdays Nov 7 – Dec 5 at 11am | UW1-370 | Give yourself the gift of mindfulness practice. Open to students of all identities. Each week offers something new and mindfulness practice is highly effective for difficulties with thoughts, feelings, relationships, and identities. | Facilitator: Teresa Hoffman, PsyD

Neurodiversity consultation – One 45-minute in-person session to talk about or screen for ADHD, autism, learning disabilities and/or any other neurodiverse identities.
Individual counseling – Up to six 45-minute sessions per academic year. In-person or telehealth (if clinically appropriate). Due to increased mental health demand, the session limit is to ensure equity of services. Most students resolve their concerns in four sessions.
Off-campus referral – Case management services to provide guidance for students connecting off-campus to higher levels of care, more specialized care than the Counseling Center can provide, or long-term therapy.
Outreach – Presentation, tabling, and other activities on campus by staff from the Counseling Center. Submit an outreach request here.
Alternative services
If you are having a life-threatening emergency, please call 911.
National and regional help lines
National suicide and crisis lifeline – 24/7
Crisis Text Line – 24/7
Washington Warm Line

Call: 877-500-9276 for confidential peer support between 9am-10pm
Husky Helpline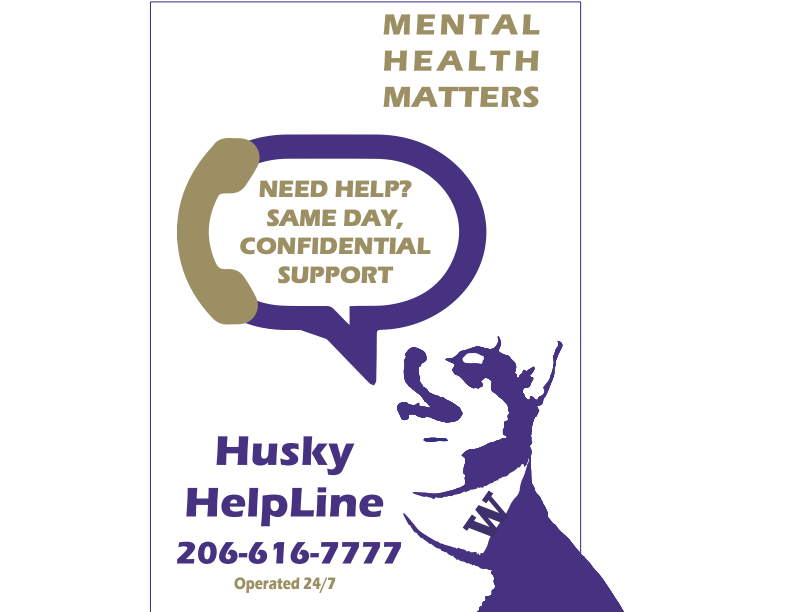 Actively enrolled UW Bothell students have access to free real-time, confidential mental health support, 24/7 and in multiple languages through TELUS Health Student Support (formerly MySSP). These counselors are licensed mental health therapists who are familiar with both UW Bothell resources. There are several ways to connect:
Phone: Call 206-616-7777

If calling from outside the U.S. or Canada, dial 001-416-380-6578.

Online chat: Chat with a counselor on the Student Support website
---
See what mental health counseling at UW Bothell can do for you!
The University of Washington Bothell Counseling Center offers free mental health services to UW Bothell and Cascadia students. Please watch the video below to learn more!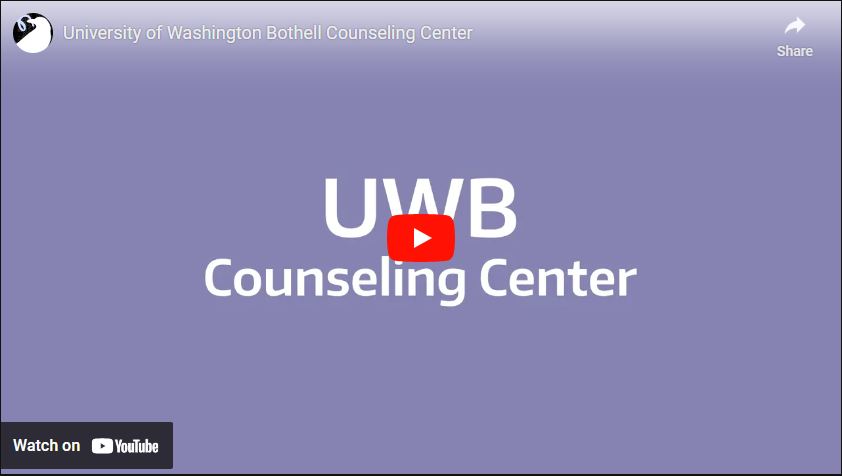 ---
The Crow's Nest podcast
Conversations from the University of Washington | Bothell campus about mental health, well-being, social justice, and student success. Have a question or comment? Email us at uwbcc@uw.edu.
Available on Spotify, Amazon Music, Samsung Podcasts, Podcast Index, Listen Notes, Apple Podcasts, Google Podcasts, Pandora, Tune In, Stitcher, iHeartRadio, and Deezer.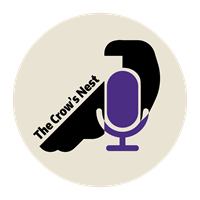 "Also learn about The Crows on the UWB campus"
---
NOTE:
If you have questions about classes or your major, please contact the appropriate Academic Advising office. If you have questions about applications to UW Bothell, please contact the Admissions office. Faculty & staff seeking counseling services should review our policy and contact the Employee Assistance Program.
Looking for additional wellness resources? the Health and Wellness Resource Center (HaWRC) offers community resources, the Violence, Prevention and Advocacy program addresses gender-based violence, and Husky Connections is a way to meet other students outside of your regular social group and build stronger community on campus during weekly peer-led sessions.