National Center of Academic Excellence in Cybersecurity Research & Education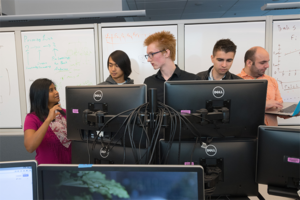 The University of Washington is designated as a National Center of Academic Excellence in Cybersecurity Research and Education by the National Security Agency (NSA).
We work across the University to prepare students for careers protecting computer systems from accidents, hackers, viruses, and other security threats.
Why Cyber Security?
Computer systems and networks play a crucial role in nearly every aspect of modern life. This has made them attractive targets for criminals and government-sponsored organizations that target individuals and organizations from virtually anywhere. To combat these threats, cybersecurity professionals work to protect technology from these "bad actors." They employ various strategies to do so by:
Improving hardware and software design
Enhancing system management practices
Educating individuals and organizations on how to use technology more effectively and securely.
The demand for cybersecurity professionals is currently skyrocketing and is expected to continue growing for the near future. In the United States alone, there are hundreds of thousands of unfilled cybersecurity positions (estimated at 700,000 in 2022), indicating a significant shortage in the workforce. Moreover, the average salary for cybersecurity professionals stands at around $120,000 per year.
What makes the field of cybersecurity appealing is that there are multiple pathways to enter the profession. While technical skills are important, cybersecurity encompasses various aspects beyond just the technical domain. As a result, individuals with diverse backgrounds and expertise can find their place in this dynamic and evolving field.
Careers in Cybersecurity
For information on careers in cybersecurity, check out these websites:
Cybersecurity career pathways  
"Cybersecurity Workforce Demand" from NIST  
Cybersecurity professionals come from a variety of backgrounds. At UW Bothell, students work with a systems-level view of securing networks and data. The program integrates material from technology, business operations, policy, communications, psychology, and most importantly – problem solving. Research is conducted across multiple departments at the University of Washington and with partnering institutions to create an interdisciplinary knowledge-network. 
Information and News
Contact Michael Stiber (CAE Point of Contact), stiber@uw.edu, for more information on the National Center of Academic Excellence in Cybersecurity Research and Education.
Check out the latest news in cybersecurity at the University of Washington. News alerts come from the Office of Chief Information Security Officer.
Student Organizations and Academic Units
Student organizations focused on cybersecurity include:
Academic units at the University of Washington that offer different aspects of cybersecurity education include:
Credentials offered include:
UW Continuum College Certificates:
Cybersecurity Faculty
UW Bothell School of STEM
Advisory Board
Our advisory board consists of industry professionals from both local and national levels, faculty members from other institutions, and various other individuals. Its primary role is to offer programmatic guidance, overseeing and advising on the activities of the National Center of Academic Excellence in Cybersecurity Research and Education. Additionally, the board serves as a crucial link between the center and external stakeholders and communities, facilitating communication and collaboration between them.
Members
Barry Briggs (chair), Charliesoft – CTO and Founder
Bill Pike, Pacific Northwest National Laboratory – Division Director, Computing and Analytics
Deborah Boehm-Davis, Facebook Reality Labs – Research Manager
Steve Fowler, Al Jazeera Media Network – Vice President Quality Engineering
Craig Nishina, Google – Software Engineer
Aytul Arisoy, Amazon Web Services – Software Development Manager III
Carisa Chang, Tableau Software Manager of Global Support Readiness
Peter Yiap, Big Fish Games – Director, Engineering
Sireen Malik, T-Mobile – Director of Software Engineering, Integrated Systems & Automation
Ben Ahlvin, Slalom – Solution Principal
Ram Shankar Siva Kumar, Microsoft – Azure Security Data Science Team – Security Data Wrangler
Ian Heisser, Nordstrom – Director of Engineering
Tony Bernard, Avanade – Director, Solution Architect
Joan A. Qafoku, KPMG – Manager, Cyber Security Consulting