Waste
Reducing Our Waste Footprint
To reduce the environmental impacts of our waste, UW Bothell strives to divert as much waste as possible from the landfill, filtering it instead into composting and recycling streams. The following actions help us reduce our total landfill waste on campus: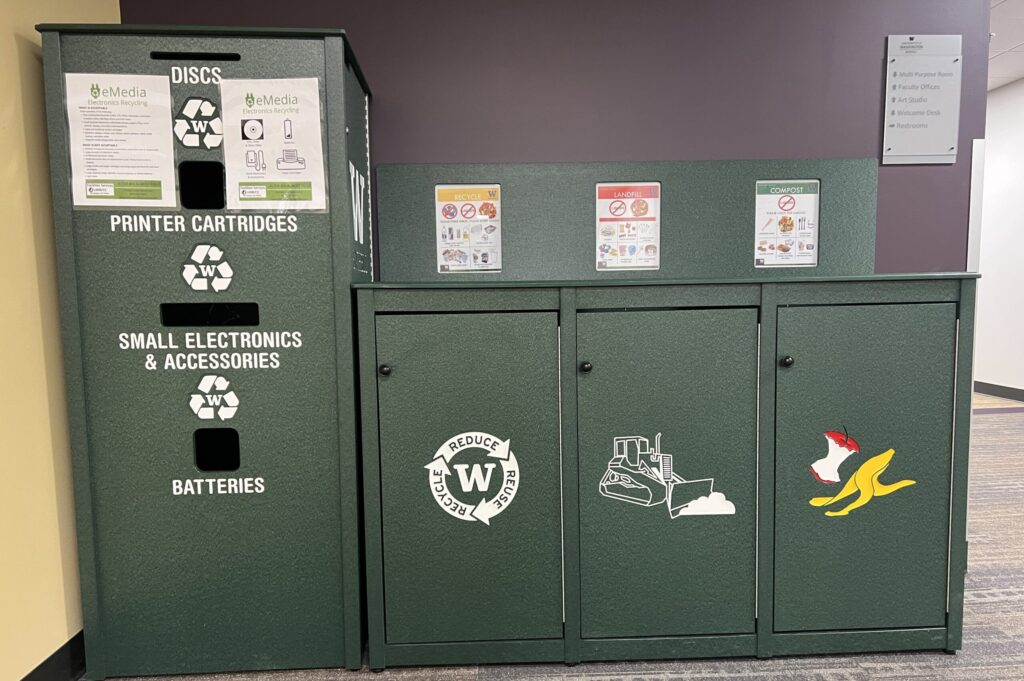 Triple station bins with educational signs for what to compost, recycle, and throw away have been installed in campus buildings. Event bins are provided for additional waste support, so that all UW Bothell-held events have compost and recycling options.

Electronic waste receptacles are located throughout campus for collecting lightbulbs, batteries, and cell phones.
Hazardous waste pickup events are offered monthly for UW Bothell employees and King County residents. This service is provided by the King County hazardous waste disposal program through the Environmental Health and Safety Department (EH&S).

For more tips on how to properly dispose of and recycle items in your household, explore this in-depth guide for hazardous waste management in your locality.

Soft plastics recycling is offered in Husky Hall and the campus warehouse. Be sure to ask mail services how to recycle plastics, styrofoam, and packing materials when you receive a package.
UW Bothell contracts with Recology to provide single-stream recycling and compost service in addition to trash service, which allows the campus community to recycle all commercially recyclable and compostable materials.
UW Bothell composts yard waste on-site, which allows the campus to re-use some of its own organic material on campus garden beds, through vermicomposting and yard waste compost managed by the Grounds Department.
Large equipment, appliances and furniture that are no longer needed are returned to the UW Surplus program which handles the collection and re-allocating of all extra materials throughout campus.
Efforts are made to reduce paper use and waste throughout the department and the campus. All printers are automatically set to double-sided printing and all paper centrally purchased by UW Bothell is made from recycled material.
Facilities Services coordinates the collection of other institutional waste including block styrofoam, wood pallets, and scrap metal.
MiniMax Waste Systems
Very little of what is thrown away on campus actually belongs in the landfill. The MiniMax program has been adopted to make waste sorting easier for building occupants, reduce landfill waste, and allow custodial staff to spend more time on essential cleaning tasks. The UW Bothell Sustainability Office works with building coordinators, occupants, and custodial staff to ensure that containers are accessible and consistent.
Frequently Asked Questions
MiniMax refers to the desk-side garbage bins in individual offices and workstations consisting of a blue recycling bin, with an attached 3-quart black or grey landfill bin. Staff are responsible for emptying their containers into the centrally-located recycling and landfill bins to promote personal responsibility for waste generation.
In most cases, compost should be disposed of directly into the centralized triple stations. In some leased spaces, we are not permitted to have compost. In this case, all compost has to be disposed of in your landfill bin, or collected and brought to a centralized bin in a main-campus building.
This reduces the number of plastic bags in the waste stream and the expense of plastic liners.
The small landfill bin will typically suffice, because most office waste is able to be recycled. Common items that do belong in the landfill are wrappers and chip bags.
When your bins are full, empty them into centralized recycling and landfill (garbage) bins.