Interdisciplinary Studies
BACHELOR OF ARTS
On this page: Major Description | Requirements | How to Apply | Faculty & Staff | Skills and Methods Courses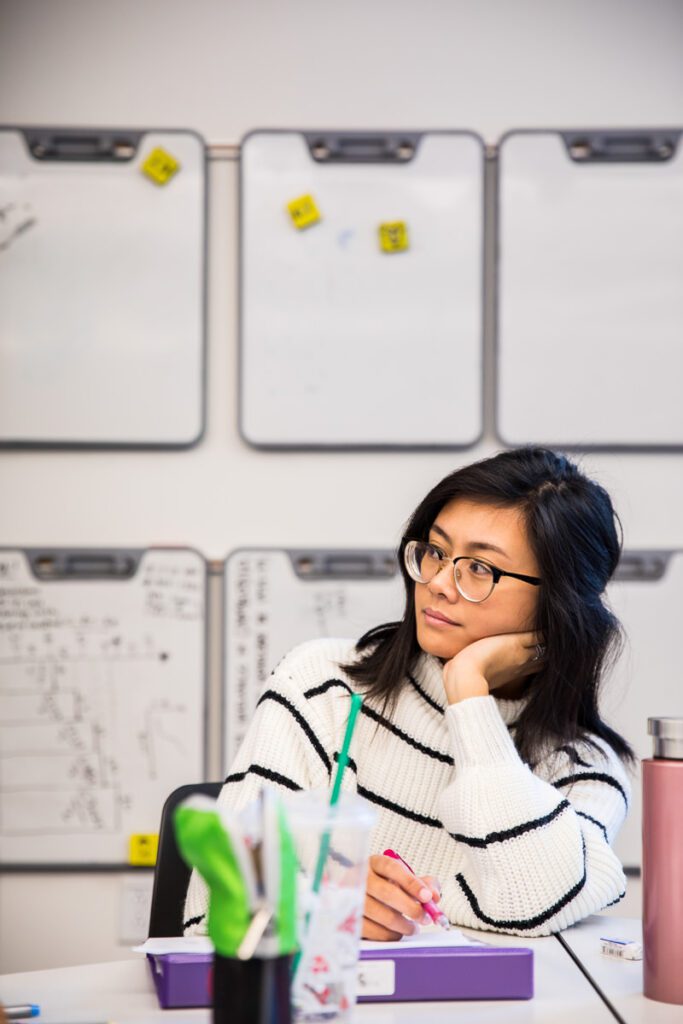 The Interdisciplinary Studies (IND) major is designed to support highly-motivated students who already have taken courses to complete their BA degree. Students can create their own course of study to meet their individual career goals with either a social science focus. Core courses are offered in both the day and the evening, often with hybrid/online course options.
The Interdisciplinary Studies: Social Science Option
The Interdisciplinary Studies: Social Science (IDST: SS) option allows students to select from a wide range of social science courses to create a degree program that advances their academic career interests within the social sciences. Graduating students in this option are prepared to pursue careers or advanced study in a wide variety of fields, such as education, social work, public policy, law, and human resources.
The Social Science Option is designed to be a highly flexible program that allows students to choose from a broad range of potential courses. Required core courses are offered in both the day and the evening, often with hybrid course options. Via petition, students may also apply up to 20 credits of upper division social science coursework from other universities toward the major.
IND: SS Major Requirements:
BIS 300 Interdisciplinary Inquiry*- min. grade 2.0 (5 credits)
BIS 399 Portfolio and Career Development (2 credits)
BIS 499 Portfolio Capstone – min. grade 2.5 (5 credits)
Skills and Methods courses from a departmentally maintained list (10 credits)
Upper Division Social Science Coursework of 300-400 level SSc coursework (25 credits)
Interdisciplinary Practice and Reflection (IPR) from a departmentally maintained list
TOTAL = 52 credits
*Should be taken in the first quarter of IAS enrollment.
How to Apply
Admissions to the Interdisciplinary Studies: Social Science Option is the same as for other IAS majors. Please refer to the IAS Admissions page.
Faculty & staff
Faculty
Academic Advisor
Skills & methods course options
A list of upper division methods courses was generated based on conditions that allow students the flexibility to choose courses from a range of disciplinary methods. Conditions included selecting courses that are regularly offered based on the prototype schedule, excluding courses with prerequisites as well as classes that are blocked to majors only in the first registration period.
BES 301 Science Methods & Practice
BIS 215 Understanding Statistics
BIS 232 Data Visualization
BIS 312 Approaches to Social Research
BIS 340 Approaches to Cultural Research
BIS 342 Geographic Information Systems
BIS 353 Human Rights in Theory and Practice
BIS 405 Environmental Education
BIS 410 Topics in Qualitative Inquiry
BIS 411 Network Analysis and Visualization
BIS 412 Advanced Data Visualization
BIS 447 Topics in Quantitative Inquiry
BIS 483 Community Organizing
BISGWS 303 Approaches to Feminist Inquiry
BISLEP 302 Policy Analysis
* IAS will maintain the list of courses.
*Students will be able to find quarterly offerings of 300-400 level I&S coursework offered within and outside of the School of Interdisciplinary Arts and Sciences (IAS) using MyPlan as well as the General Education Requirement Search.