Rebecca Price (she/her/hers)
Professor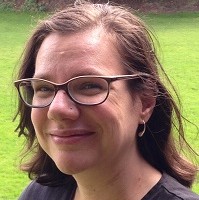 B.S. Zoology, University of Washington, Seattle
Ph.D. Geophysical Sciences, The University of Chicago

Office: UW2-220
Phone: 425-352–3666
Email: beccap@uw.edu
Twitter: @ProfBeccaPrice
Website: http://faculty.washington.edu/beccap/
Mailing Box: 358530, 11136 NE 180th Street, Bothell, WA 98011-1713
Teaching
I aim to provide a dynamic and interdisciplinary perspective of the natural world. Class time is an opportunity to capture students' interest, and I constantly adjust my approach to ensure that they are engaged. We use discussions, writing assignments, presentations, laboratory activities, and field trips to learn the material, working together and learning as a team. Course assignments offer the opportunity for me to judge student performance, but also for me to evaluate my effectiveness as an instructor so that I can improve. The most rewarding part of teaching is when students understand a topic that had been intimidating; they become proud, confident, and interested.
Courses Taught
BES 301 Science Methods and Practice
BIS 285/BBIO 285 Seminar in Biology
BIS 499 Portfolio Capstone
Research/Scholarship
I study how people learn and how people learn to teach. Some of my research is based on how college students learn evolution and science in general. My colleagues and I have developed a series of tools that help instructors identify the conceptually challenging aspects of evolution, and we have also created strategies that help students overcome those challenges. As the executive director of the Science Teaching Experience for Postdocs program, I've also begun studying how postdocs learn state-of-the-art and inclusive teaching strategies, as well as other issues relating to postdoc success.
Selected Publications