Minda Martin
Professor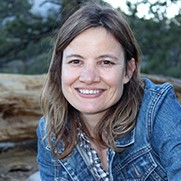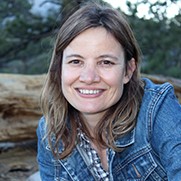 MFA, Department of Live Action in the School of Film/Video, California Institute of the Arts
B.A., Interdisciplinary Arts (Creative Writing, Media Arts, Classics), University of Arizona
Office: UW2-318
Phone: 425-352-3412
Email: mindam@uw.edu
Mailing Box: 358530, 18115 Campus Way NE, Bothell, WA 98011-8246
Teaching
As an educator and filmmaker my teaching goals are to help students produce strong content, encourage them to share their ideas in an innovative form, and create an atmosphere that facilitates engagement. I became a teacher for the same reasons I became a filmmaker; to help to make sure different perspectives surface.
My teaching philosophy is based on my experience as an artist. I encourage students to take a personal approach in their creative and intellectual activity by working with what they know best; themselves.
Part of the excitement of being a teacher is creating a classroom in which students feel comfortable expressing their views and backgrounds. I feel honored to have the opportunity to help students to voice their unique experiences and perspectives through media that is accessible to a wider audience. I am devoted to helping students work through issues concerning identity and connections to social and political structures that shape their lives.
Recent Courses Taught
BISMCS 472 The Essay Film
BISMCS 472 Black Mirror
BISMCS 343 The City as Character
BIS 341 Gender in Film
BIS 313 Transnational Cinema
BISIA 208 Experimenting Through the Arts
Research/Scholarship
My creative activity and research stems from my position as a maker of experimental documentary and narrative films and videos. My work explores the underpinnings and disparities of social class. My films began as a way to understand my life experiences. For me, making films is a way of asserting a truth I grew up with that I did not see reflected in contemporary media. I start with what I know and build from there. My work is intended to inspire the viewer to look beyond dominant histories and call for more multi-vocal approaches to history.
The last two completed projects have been hybrid films that include experimental, fiction, and non-fiction elements. In Free Land (2009) I have actors re-enact actual transcripts from the Dawes Commission along with fictional stories I wrote to represent the point of view and narrative arc of my Cherokee ancestors, and in The Long Distance Operator (2012) I featured war veterans from Afghanistan and Iraq to reenact their combat experience on the ground and 7000 miles away. I include in the screens of the drone pilot's scenes from WikiLeaks footage with other military aerial war footage to collapse the distance Americans have towards the on-going effects of war.
There are three distinct approaches that I use across my body of work. Firstly, I try to unsettle history by re-crafting histories we think are fixed. Secondly, I disrupt notions of absolute truth by combining images and sounds to complicate singular meanings. Lastly, I interweave personal, government, and entertainment media documents to illuminate their connections between personal and institutional histories.
Selected Films and Screenings
Distribution
International Distributor: Groupe Intervention Video, Montreal, Canada
Distributor for all of the work except Far From Afghanistan (distributed by Traveling Light Productions)
Filmography
Ramps to Nowhere, 2019, 70min, Mixed Media
Cuba Cine Adentro, 2017, 17min, HD
Far From Afghanistan, 2012, 78min, Omnibus Feature Documentary. Contributed segment "The Long Distance Operator", HD video
Free Land, 2009, 65min, 16mm, Super8mm, Video
Monsoon St.,'77, 2006, 12min, 16mm
Love, Minda, 2003, 3.5min, Super8mm
Do You Know, 2002, 14min, 16mm
AKA Kathe, 2000, 55minutes, Super8mm, 16mm, Video
A Little Ballad, 1998, 8min, 16mm
Mother's Heritage, 1996, 11min, Super8mm, Video
Screenings, selected
Far From Afghanistan
Museum of Modern Art, Documentary Fortnight, 2013, New York "US Premiere"" FICUNAM International Film Festival in Mexico, 2013 "Latin American Premiere" Mexico City, CPH DOX, 2013, Denmark, Punto de Vista, 2013, Navarra, Spain, "RIDM, Montreal International Film Festival, 2012, Montreal, Canada, "Viennale, 2012, Vienna, Austria", Vancouver International Film Festival, 2012, Vancouver, Canada", Toronto International Film Festival, 2012, Toronto, Canada "North American Premiere", Locarno International Film Festival, 2012, Locarno, Switzerland "World Premiere"
Free Land
Best Documentary "US Super 8mm Film/Video Festival" 2010, New Jersey
Special Jury Prize "Arizona International Film Festival" 2010, Tucson, AZ, "
Pacific Film Archives, 2013, Berkeley, CA, "International House Philadelphia, 2013, Philadelphia, "Flaheritina XII, 2012, Perm, Russia", 58th Flaherty Film Seminar, 2012, Hamilton, NY, "Jeonju International Film Festival, 2012, Jeonju, South Korea, "Northwest Film Forum, 2012, Seattle, WA, "Kassel Documentary Film and Video Festival, 2011, Kassel, Germany, "Montreal First Peoples Film and Video Festival, 2011, Montreal, Canada", Zagreb Film Festival, 2011, Croatia, "Buenos Aires International Film and Video Festival, 2011, Buenos Aires, Argentina, Skabmagovat Film and Video Festival, 2011, Helinski, Finland", Mass Art Film Society, 2010, Boston, MA, "California Institute of the Arts, 2010, Valencia, CA, "Underdox, 2010, Munich, Germany, "ImagineNATIVE, International Film/Video Festival, 2010, Toronto, Canada, "National Museum of the American Indian, 2010, Washington, D.C., "Athens International Film Festival, 2010, Athens, USA, "Arizona International Film Festival, 2010, Tucson, AZ", US Super 8mm Film/Video Festival, 2010, Rutgers University, NY, "Punto de Vista International Film Festival, Navarro, Spain "Un Certain Regard", "Viennale, Vienna, Austria "World Premiere"
Monsoon St.,'77
Best Short Narrative Film "New Jersey International Film Festival" 2006, New Jersey, USA WARC Art Gallery, "Summer Shorts On Demand," 2012, Toronto, Canada, "Museum of Modern Art, 2007, Washington, D.C, "Frameline Film and Video Festival, 2006, San Francisco, CA, "Arizona International Film and Video Festival, 2006, Tucson, AZ, New Jersey International Film Festival, 2006, New Jersey, "Viennale, 2006, Vienna, Austria
Love, Minda
58th Flaherty Film Seminar, 2012, Hamilton, NY, MIX Experimental Gay/Lesbian Film Festival, 2003, New York MOCA, Museum of Contemporary Arts, 2003, Tucson, AZ, Video Vixens, Sushi Performance Space, 2003, San Diego, CA
Do You Know…
New York Video Festival at Lincoln Center, 2002, New York MIX Experimental Gay/Lesbian Film Festival, 2002, New York
AKA Kathe
Best Documentary "US Super 8mm Film/Video Festival at Rutgers University" 2001,
Best Documentary "Arizona International Film Festival" 2001,
Museum of Modern Art, 2006, New York, NY "RedCat, 2006, New York, NY, "New York Video Festival, 2001, New York, USA, Athens International Film Festival, 2001, Athens, Ohio, "Arizona International Film and Video Festival, 2001, Tucson, AZ "US Super 8mm Film/Video Festival at Rutgers University, 2001, Rutgers, NY Dallas Video Festival, 2001, Dallas, TX, "OMNI International Film/Video Festival, 2001, Barcelona, Spain, "San Diego International Film/Video Festival, 2002, San Diego, CA", MOSTRA Video Art Tour, 2001-2002, Europe
A Little Ballad
Creteil International Films de Femmes Festival, 1998, Creteil, France, Arizona International Film Festival, Tucson, AZ", Immaginaria Women's Film Festival, Bologna, Italy, "Paris Film Festival, Paris, France, "Video Vixens, Sushi Performance Space, San Diego, CA, "Los Angeles Contemporary Exhibition, Los Angeles, CA, "Pitzer College, Claremont, CA, "Alternate Routes, Tucson, AZ
Mother's Heritage
58th Flaherty Film Seminar, 2012, Hamilton, New York, California Institute of the Arts, 2010, Valenica, CA, "New York Video Festival at Lincoln Center, 1996, New York, MOSTRA Video Art Tour, 1996-1998, Barcelona, Spain, "Free Speech TV, National Broadcast,1997, Denver, Colorado, Scenen, US Video Art, 1997, Sweden
Selected Reviews and Interviews of Films/Videos
Paul, Laura. "A New Resistance: Far From Afghanistan," The Brooklyn Rail, (Nov 2013)
Albaiti, Safia. "So Far Away, Yet So Close," Red Wedge Magazine, (Jan 2013)
Laurier, Joanne. "Free Land: American Dreams and Realities: Commentary and Interview with filmmaker," World Socialist Website, (Nov 2012)
Walsh, David. "Review and Interviews of Filmmakers from Far From Afghanistan," World Socialist Website, (Oct 2012)
Cutler, Aaron & Shellard, Mariana. "The Discomforts of Home: Far From Afghanistan," Cinemascope, (Sept 2012)
Celluloid Liberation Front, "Far From Afghanistan, Indeed," Indiewire, (Aug, 2012)
Hwang, Yun Mi. "Cinema, Time Regained: Jeonju 13th International Film Festival," Senses of Cinema, (July, 2012)
Koehler, Robert. "Free Land," Variety, May, 2011
Rosenthal, Alan. "Mother's Heritage" Rev. of "Family Films" in Writing, Producing and Directing the Documentary published by Southern Illinois Univ. Pr.; 3rd ed. 2007
Scott, A.O. "AKA Kathe," in "Sinners & Saints" New York Times, 23, July, 2001
Hardy, Ernest. "a little ballad" Rev. in "Best of Showcase" LA Weekly. 13 May 1998