Lauren F. Lichty (they/them)
Associate Professor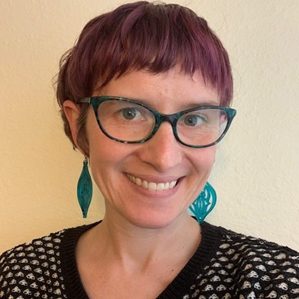 B.S. University of Illinois at Urbana-Champaign, Psychology
M.A. Michigan State University, Ecological-Community Psychology
Ph.D .Michigan State University, Ecological-Community Psychology

Specialization: Quantitative Methods and Evaluation Sciences
Office: UW1-151
Email: lflichty@uw.edu
Mailing Box: 358530, 18115 Campus Way NE, Bothell, WA 98011
Teaching
I believe universities should create transformative spaces that propel students into their careers with excitement and critical awareness of their roles as citizens and professionals. My goal is to facilitate students' active participation in the knowledge generation process with attention toward real world analysis and application of course concepts. I hope to support each student on their quest to find their scholarly path and voice, fostering creativity, curiosity, and attention to social justice along the way. Through discussion, collaborative inquiry, and applied experiences in the community, I strive to create settings where students feel comfortable openly and critically examining course material. I also try to identify opportunities for students to engage in community-based activities in order to make learning local and bring our vast university resources, of which our student body is a critical one, into the community.
I encourage students to bring their whole selves, particularly their multiple identities, prior education, personal and professional lives, and communities, into the classroom. I use a variety of activities, such as small and large group discussions, photovoice, and community-based projects, to create opportunities for students to explore and challenge the material through scholarly and lived experience lenses. This is not to suggest that all critiques are equally valid and useful; part of the power and purpose of the classroom is to learn to present compelling critiques and generate novel insights or applications of academic material. This is an exciting space to share with students and I look forward my own new "aha" moments that occur each quarter I have the privilege of co-learning with UWB students.
Recent Courses Taught
BIS 220 Developmental Psychology
BIS 300 Interdisciplinary Inquiry
BIS 316 (or BIS 221) Topics in Psychology: Human Sexuality
BIS 343 Community Psychology
BIS 438 Prevention and Promotion
Research
My work tends to focus on one of two tracks: preventing and improving response to sexual and relationship violence sexual and relationship violence or undergraduate-focused social justice education. I tend to use feminist, participatory, mixed methods approaches to research. Some example projects:
Co-develop and co-lead evaluator of the Husky Prevention and Response Student and Employee Course Evaluation (Office of Title IX; faculty, staff, and student collaboration)
Reducing Harm and Promoting Justice: Improving Human Sexuality Textbook Representations of Trans and Intersex people (Participatory Action Research with UWB Students)
Selected Current Projects
Creating Safe, Brave Classrooms for Learning about Sexual Violence: Appreciative Inquiry with Sexual Violence Survivors and Allies with IAS recent alum and graduate student Kyra Laughlin
Diversity and Social Justice Pedagogy in Community Psychology with Eylin Palamaro Munsell of Northern Arizona University
Peer Advocacy Project: Developing undergraduates as Peer Supports and Educators with IAS and NHS undergraduate student Kimberley Cross
Selected Publications
*Nnawulezi, N., Rieger, A., Shaw, J., Greeson, M., Lichty, L.F. & Nicole Allen. (2022). Reflecting and Rejuvenating Our Work, Together: One Team's Consideration of AJCP Publications on Gender-Based Violence. American Journal of Community Psychology. DOI: 10.1002/ajcp.12603
Lichty, L. F. & Gowen, L. K. (2021). Youth response to rape: Rape myths and social support. Journal of interpersonal violence, 36(11-12), 5530-5557. (first published online 2018)
Lichty, L. F. & Rosenberg, K. (2020). Ideology through process and slow-start pedagogy: Co-constructing the path of least resistance in the social justice writing classroom. In Richards, D. P. & Phelps, L. W. (Eds.) On Teacher Neutrality: Politics, Praxis, Performativity.
Lichty, L. F., Kornbluh, M. E., Mortensen, J., & Foster-Fishman, P. (2019). Claiming Online Space for Empowering Methods: Taking Photovoice to Scale Online. Global Journal of Community Psychology Practice, 10(3), 1-26.
*Lichty, L. F., Rosenberg, K., & Laughlin, K. (2018). Before there is a Table: Small Wins to Build a Movement against Sexual and Relationship Violence in the University Context. Journal of Family Violence, 33(8), 629-645.
*Lichty, L. F., Parks, E. C., & Nelson, A. (2018). Shifting Lenses to Deepen Reflection and Connection in Human Sexuality Education. American Journal of Sexuality Education, 13(2), 232-244.
Lichty, L. F. & Palamaro-Munsell, E. (2017). Pursuing an Ethical, Socially Just Classroom: Searching for Community Psychology Pedagogy. American Journal of Community Psychology, 60(3-4), 316-326.
Lichty, L. F. & Gowen, L. K. (under review). Youth Respond to Alcohol-involved Rape: Rape Myths and Social Support. International Journal of Sexual Health.
Lichty, L. F., Palamaro-Munsell, E. (Accepted, In Press). Pursuing an Ethical, Socially Just Classroom: Searching for Community Psychology Pedagogy. American Journal of Community Psychology.
Schwandt, T. & Lichty, L. F. (2015) What problem are we trying to solve? Practical and innovative uses of MMR. In Hesse-Biber, S. N. & Johnson, R. B. (Eds.) Oxford Handbook of Mixed and Multimethod Research. Oxford Press.
Mortensen, J., Lichty, L. F., Foster-Fishman, P., Harfst, S., Hockin, S., Warsinske, K. (2014). Leadership through a Youth Lens: Understanding Youth Conceptualizations of Leadership. Journal of Community Psychology.
Lichty, L. F. (2013). Photovoice as a pedagogical tool in the Community Psychology classroom. Journal of Prevention and Intervention in the Community, 41(2), 89-96.
Lichty, L. F. & Campbell, R. (2012). Targets and witnesses: Middle school students' sexual harassment experiences. Journal of Early Adolescence, 32(3), 414-430.
McNall, M. A., Lichty, L. F., & Mavis, B. (2010). The impact of school-based health centers on the health outcomes of middle and high school students. American Journal of Public Health, 100(9), 1604-1610. DOI: 10.2105/AJPH.2009.183590
Foster-Fishman, P., Law, K., Lichty, L. F., & Aoun, C. (2010). Youth ReACT for social change: A method for youth participatory action research. American Journal of Community Psychology, 46(12), 67-83. DOI: 10.1007/s10464-010-9316-y
Lichty, L. F., Campbell, R., & Schuiteman, J. (2008). Developing a university-wide institutional response to sexual assault and relationship violence. Journal of Prevention and Intervention in the Community, 36 ½, 5-22.
Lichty, L. F., Torres, J. M. C., Valenti, M. T., & Buchanan, N. T. (2008). Sexual harassment policies in K-12 schools: Examining accessibility to students and content. Journal of School Health, 78(11), 607 614.
* Includes student authors