Amy Lambert (she/her/hers)
Associate Teaching Professor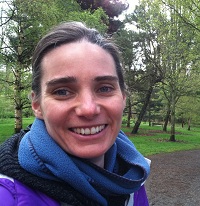 B.F.A. Visual Arts, Florida State University
M.S. Restoration Ecology, University of Washington
Ph.D. Conservation Biology, University of Washington
Office: UW1-243
Phone: 425-352-3703
Email: lambea@uw.edu
Mailing Box: 358530, 18115 Campus Way NE, Bothell, WA 98011-8246
Teaching
I believe teaching is a reciprocal activity and student-centered classrooms are petri-dishes for imagination and critical thinking. I am convinced that imagination and critical thinking are paramount to understanding the complexity of ecological issues in the 21st century. Working with students has given me new insights into my own research, including new methods for integrated study. As an instructor, I strive to encourage student resilience by providing every student with a firm grounding in basic concepts, opportunities to investigate real-world problems using an interdisciplinary approach and give students the tools they need to critically evaluate material in classroom and field settings.

One of the pedagogical methods I use I call ʽpersonality hooks' that fasten environmental and ecological content to the everyday lives of students through the use of visual art practice and critique of contemporary art. For example, students in my art and restoration course "reclaim wilderness" from invasive species and create artwork with the waste materials in order to visually engage the public in habitat restoration. Critical inquiry of contemporary art provides students with an opportunity to consider new ideas and rethink familiar concepts and ideas. In my drawing practice and ecological courses, students investigate and shape their understanding of the natural environment which ultimately leads to greater environmental awareness and stewardship values.
Recent Courses Taught
BES 362 Introduction to Restoration Ecology
BIS 244 Wetlands Discovery
BIS 397 Topics in Environmental Studies: Urban Bee Behavior Studies
BIS 397 Topics in Environmental Studies: Ecological Restoration, Public Art and the Question of Function
BIS 397 Topics in Environmental Studies: Art and Climate Change Ecology
BIS 405 Environmental Education
BISIA 213 Art Techniques: Drawing and Critical Thinking
BISIA 213 Art Techniques: Sculpting the Human Form
BISIA 374 Arts Workshop: Drawing From Life
BISIA 374 Arts Workshop: Art in the Landscape
B ART 121 Introduction to Drawing
Research/Scholarship
As a conservation scientist and visual artist my practice and research interests are multi-faceted. I engage in purely ecological work as well as use a highly integrative approach in my visual art practice including collaborative performance, experimental investigation, temporary and permanent installations and scientific research practice. My ecological research focuses on species-level conservation biology (rare butterflies and pollinators) and plant community restoration. I am fascinated by the political nature of endangered species conservation and the barriers that limit us from the study and preservation of imperiled species worldwide. As a visual artist, I integrate ecological concepts and understanding into my work. For example, in 2010, along with eleven other artists (e.g., Mark Dion and Ai Weiwei), I was commissioned to create a sculpture for, Presidio Habitats, a site-based exhibition created for the Presidio of San Francisco. This exhibition is the first site-based exhibition organized for, and presented in, a U.S. national park. In the artwork "Pollen Balls Project", I used wax to create life-size (4 x 4 feet) pollen balls and embossed poetry and ecological data from local bee populations that thrive in the Presidio. I worked with volunteers to collect the data used in this exhibit. One of the main goals of this instillation was to bring attention to the life and diversity of solitary bees, like the digger bee. Unlike other, well-known animals, digger bees have little cultural significance in our society: there are no stories, songs, or myths about these unfamiliar insects. I used scientific and art-based methodologies that rely on community participation to generate data on the bees in the Presidio while concurrently bringing the digger bee into our consciousness.