General
Are your interests across several specialties? Want to design a program that meets your individual needs? The General Track is for you! Students who choose the Master of Nursing general track work in a wide range of advanced nursing roles in leadership, nurse education, population health, global health, informatics, and other many other specialties.
In this track, select elective coursework from our program elective offerings or from graduate programs across the three UW campuses (including DNP coursework) to meet your individual academic and professional goals. Examples of learning objectives from program electives.
Students complete 51 credits; 35 credits of nursing coursework which includes a capstone project and 100 hours of fieldwork and 16 credits of electives. Students have the option to select from the program electives listed below or 400-600 level coursework from across the university with the option to transfer up to 6 graduate credits as reviewed by faculty.
---
Examples of learning objectives from program electives
Integrate theory, technology, and research in evidence-based nursing and teaching practice
Analyze, facilitate, and apply teaching practices in various settings
Evaluate teaching processes and outcomes
Design inclusive health-related curricula informed by principles of health equity
Guide complex organizations and communities
Supervise and coordinate interprofessional teams
Manage fiscal health of organizations and complex budgets
Ensure compliance with regulatory requirements
Guide quality initiatives and improvement processes
Manage data to analyze individual and organizational outcomes
---
Core coursework
Advanced Practice Management and Administration in Healthcare Organizations
Ethics and Policy in Advanced Nursing Practice
Disparity and Social Justice in Healthcare
Translational Research I & II
Advanced Fieldwork and Capstone
Elective offerings
Curriculum Development in Nursing Education
Evaluation of Academic and Clinical Performance in Nursing and Health Care
Theories and Methods of Teaching and Learning
Technology and Enhanced-Pedagogy
Introduction to Process Management and Decision-Making in Healthcare Systems
Introduction to Project Management in Healthcare
Managing Fiscal Performance in Healthcare
Managing and Leading High Performing Teams
Health Informatics
---
What I loved about the master's program is that I could study whatever I wanted. I picked how to develop international partnerships.

Arlyce Coumar, MN Graduate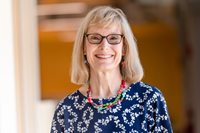 ---