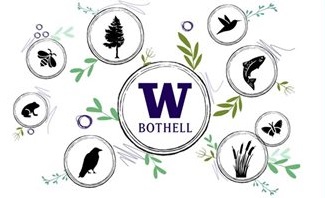 By N.L. Sweeney
When people imagine what academic research is, most picture lab coats, petri dishes and sterile rooms. At the University of Washington Bothell, students, staff and faculty do much more than work in indoor laboratories. They take advantage of nature as a classroom, conducting studies that range from monitoring pollinator species on campus and gathering plants from UW Bothell's wetlands to photographing wildlife in local Eastside parks.
As varied as this work is, all of it is crucial for effective conservation, an issue that is both pressing and current.
These investigations will make up the presentations at "Environmental Surveys: Monitoring and Protecting Wildlife," the autumn 2019 Campus Research Connections (CRC) event organized by UW Bothell's Office of Research. Open to the public, CRC events are quarterly, interactive programs that provide an opportunity to hear from and talk with UW Bothell faculty who are making advances in research, scholarship and creative practice.
"Conservation is an issue that needs to involve members of the community as well as scientists, which is exactly why the CRC is so important," said David Stokes, a professor in the School of Interdisciplinary Arts and Sciences (IAS). "This program bridges the gaps between science, students and the public.
"Our goal is to further research culture both on and off campus and to give our community ways to get involved."
Across disciplines and departments
Starting at 6:30 p.m. in Discovery Hall 061, the October 18 event will feature faculty and staff from IAS; the School of Science, Technology, Engineering & Mathematics (STEM); the Sustainability Office; and the campus Herbarium, which hosts a scientific collection of dried plants from the campus wetlands and the region.
If you arrive a little early, you also might see the infamous crows of Bothell arriving to roost for the night.
"UW Bothell is a hub for environmental and wildlife studies," said Sarah Verlinde, launch specialist in the Office of Research. "We chose to gather these projects together not only because this issue is current but also because these varied topics form a model for what sustainability research can look like."
According to Alexa Russo, coordinator in the Sustainability Office, this interdisciplinary approach is not just interesting — it is essential.
"Sustainability is a multi-faceted issue, and it requires equally multi-faceted research," said Russo. "What we hope to feature at this CRC are ways people with different specialties can study contemporary issues such as conservation and the environment."
Meet the presenters
Many of the presenters are continuing their data collection and welcome involvement from attendees. "There is something here for everyone," said Verlinde.
"Verlinde, who is also the collections manager for UW Bothell's Herbarium, observes and records flora data for future scientific studies, a job that is critical to studying change over time. Students can volunteer on Friday mornings in the lab, and community members can collect and submit their collected plant specimen/vouchers from around the state."
Stokes comes to his explorations on the wealth of diversity in urban environments with a similar goal of long-term monitoring.
"It is increasingly important to have non-experimental studies that are looking at changes in environments, such as parks, that are otherwise overlooked," he said. "These give us results that show the kinds of impacts we are having on our environment and how we might curb those effects."
For Russo and for Amy Lambert, an IAS lecturer whose research includes bee populations on campus, the need for more data is a pressing one. "Over one-third of every bite we take is 'pollinated' by bees," Russo said. "It is critical to our food system to support their populations. Our research is a step in that direction."
Also presenting at the event are Cynthia Chang, an assistant professor in STEM whose research examines the causes and consequences of plant diversity across multiple levels of diversity, from population to ecosystem scales; and Ursula Valdez, a lecturer in IAS whose expertise includes ecology, conservation, ornithology, natural history, field biology and human connections with the environment.
Making connections
Perhaps the greatest benefit of this event is the in-person opportunity community members as well as students will have to network with expert teachers and researchers.
"Our hope is not only to share the pride and work that go into this research but also to inspire others to join us in making it happen," said Russo.
All the studies featured in the program have student researchers positioned in pivotal roles. "We are so grateful to all the students," said Verlinde. "They make these projects possible, and we are always looking for more help."
Following the event, community members will have a chance to speak with researchers and find out how they can be part of the process, too.
"If you want to connect with the research being done at UW Bothell, the CRC is the place to be," said Verlinde. "Now is the time to get involved."