UW Bothell Husky 100

2020 winners
Each year, the University of Washington selects 100 students who are making the most of their Husky experience. Thirteen UW Bothell students were selected as part of the Husky 100 Class of 2020. What's special about a Husky 100 recipient? They dare to do. They use what they learn in the classroom to create change in their community. We are proud to introduce our Husky 100 awardees.
---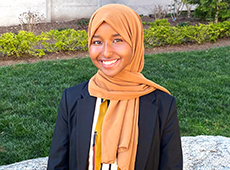 Najma Adan
senior, biology
Throughout my time at UW, I have fostered a passion for research and community service. As a Husky, I have been able to conduct interdisciplinary biomedical research and also co-found Project AIM, an organization aimed at diversifying STEM-related fields through guided mentorship for underrepresented high school students. I aspire to become a physician striving for scientific innovation as well as continue to decrease barriers that underrepresented students face in achieving higher education.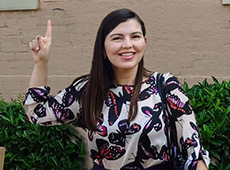 Midia De Souza
junior, law, economics and public policy, media and communications studies, human rights
My Husky Experience has been filled with opportunities in research, internship, leadership and community building. As a first-generation student, the UW has given me the opportunity to relentlessly pursue my passions and given me a unique set of tools, skills and values that have molded my experience. With these, I hope to pursue law school and produce positive change; to bring light to broken spaces and show that there are no bounds that can hold back determination and kindness.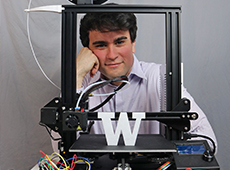 Nicholas Degrasse
senior, mechanical engineering
Design, create and reiterate is a three-step process I've come to fall in love with in my time as an engineer at UW, where I've brought ingenuity and passion to everything I do. I've had the opportunity to bring ideas to life and create medical devices to serve the needs of others. My Husky Experience has taught me to be a leader, how to bring the most out of myself and those around me, and how I can use what I've learned to save and improve lives.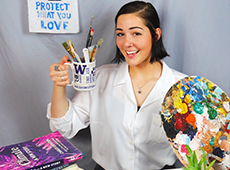 Bee Elliott
junior, environmental studies
I'm an "artful activist" exploring and experiencing the interwoven powers that community and the arts hold for collective transformation and healing towards climate justice. From singing in the streets with our Seattle-based group, "The People's Echo," to organizing with Sunrise, 350 Seattle and our UW Sustainable Student Action Club, my work is deeply rooted in the powers we all hold for healing, storytelling, vision-sharing and mending our collective ability to feel through arts and culture.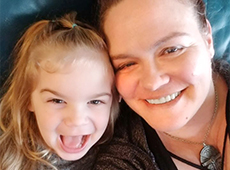 Sharona Horton
senior, educational studies
My goal is to become a truly inclusive teacher. My time at UW Bothell has really helped me not only give a definition to what that meant, but grow my understanding of the needs for inclusion, as well as give me the tools to actually make that goal a reality. When I started, I saw the needs for inclusion due to both my work with special needs children, and raising a child with special needs. More recently, I have seen the additional need for inclusion with bilingual learners.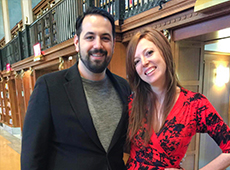 Nathan June
senior, physics
I believe that leaders create leadership opportunities in others. I carry this philosophy with me in every aspect of life. As a father, husband, friend, aspiring astrophysicist and a Husky, I surround myself with people who are committed to impacting their communities and making a difference in the world. I create opportunities to promote their efforts every chance I get, because we're facing some of the most complex issues imaginable, and solving them is going to take all of us.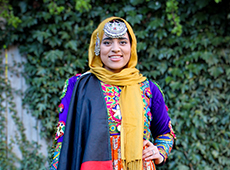 Shugla Kakar
senior, health studies, gender women and sexuality studies
During my time at UW Bothell, I have been able to find my voice and empower myself along with others around me to fight for their rights and their communities. I learned how to work across different communities and identities to bring them all together because I've learned that together, we are stronger. By finding my voice, I became a social change agent advocating for the rights and respect of everyone.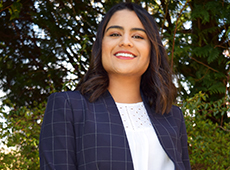 Garima Maheshwari
senior, computer science and software engineering, mathematics
When joining UW, all I knew was that I wanted to study computer science. Being a part of the UW community and Engineers Without Borders, I saw the ability for technology to empower anyone, and the impact of underlying studies like ethics and math to develop it. Now a senior, my Husky Experiences at both UW Seattle and Bothell have helped me grow into my passion, by providing me with tools, guidance and mentors so that I can explore the true essence of software engineering in the industry.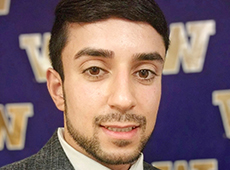 Datyous Mahmoudian
junior, business administration, information technology
As a leader for change, I work daily to reinvent my community and to empower future generations in achieving their potential. I have done this throughout my role as an Intercultural Coordinator for the Diversity Center, serving as vice chair of the Student Technology Fee Committee, and by founding/co-founding two student clubs committed to fostering diversity and inclusion at the UW. I look forward to taking my Husky Experience and passion for community building to the business and technology industry.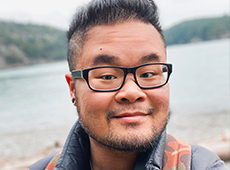 Van Nguyen
senior, biology, chemistry, neuroscience
I used to despise the phrase "the immigrant experience" – every trace of my Vietnamese heritage was actively covered up with a false, fleeting American dream – a faint promise of happiness and stability in exchange for cultural assimilation. Throughout my time at UW, perhaps the most significant lesson I learned was how my cultural and social aspects of identity would be my ultimate source of strength. Now, I seek to empower and be a servant leader for other first-generation students like me.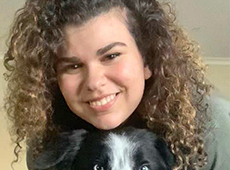 Madison Nikfard
senior, media & communication studies, creative writing
As a first-generation student and second-generation immigrant, I expected to have a difficult time navigating university by myself. It was a relief to be immediately embraced by fellow Huskies and UW staff and faculty who connected with me through shared passions for writing and art. I've been inspired to work incredibly hard these past three years to give back to the community that has made me feel so supported.
Prathyusha Pillari
senior, computer science and software engineering
From my freshman year, when I launched a club called Her Campus to provide a community for women, to my final year, when I co-led to host the largest hackathon on our campus through ACM (Association for Computing Machinery), UW gave me opportunities to mold myself as an all-rounder inside and outside the campus. These past four years, I discovered what I was passionate about and understood how being vulnerable can be so powerful. My journey is just beginning as I enter the technology industry as a software engineer at Microsoft.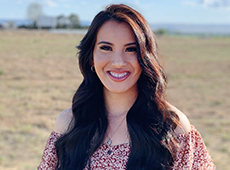 Hesbeyda Villafana
senior, american and ethnic studies, educational studies
A first-generation Chicana in higher education driven by resistance and persistence. My UW experience lies at the intersection of ethnic studies, social justice and equity in education. From analyzing social issues affecting minoritized students and bringing awareness of oppressive practices in education, to fostering a sense of community for students with disabilities and Latinx students. I am determined to seek liberation from all entities that have historically marginalized my community and other minoritized communities.