UW Bothell Husky 100

2022 winners
Each year, the University of Washington recognizes 100 students who are making the most of their Husky experience. This year, 11 UW Bothell students were selected as part of the Husky 100 Class of 2022.
How do these students connect what happens inside the classroom to what is happening in the world? They use what they learn to make a difference on campus, in their communities and for our collective future.
We are proud to present this year's Husky 100 honorees.
---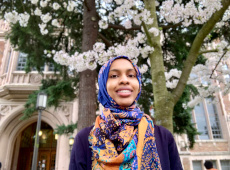 Hana Abdulrahman
graduate student – policy studies
As a student in the School of Interdisciplinary Arts & Sciences, I saw how collaborations across various disciplines could produce innovative and holistic solutions. While pursuing my undergraduate degree in Community Psychology and in Society, Ethics & Human Behavior, the coursework and fieldwork provided varied perspectives on education, housing inequity, access and accessibility to resources. More importantly, these experiences gave me opportunities to reflect upon myself and the work I envision doing in the future.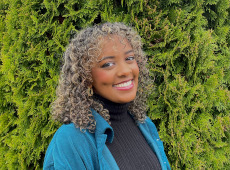 Saron Almaw
senior – business administration, marketing
I aspire to be a voice of empowerment for immigrants such as myself who are trying to navigate the higher education system. My future goals consist of learning and teaching about financial literacy. I will also continue to advocate for corporate social responsibility and one day fulfill my dream of creating my own sustainable company in Ethiopia.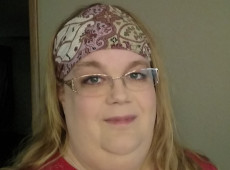 Jessica Belmont
B.A. in Gender, Women & Sexuality Studies and in American & Ethnic Studies
The skills and knowledge I have gained have already made me a more effectual member of the communities I am a part of, as well as giving me a firm foundation of social justice knowledge on which to build my future ministry. I also gained leadership skills and self-acceptance beyond what I previously thought I was capable of. I can go forward confident in my ability to succeed as I work to help heal the world.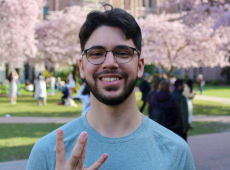 Djelli Berisha
senior – biology, chemistry, diversity studies
Being a part of this vibrant campus community and my relationships with peers, faculty, staff and administrators have allowed me to grow into a powerful catalyst for positive change and empower communities on campus to do the same. UW Bothell has transformed me into a scholar and perceptive leader who considers how I lead with purpose, and I will continue to make meaningful, sustainable change all while inspiring the next generation of leaders.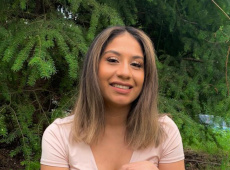 Yasmin Yaquelin Carmona
senior – society, ethics & human behavior; education & society; diversity studies; teaching & learning
My adviser inspired me to apply for a paraeducator position as it would be a great way to start my career in counseling. Through my job at Sequioa High School, I gained a better understanding of the societal and political influences on educational policies that I learned about in my courses on education and society. These experiences changed my perspective and reinforced the notion that quality education should be a human right as well as a tool for social change.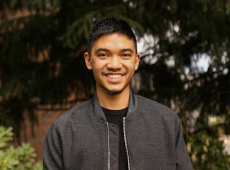 Andrew de Vera Cornel
junior – media & communication studies; health studies
In a leadership communications and social enterprise class, the professor taught us about business, philanthropy and looking into a company's missions and visions. I learned that we could be leaders and use the power of language to generate change in our world. She inspired me to stay involved in our school community and to volunteer. I have learned that my passion lies in communications and leadership, and one of my life goals is to start my own nonprofit. My spark for helping others has been ignited.
Kira Noelle Lemke
junior – biology, neuroscience
I was astounded to arrive at UW Bothell and find not just my place but also my people. I attended Husky Leadership Camp, which was run by a group of students known as peer coaches. I felt a sense of belonging and joy from them that infused my college experience with a satisfying sense of connection. I would eventually become a peer coach, which taught me how to help people discover their own goals.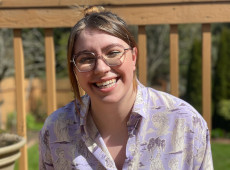 Sam Locke
senior – global studies; society, ethics & human behavior; gender, women & sexuality studies
Each of my academic and leadership experiences has solidified my decision to pursue a career in academia. I'm a more confident, more self-assured human thanks to the people and opportunities I've encountered at UW Bothell. I know now that I can and will be the kind of educator who students can look to for guidance and support, while also helping them chase their passions. I'm a living representation of what can happen with positive mentorship and opportunity.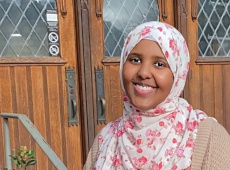 Nasra Mohamed
senior — environmental studies
Ever since I can remember, I've always wanted to become a physician, but I struggled to understand how I could hold that role while practicing my passion for community advocacy. It was not until joining UW Bothell that I recognized my professors were not only educators but also researchers, and I valued how they were able to incorporate their passions outside the classroom into our curriculum. Through faculty mentorship, I've explored many avenues of public health, and I intend to produce health policy that represents the experiences and needs of my community.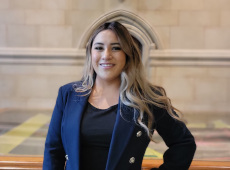 Monserrat Morales Miranda
B.A. in Health Studies, now pursing M.A. in Public Health
In an intro to public health course, I learned that the work is truly about real, current issues and that I could work on interventions to help mitigate the impact of those issues on the population. I was mesmerized by how I could help create awareness and preventative measures that improve the well-being of the Latinx community. I aspire to combine my passion for social justice within my work in public health to herald the needed change to accommodate access for all.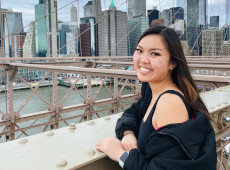 Jasmine Vu Nguyen
senior – biochemistry, biology
Beyond the self-growth I have gained throughout the years in college, UW Bothell has taught me valuable lessons that further enhanced my career interest in health care. The course (dis) Ability, Education and the Arts taught me cultural perspectives on disabilities and education that helped me deepen my respect for and connection with a relative who has Down Syndrome. Because of this class, I am empowered to continue advocating for people living with disabilities and to practice inclusivity in my everyday life.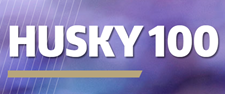 More Husky 100 students!
Check out other students across the UW who have also been named to the 2023 Husky 100.