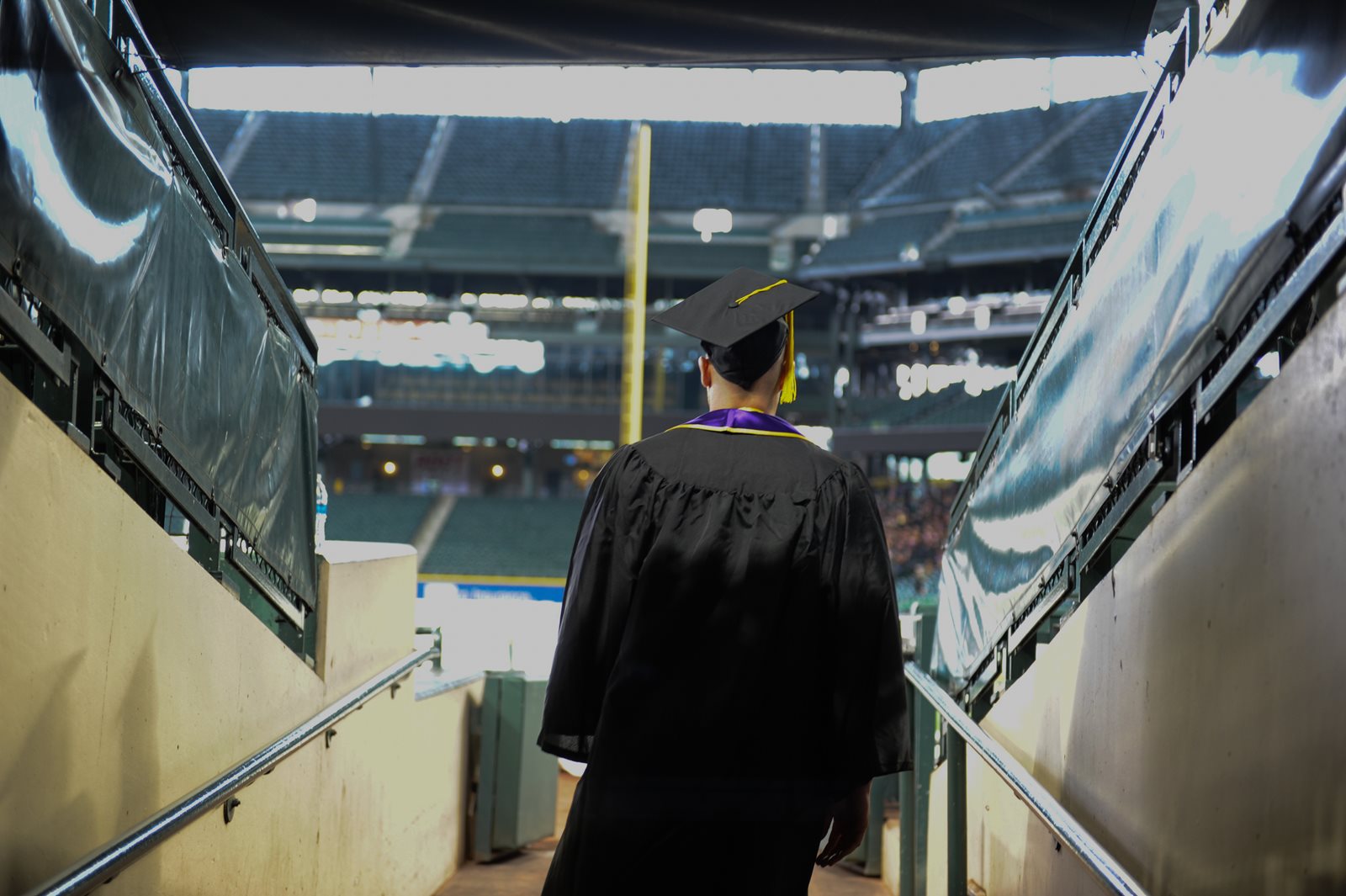 By Douglas Esser
Some of the first graduates in three new degrees at the University of Washington Bothell have something in common: perfect timing. Just as they realized their interests in physics, educational studies or gender, women and sexuality studies, those became majors. (Marc Studer photos)

The Class of 2017 has two graduates in physics, two in gender, women and sexuality studies (GWSS), and 28 with a bachelor's in educational studies.

Josh Christensen had a lot of questions for physics Professor Warren Buck, the former UW Bothell chancellor, now emeritus, who was always happy to help.

"Eventually, after so many questions, he was like, 'Hey, you have a lot of these. Have you considered becoming a physics major?" Christensen says.

The timing was perfect. The new physics major accommodated his interests. It's something he'll miss about UW Bothell. "I will no longer be able to experience the consistent bombardment of new topics."

A part-time job as a programmer became full time after graduation. After some work experience, Christensen is considering graduate school in the future and a more physics-oriented career.

Holly Gummelt, the first to declare a physics major, started a physics club, launched a Society of Physics Students Chapter and brought the Sigma Pi Sigma honor society to campus.

"The best part about building a new physics program at UW Bothell is working with our inspiring physics students," said Joey Shapiro Key, assistant professor in physics, which is part of the physical sciences division in the School of Science, Technology, Engineering & Mathematics.

Colin Davis transferred from Bellevue College, intending to major in computer science and software engineering until taking an introduction to feminist studies course and realizing the importance of social justice. "I'm really interested in gender theory, human sexuality and the way those two things interact with society and culture."

Davis happened to be on campus last summer and stopped in the School of Interdisciplinary Arts & Sciences office and said, "Hi, when can I declare the gender, women and sexuality studies major?" With perfect timing, they said, "Right now, if you want."

Although they graduated with magna cum laude honors, Davis says the experience was not always fun, "because you're learning about a lot of injustice. But at the same time there's so much out there to give you hope, to inspire you and make you want to take a stand and make some kind of difference."

Kyra Laughlin, the other GWSS graduate, worked with faculty coordinator Julie Shayne on events to launch the first year of the major. She also founded Sexual Assault and Violence Education (S.A.V.E.) to increase awareness and support survivors. Laughlin received the Chancellor's Medal at commencement. She continues at UW Bothell, working on her master's in cultural studies.

"I anticipate we will continue to grow and that GWSS major and minors will go on to work as social justice advocates and activists," Shayne says.

Karina Gonzalez came to UW Bothell from Sunnyside as a first-generation student, intending to become a teacher. At first she was told she could major in culture, literature and the arts or perhaps society, ethics and human behavior, later adding a teaching certificate.

With perfect timing for her, the School of Educational Studies added the bachelor's in educational studies to the program, which has included the master's (M.Ed.) offered since the University's founding in 1990.

While talking about her educational studies major with her adviser, Erica Myers, Gonzalez realized she'd like to become an academic adviser herself, rather than a teacher.

"I want to help other first-gen students coming in and help them get the right career they want to get to," Gonzalez says.

But first, she's starting a full-time job at the UW Medical Center as a service desk analyst, something she never imagined. "It shows I could get this degree and do other things with it."

The new undergraduate degree creates multiple avenues in the field of education, says Ed Buendia, School of Educational Studies dean and professor.

"Trends show that agencies, nongovernmental organizations, as well as institutions of various forms need educators to reach out to families and other stakeholders in an educational-instructional capacity. This degree opens that possibility for UW Bothell students," Buendia says.

The University of Washington Bothell offers 33 undergraduate degrees and 14 graduate degrees.