Dr. Avery Cook Shinneman, associate teaching professor in the School of Interdisciplinary Arts & Sciences at the University of Washington Bothell, recognizes that knowledge has little value unless it is shared. It is one of the reasons she became an educator. It is also why she often brings her students into the community.
In spring quarter 2022, for example, Shinneman and her Limnology course partnered with the Woodinville Library through Libraries Loves Lakes, a national organization inspired by lake ecologists who wanted to "put lakes on everyone's radar."
Shinneman said it made for a great partnership — and a great opportunity to support UW Bothell's commitment to community-based learning. Through a community project supported by the Office of Community-Based Learning & Research, students applied theory to practice, developed professional experience and contributed to the public good.
Public libraries play a similar role as places of learning and community engagement, Shinneman said, nothing that "the libraries participating in this national program offer a chance to engage a wide variety of people who may have little knowledge of the ecosystem services provided by lakes."
Engaging children in citizen science
Shinneman's students spent the quarter creating a learning kit for children ages six to 10 who are part of the broader Woodinville and Bothell community. The kit is based on lake-related issues the students deemed important and conveys the information through fun, hands-on activities.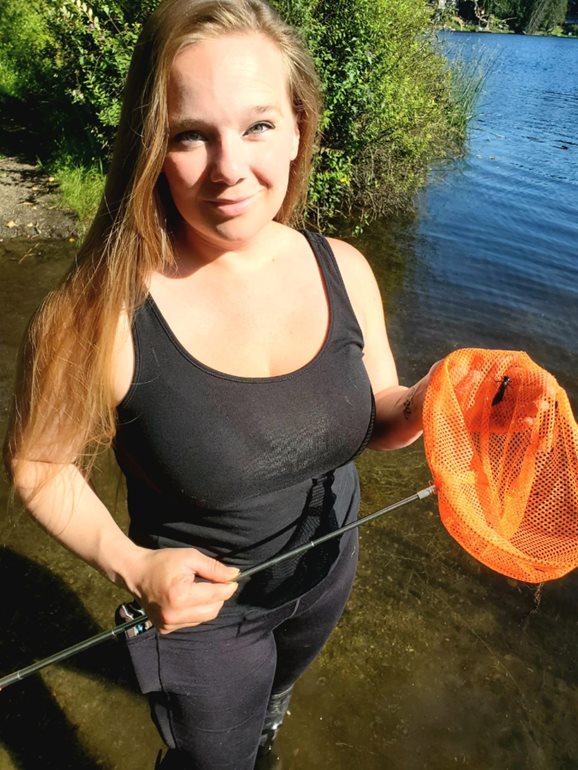 Nicole Reiber, a senior majoring in Earth System Science, came up with a lakeshore collection activity that was tested and approved by her 11-year-old daughter. "She had tons of fun doing it," Reiber said. "She loves science almost as much as I do, and it's great being able to bounce ideas off of her."
To complete the activity, the children first had to build their own collection net using a nylon stocking and a plastic jar or soda bottle with a screw-on lid. "It was a great activity to do with my mom, and the best part was getting to use the net," said Kira Reiber, Nicole Reiber's daughter.
Nicole Reiber explained that the kit instructs the children to then submerge the jar or bottle near the shoreline in the sediments. "The main thing is to make sure the opening of the bottle or jar isn't scraping sediments into the container. Instead, the kids are supposed to gently bounce it up and down while moving it forward slowly for about 30 seconds," she said.
In theory, this method should provide the scientists-in-training with sediment and invertebrate at the bottom of their nets. The invertebrates are particularly important as scientists have discovered that certain species have varying levels of water quality they can tolerate.
Using insects to investigate pollution
"The organisms collected can be used as indicators to help us get a general understanding of the long-term quality of our water resource just by identifying what species are abundant," Reiber said. "Looking at the invertebrate species won't necessarily tell us what kind of pollutant we have, but it will help us identify when there may be a problem."
According to Reiber, mayflies and adult craneflies are great examples that a lake is healthy, whereas pouch snails and aquatic worms can be signs that a lake is not healthy, or not as healthy as it could be.
"If we want to keep using lakes for swimming, fishing, boating and all those fun thing, then we also want to make sure the water quality is good — and that means treating it the best we can, ecologically," Reiber said. "Identifying these insects is a great way to keep an eye on our lakes' health and be good stewards of the environment."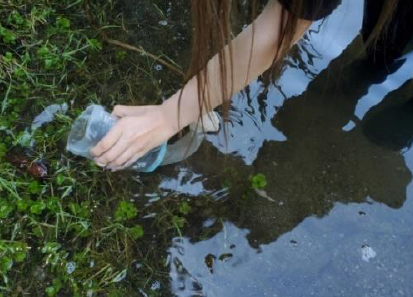 Reiber and her daughter sampled at Lake Roesiger and found left-handed freshwater snail, dragonfly nymph, scud and fingernail clam. "These are all tolerant to moderately tolerant pollution species," Nicole Reiber said. "This, however, does not mean that the water quality is bad. Our sample was very small and was only taken from one location.
"The main purpose of this DIY activity," she said, "is for families to engage with the organisms living in the lake and learn more about how the water quality can impact these organisms."
Protect lakes, stop pollution
Invertebrates can be indicators of a lake's health, and the lake's color can be, too.
Devon Nirschl, a senior majoring in both ESS and Mathematics, created an infographic on this topic, explaining that the lake's color is determined by the wavelength of light the water absorbs — and can be an indicator for numerous things.
"If a lake is brown, that means it is high in dissolved organic matter," Nirschl explained. "These lakes are usually surrounded by an abundance of organic matter, such as a forest where light is limited because of the canopy of trees.
"If a lake is green, it signals that it is nutrient-rich and contains high levels of algae. And, if a lake is blue, it means the water is relatively clean, and algae is not present in abundance."
Lake pollution has become an ever-increasing risk to Puget Sound. To help keep lakes as healthy as possible, Nirschl recommends decreasing the nutrients coming into the lake from fertilizers and septic systems. This, in turn, should decrease the number of green algae, a form of algae that produces toxins which make people and animals sick as well as negatively affect the environment.
Other student projects in the kit included one on how to make a bathymetric lake map — a map that shows the depth underwater and the shape of a basin — and one on how to "build" a watershed using paper, a water spray bottle and a plastic bin.
Community comes together
While the UW Bothell students identified the issues, conducted research and planned the activities, Emily, children's services librarian at the Woodinville Library, synthesized the information and presented it in a fact sheet in a way that children ages six to 10 would not only understand but would also find interesting.
"The project really wouldn't have been possible without Emily," Shinneman said. "I was able to totally focus on working with the students, and Emily had all the logistics covered as far as advertising the event, getting the kits put together and organizing the books.
"Libraries are such a great way to reach the public," she said, "and I'm so happy she was interested in working with us."
The kits were distributed on July 20 at the Woodinville Library Branch next to Cottage Lake, one of two locations where students went during the course to practice using water quality monitoring tools. More than 40 came to the event and were eager to engage.
"July is Lakes Appreciation Month and a great time to connect with people around the importance of freshwater to their own health and happiness as well as the health of the whole ecosystem," Shinneman said. "I hope our project was successful in facilitating that."