Phoenix Horn was born on a Grateful Dead tour and spent the first four years of his life following the rock band in the early '90s.
"I had these long blonde ringlets and ran around everywhere with grilled cheese and flowers," he said. "I was totally immersed in this liberal, sort of hippie way of life from early on."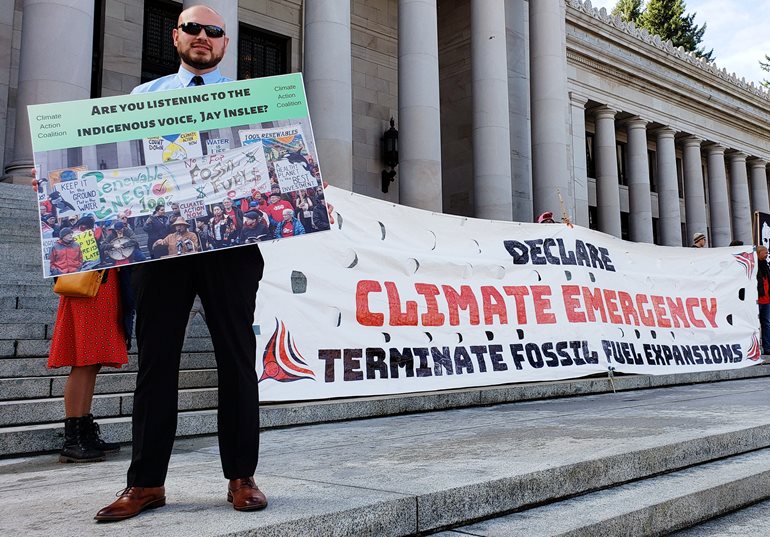 Now an adult, Horn is a self-described "unapologetic activist" and says he wants to dedicate his life to making the world a more equitable place.
And he is keenly focused on figuring out how. A student in UW Bothell's Master of Arts in Policy Studies program, Horn examines systemic racism, gender inequality and transphobia, seeking to address all of these pressing issues in depth. His current research project looks into how antiracism is practiced in Western Washington's K-12 classrooms.
Dr. Keith Nitta, associate professor in the School of Interdisciplinary Arts & Sciences, said that Horn's hopes and ambitions are about social and political change — not his grade or even his next job. "Phoenix is committed to the public good above all else," said Nitta.
Serving others first
Horn is also one of 12 UW Bothell students to be selected as one of the UW's Husky 100 for 2021. Each year, the UW recognizes 100 undergraduate and graduate students from the Bothell, Seattle and Tacoma campuses who are making the most of their time at the University. The recipients actively connect what happens inside and outside of the classroom, applying what they learn to make a difference on campus and in their communities.
Whether by serving in the Army, working as a rapid responder with the Washington Immigration Solidarity Network or using his training as a paramedic to treat wounded protestors at Black Lives Matter rallies, Horn is focused on taking care of others and keeping their best interests in mind.
It's not hard to see why Horn was one of this year's Husky 100, noted Lenina Arenas-Fuentes, chief of staff in UW Bothell's Office of the Chancellor. "I can think of few — very few — students who could be more deserving of this recognition," she said. "Our campus is better because of him."
His obvious dedication to social justice, policy and research is inspiring, she added. "He represents the best in all of us here at UW Bothell."
While Horn has always been an advocate for others, he also says it was UW Bothell that fostered his passion for taking action. "In my classes, I would learn about activism and how to make change," he said, "so I took that knowledge and applied it to the human rights violations happening in our world."
Learning leads to action
The first protest Horn attended as an adult was in Seattle on March 24, 2018. It was a rally to protest gun violence and advocate for stricter gun laws. Three months later, on June 30, he was also at the SeaTac Federal Detention Center to protest zero-tolerance immigration policies, and he has been to many more at the private Northwest Detention Center in Tacoma since then.
"I became a rapid responder with the Washington Immigrant Solidarity Network," he said. "If ICE showed up anywhere in southern Snohomish County, I would go to document what was happening."
Horn's drive for immigrant rights also led him to participate in research with Dr. Raissa DeSmet, associate teaching professor in the School of Interdisciplinary Arts & Sciences. They are investigating the impact of gentrification on Puget Sound immigrant communities and are partnering with Lynnwood's Latino Educational Training Institute. The research incorporated direct activism and raising awareness within local Latinx communities, including canvassing and conducting phone campaigns to alert the community to LETI's resources, services and other offerings.
Striving to make a difference in his own college community as well, Horn served as the chair of the Chancellor's Advisory Committee on Students. The committee meets each month to discuss budgets, legislation and issues that affect the UW Bothell student body.
This past year, for example, CACS members focused on monitoring any bills that would impact the higher education community, such as student mental health needs during the pandemic and facial recognition technology use for remote test proctoring. "Student input was essential as the University navigated remote operations and adapted to the changing conditions," Horn said. "Advocating for my peers at UW Bothell was a responsibility I did not take lightly."
Becoming a better ally
Horn has also become an anti-racist research assistant, surveying communities that oppose racism and promote racial tolerance. He studied with Dr. Charlie Collins, assistant professor in the School of Interdisciplinary Arts & Sciences, who started the Collaboratory for Community Transformation at UW Bothell in November 2019 to work on issues of equity, particularly institutional racism.
"Our team wanted to know how the close relationships of white anti-racist activists have been impacted by their involvement in the Black Lives Matter movement," Horn said. "The knowledge produced by this research will be used to better understand where conflict may arise, identify strategies activists use to navigate potential conflict and understand how activists can undermine the 'post-racial' narrative."
With the help from the research team, Horn created an extensive survey that they sent to several Showing Up for Racial Justice organizations across the nation. Their goal was to gather information about the people associated with these groups, including how and why they got involved in this kind of work, and what social, economic or environmental issues they consider to be a priority.
Their research abstract was published online through the Society for the Psychological Study of Social Issues, an organization of more than 3,000 scientists from psychology and related fields who share a common interest in researching social and policy issues. "It's empowering to know I can contribute to bodies of knowledge and make a difference, even as a college student in academia," Horn said.
He is also now working with members of his graduate program cohort on a racial awareness survey for Snohomish County's new Office of Social Justice. The OSJ will be administering the survey to Snohomish County's executive team first, with the intention to then distribute the survey more widely across county staff. Horn will help interpret the results as they are collected over the next several months.
Beyond the classroom
After participating in the protests inspired by the 2020 murder of George Floyd, Horn decided he also wanted to use his skills gained as a civil affairs paramedic in the Army to provide medical support to Black Lives Matter and other protesters seeking social justice in Seattle. He has put himself in harm's way to treat people shot by rubber bullets, sprayed with tear gas, beaten with batons and deafened by flash-bang grenades.
"What makes Phoenix stand out is how he has integrated his academic studies with the rest of his life — including his life before UW — to learn to lead his peers toward social justice," said Nitta. "Phoenix has gone well beyond classroom study to directly and actively seek social justice."