A study abroad program again sent UW Bothell students to study in Guatemala this July, providing primary care and health education in small, rural villages far from medical centers. In all, 14 students participated, four from the Master of Nursing program and 10 undergraduates majoring in either Nursing or Health Studies.
But the education during the trip flowed both ways, as the School of Nursing & Health Studies students reported how much they learned about other cultures and about their roles as global citizens.
"I am absolutely amazed at how these villages survive in such closed off places," said Kaila Schober, a Nursing student. "There are villages where they can't grow their own food, or the closest health clinic could be hours away … to actually be there in person and sharing the space with them is world changing."
The students also expressed deep gratitude to their village colleagues who made the mutual exchange possible, including representatives of Guatemala Village Health, a Seattle-based nonprofit organization that has partnered with the SNHS for several years, as well as other local Guatemalan associates.
Hands-on service learning
The plan for the two-week trip was to visit more than a dozen villages in Southeastern Guatemala to provide free health care to residents and information for local nurses, lay midwives and other health workers and promoters.
According to Dr. Mabel Ezeonwu, the SNHS professor who leads the student groups, the goal is "to expose students to global health work and to social determinants of health of rural Mayan populations in Guatemala.
"Students have the opportunity to gain hands-on service-learning experience by engaging in health education and health promotion for members of different Mayan communities that we work with," she said.
For the students, it's a once-in-a-lifetime experience.
"You tell yourself it's going to be like camping, but it's so different," Schober said. "The climate is harsh, hot and humid. The rain pours all night, and it's torrential to the point where we were thinking the roads would be impassable. But our GVH team is filled with people who live in those villages and know the mountain and its roads like the back of their hands."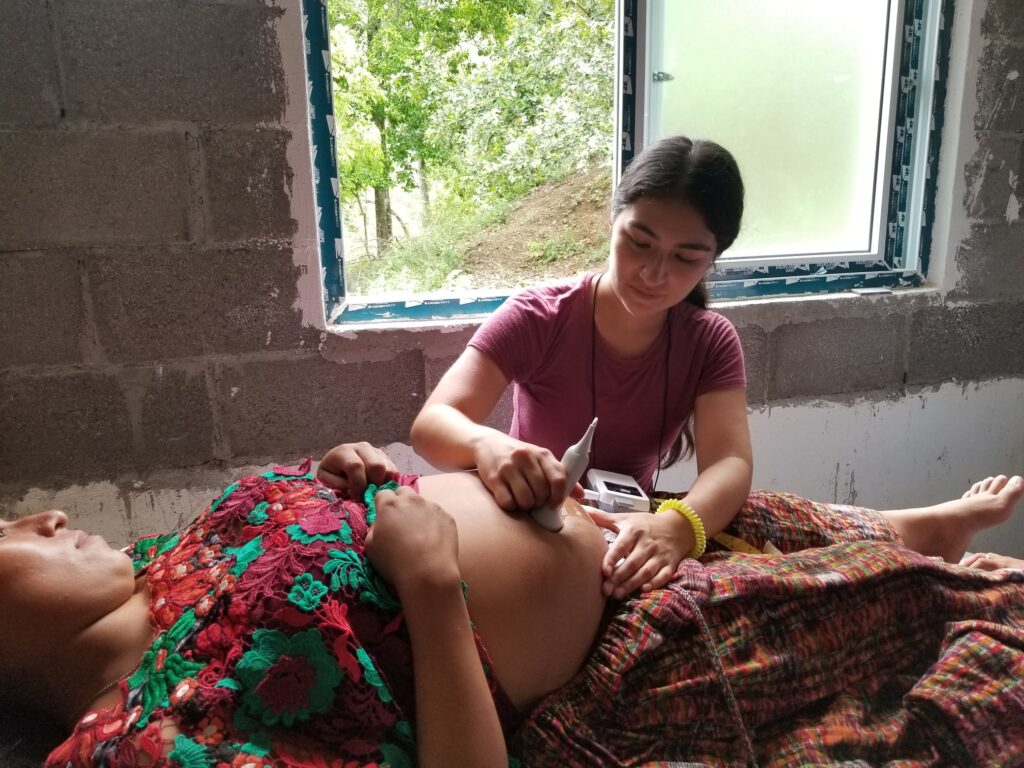 Invaluable local support
Even as the students gave Guatemalan villagers basic care and health care strategies — such as reminding them that medications must be taken fully even after symptoms subside — the students came to bond with and deeply appreciate the people they worked and lived with on the trip.
"Working with these villagers has been the most enjoyable part of the trip. You can clearly see from their body language and facial expressions that they are eager to learn more about their health and want to succeed in the new skills we are teaching them," Schober said. "This couldn't have been done without them and the villagers who cared for us when we stayed with them."
She added, "This trip has taught me to not only be grateful but to show gratitude for those who give their time and care to me and those around me."
Fedel Harness, a student in the Master of Nursing program, said that it was "a great honor" to work with the local partners.
"It is quite amazing to see how GVH has inserted themselves at the intersection where the needs of the patients exist — particularly those patients who live in the rural mountains of Guatemala — and the point at which the Guatemalan health care system has failed."
Working with these villagers has been the most enjoyable part of the trip. You can clearly see from their body language and facial expressions that they are eager to learn more about their health and want to succeed in the new skills we are teaching them.

Kaila Schober, Nursing student
Researching health issues
The students' trip also included community research, with a focus on the assessment and management of chronic disease among the residents.
"We examined the electronic medical records and analysis, and evaluated data from the last 10 years," said Harness. "We will present the results of this information within the complex number of issues that impact these people — in essence, the socioeconomic, cultural (language), religious, educational and historical dynamics that have to be accounted for when providing for the needs of the Indigenous Mayan citizens of Guatemala."
Vi Nguyen, a Health Studies major, was involved with part of the group's research into the administration of the Ages and Stages questionnaire that assesses a baby's development.
"We would ask the parent various questions about their child's developmental milestones and carefully record their responses, providing valuable insights into the child's growth and progress," she said. "We then educated the parent on potential milestones their child should be meeting based on their needs.
"By focusing on early identification of developmental delays and coming up with potential appropriate interventions," Nguyen added, "the long-term health outcomes of children in underserved areas could be significantly improved."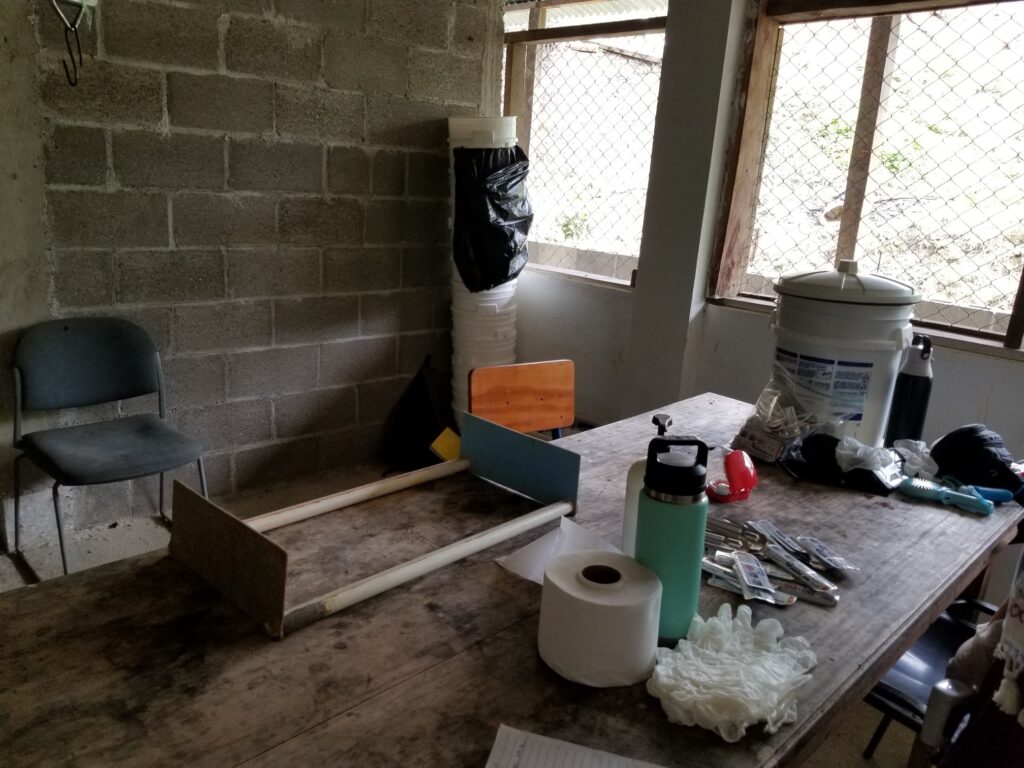 A busy schedule of care
In a typical busy day visiting a village, Ezeonwu said, the students would counsel women on prenatal care and disease prevention, give children basic dental care and supplies, treat patients of all ages with acute or chronic health conditions, conduct lab work, and assess babies and young children for malnutrition and developmental health.
"We see all medical issues here," Harness wrote while onsite. "Chronic issues such as hypertension and diabetes. On the acute side, we might treat wound issues, acute asthma or skin rashes ranging from scabies to fungal infections … and distribute medications as needed."
Nguyen said that it was memorable to see unity develop among the visiting UW Bothell team, the Guatemalan community and the Mayan community.
"Together, we made meaningful changes to improve the health care system. As I interacted with the villagers and took their vitals, I realized the significance of being one of the first points of contact before they received care."
Breaking language barriers
Even the language barrier — among the students' biggest challenges — developed into a chance to further bond with local people.
"I don't speak Spanish, but regardless of that the people we were helping speak K'iche (the local Mayan language) and very few of them also speak Spanish as their second language," Schober said. "So we ended up with an English-to-Spanish interpreter and a Spanish-to-K'iche interpreter."
Although some things got lost in translation, "it's been a privilege to learn the language from them and the children," Schober said. "Just like any new language we say or pronounce it wrong, and we all laugh, and the villagers continue to teach us."
Nguyen overcame the language challenge in a similar way.
"The richness of diversity in the country and the warm and welcoming people made the experience truly fulfilling and eye-opening," she said. "Although initially we struggled with language and cultural barriers, the support and acceptance from the locals was heartwarming, which helped me overcome my initial fears of stepping out of my comfort zone."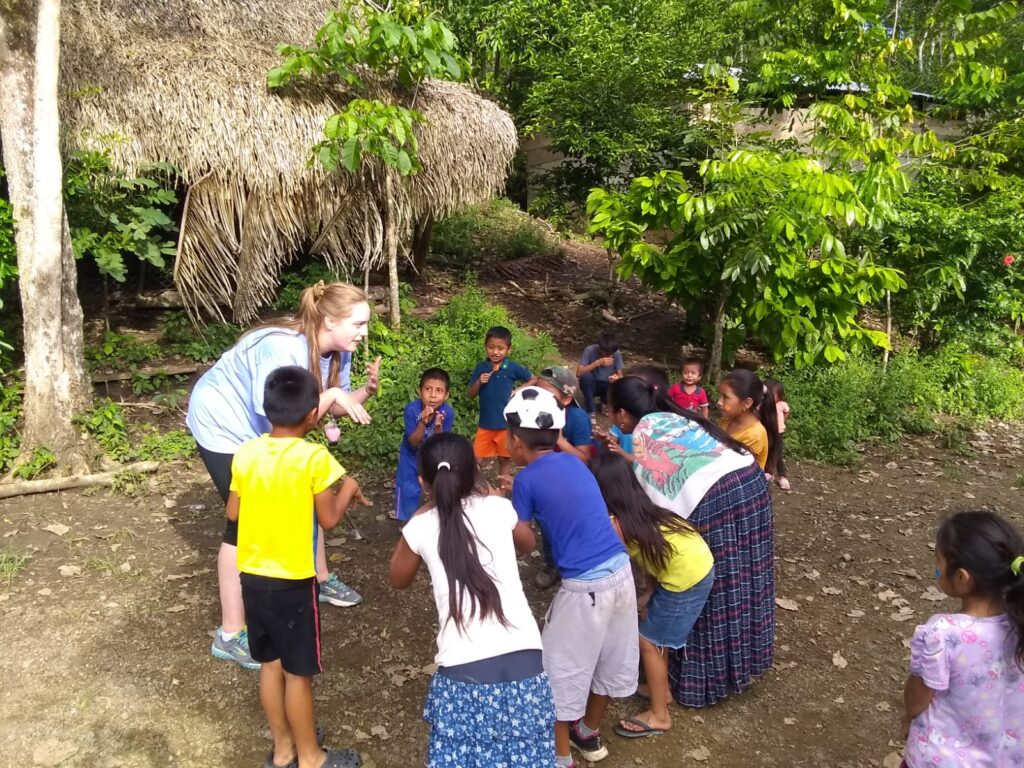 A growing bond
During the entire trip, a sense of gratitude seemed to flow both ways between the students and their patients and hosts.
Nguyen, for one, said that she learned far more than just some Mayan words while serving this community.
"I learned their way of life and resilience despite the unfair disadvantages they have in the health care and political system," she said. "Interacting with the Mayan communities exposed me to their rich history and cultural heritage, teaching me perseverance, community support and finding joy in the simplest of things.
"Their strength and dedication left a lasting impression on me, inspiring me to advocate for change and strive to make a positive impact in the lives of marginalized communities."
As Schober wrote from Guatemala, "It feels like we are learning to be one community by sharing pieces of our culture with each other. We are developing trust and a bond that will hopefully last for years and lead to building healthy people and a healthy village.
"I understand now what it means to say it takes a village — and to be a member of that village."
The Guatemala service-learning experience is one of several UW Bothell Study Abroad programs, which sent 73 students in 2023 to Finland, Thailand, Japan and Europe as well. Participation numbers haven't yet reached pre-pandemic levels, but there is a resurgence in study-abroad activity in both programs and student interest, according to Natalia Dyba, director of Global Initiatives.