The University of Washington Bothell's Veterans Day observance this year celebrates the new Veterans Resource Center on campus.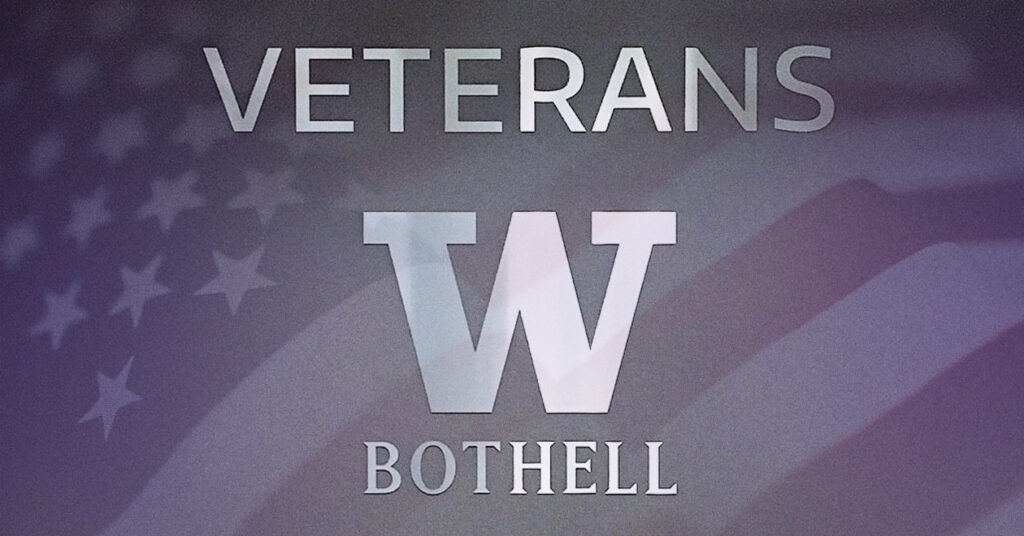 The opening of the center is a milestone that reaffirms UW Bothell's commitment to our veteran community, said Chancellor Wolf Yeigh.
"We are committed to building a more welcoming and supportive campus for veterans and their families," Yeigh said. "This is where veterans can turn for resources and support as they transition and launch the next phase of their lives."
The center also is a place where veterans can build a community based on their shared experiences. "This is where they can find a familiar sense of camaraderie," he said.
The center fulfills commitments made through the UW Bothell Veterans Life Task Force and the Partners for Veteran Supportive Campuses program of Washington's Department of Veterans Affairs.
Located in UW1-011 at Founders Hall, the center will have an opening ceremony at 4:30 p.m. Nov. 8, followed by the annual UW Bothell Veterans Reception, 6-8 p.m., in the Commons at Commons Hall (UW2). The reception recognizes the service and sacrifice of UW Bothell veteran alumni, students, faculty, staff and their families. Register for the reception.
In addition to an address by Yeigh, a Navy veteran, the keynote speaker is Neil Low (IAS '03), also a Navy veteran, who recently retired from the Seattle Police Department. Representatives from the American Legion and Veterans of Foreign Wars will join the campus community for the reception.
About 200 veterans and their family members use Veterans Affairs education benefits to attend UW Bothell. Enrollment figures show the total number on campus is likely greater than that, about 6 percent of the student body.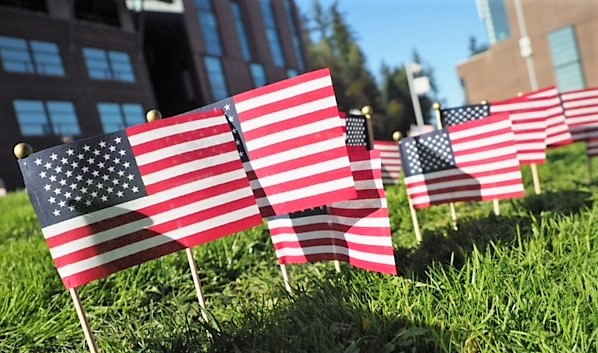 The Veterans Resource Center is staffed by Vet Corps Navigator Sean La Marr and three student assistants — Robert Lewis, Peter Rodriguez and Jonah Au — funded by the VA Work Study program. The center also is a space for the UW Bothell Student Veterans Association (SVA) to meet, said Rosa Liu, veterans services manager.
"It is central to their ability to successfully transition from military culture to life in the civilian world," Liu said. "The ability to connect and bond with fellow veterans is key to their success and well-being in this new chapter in their lives as students."
The UW Bothell Veterans Services Office in the Division of Student Affairs remains the main arm in helping veterans smoothly receive benefits so they can focus on their studies. The new center adds to a supportive environment that includes the Veterans Archway, challenge coins, graduation stoles and training for the campus community, Liu said.
"Our veterans bring a very special presence and voice to the university," Liu said. "Their experiences provide us with unique perspectives that we should all pay attention to. They have seen this world in ways that most of us cannot fathom. We can learn a great deal from them."
La Marr (Law, Economics and Public Policy '18) is a member of the Navy Reserve, serving as a mass communications specialist. The navigator position is funded by AmeriCorps through the Washington Department of Veterans Affairs. Navigators work on campuses to help veterans make the college transition. La Marr was previously one of the leaders of the SVA, whose president this year is Chuck Scott, a Navy veteran.
As a central location to identify resources, connect with others and find a supportive environment, the Veterans Resource Center provides roots for a growing UW Bothell community of veterans and their families, Scott said.
"The center will also be a 'home base' for the SVA, which is committed to bringing veterans together and to being an active and meaningful part of the UW Bothell community," Scott said.
When La Marr first arrived on campus as a student, he says he felt unable to relate to other students because they had such different experiences.
"It wasn't until joining the SVA and spending time with other veteran students who identified with these challenges that my coursework became easier and more enjoyable," La Marr said. "Having a designated center on this campus for our student veterans and dependents of veterans to be able to go to, either for assistance or maybe just for camaraderie and to share stories, is going to make a world of difference for many."
People attending the UW Bothell Veterans Reception are asked to bring a new unopened toy for the Marine Corps Toys for Tots program. The SVA also invites UW Bothell alumni, veterans and supporters to celebrate the 243rd birthday of the Marine Corps 5-8 p.m. on Nov. 10 at the 192 Brewing Co. in Kenmore.