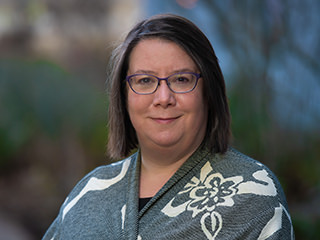 Rachel E. Scherr came to the University of Washington Bothell because she was looking for a place to call home. "I was searching for a community and a sense of belonging. I wanted to feel appreciated for the work that I do," she said.
After just two years of teaching at the university, Scherr has been named the 2021 recipient of the Distinguished Research, Scholarship, and Creative Activity Award. It is one of the highest UW Bothell honors a faculty member can receive.
For Scherr, the award solidifies that she has finally found her home. "It's the best welcome I have ever received," she said. "I wanted to find a university that would celebrate my research, and that's what this award represents. I am so honored and warmed by the recognition."
In nominating Scherr, the award committee was most impressed by the lasting impact she has made on the campus, especially in such a short amount of time.
"Rachel Scherr has at least four grants that run through 2023 that will help shape the future of physics education," said Sharon A. Jones, vice chancellor for Academic Affairs. "Her work has been steeped in the core principles of diversity, equity and inclusion, and it will continue to touch the lives of students and faculty in the future."
Nationwide change
Scherr, assistant professor in the School of STEM's Division of Physical Sciences, is extremely passionate about physics education and research. "My focus has always been in the teaching and learning of physics and disciplinary culture and practices," she said.
One of the research grants she is particularly excited about is The Energy and Equity Project. Essentially, it is a development project for high school teachers that integrates equity issues into energy teaching and learning in physics.
"Most people think of physics concepts as being culturally neutral and not having any particular social context," Scherr said. "Physics studies things like time, matter, space and energy — which seem like they are just laws of the universe and don't have anything to do with people. But they actually do."
Scherr explained that the concept of energy was created during the industrial revolution for the purpose of improving factories and steamship technology.
"The residue of that remains in physics teaching today, which emphasizes work, power, efficiency and heat. It takes place in the context of engines. It doesn't describe how we use energy in our modern lives," she said. "The way we teach about energy needs to be modernized. What would it look like if we were teaching an energy concept that included sustainability or renewability? Those don't currently have a place in introductory physics teaching."
To help change that, Scherr partnered with high school teachers across the country to implement lesson plans that introduce students to the concept of energy in a more modern way. One of Scherr's teacher partners in New York is using this approach to promote student activism. "By studying the use of energy in their community, these students learned that when there is a surge in demand, power plants located in poor neighborhoods are used. The result is extreme pollution that threatens the health and safety of residents," Scherr said. "The teacher is supporting the students with their community activism, petitioning for solar arrays that everyone can access to lessen electrical use during peak need."
Richer experiences
Scherr is also working on a project to mentor Cal State University juniors and seniors who are studying physics and astronomy, are students of color and want to attend graduate school. Through this program, students receive mentorship, financial support, professional development workshops and a sense of community. Scherr's role is to research which of these factors makes the greatest impact on students.
She found that while the students appreciate the money, what they say benefits them most is having mentors and faculty who are invested in their success. "Having that knowledge is extremely beneficial as it helps refine the program," she said, "and provides direction for leaders as to where they should be investing their time and money."
Another of Scherr's projects is aimed at identifying the conceptual resources students use while learning introductory physics. "A lot of research focused on classroom learning is based on a deficit model of students: what they don't know, what they don't have, what mistakes they make," she said.
"My project is about balancing that by recognizing that students are fantastically full of bits and pieces of ideas that we, as teachers, can bring out.," she said. "Our job is to help organize those ideas. Students have everything they need to build a sophisticated understanding of the concepts we teach.
"It is a much richer and humane way of thinking about students — and it is more enjoyable for students to have their budding expertise acknowledged and built upon."
Paying it forward
When Scherr arrived at UW Bothell, the physics program offered a bachelor of arts degree, but it wasn't much different from a bachelor of science degree. Scherr changed that by helping redesign the BA so that students can get a physics major and a high school teaching certification in four years.
"It's a great opportunity, especially because there is a terrible national shortage of qualified physics teachers and is a terrific career choice," she said. "Many UW Bothell students are the first generation in their families to go to college and are from underrepresented groups. To have these students become the next generation of high school physics teachers is something I look forward to."
Scherr also noted that the BA program serves the region because high school teachers tend to stay close to where they were certified. "UW Bothell is one of the only places in the Seattle metropolitan area where you can get a physics major and a high school teaching certification in four years. Hopefully it can draw people to the University," she said.
The way Scherr wants to think about recognition and status in her own life is that the more she has, the more she can support other people.
"By getting this award, I want to communicate that there is a research life at UW Bothell," she said, "and I want to support other faculty and students who want to conduct research here."