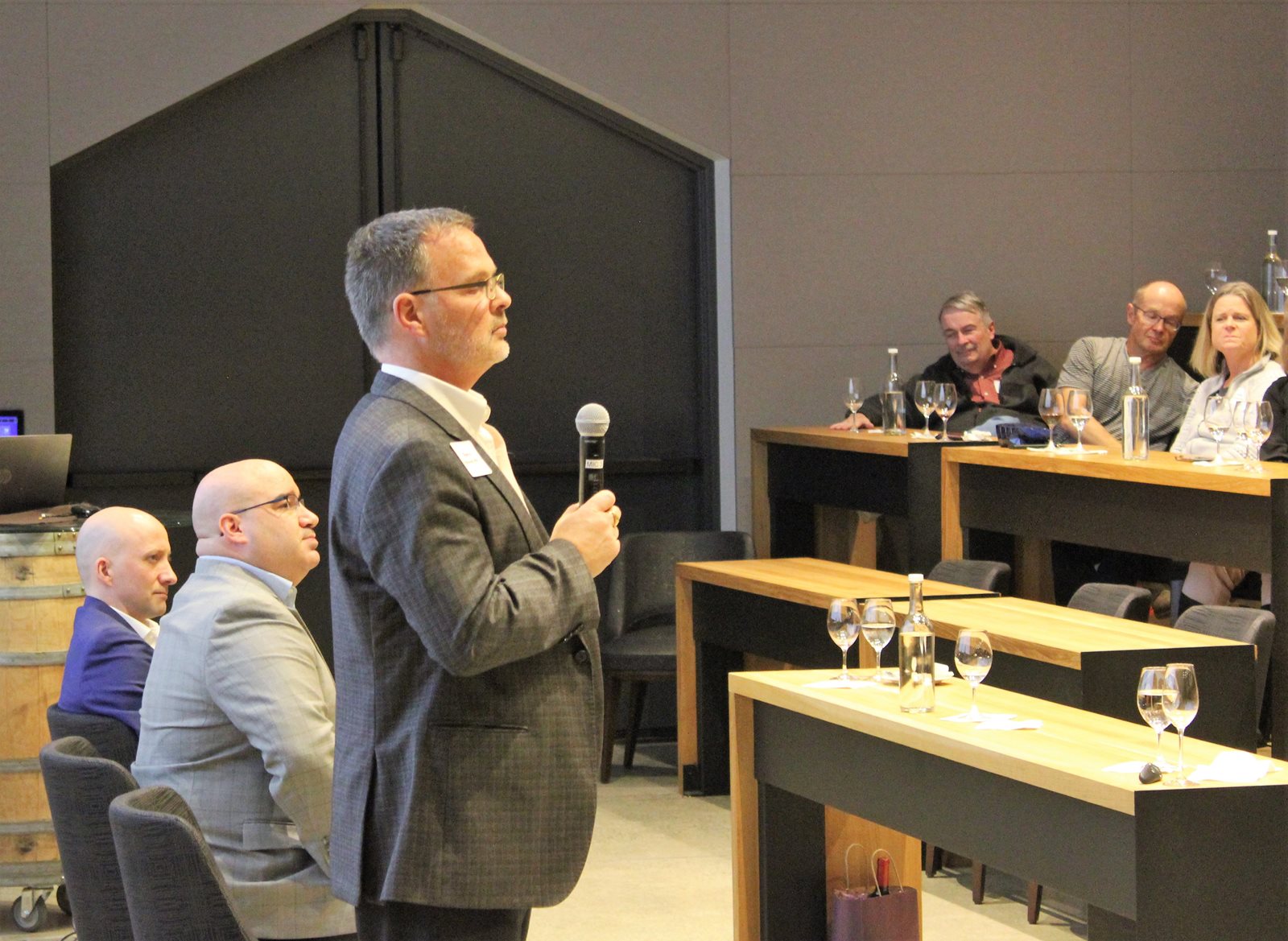 Dr. Pierre Mourad, professor in the School of STEM's Division of Engineering & Mathematics, uses his Hacking Your Brain 101 course to help empower students with the ability to shape their experiences of the world.
As part of the University of Washington Bothell's Discovery Core, the class is designed to support first-year and pre-major students in forming connections with communities of peers and scholars. DCX courses also provide fundamental skills needed to succeed in college, satisfy prerequisite requirements and expose students to a wide range of topic areas as they consider their academic path.
"They're learning how to work in groups. They're learning how to make presentations. They're learning how to read scientific papers," said Mourad, who is also a professor in the University of Washington's Department of Neurological Surgery. "It's a curated education, and they seem to appreciate that."
But this particular DCX class, which explores the field of neuro-engineering, is designed to do even more.
Learning for life
Focused at the intersection of Mourad's areas of specialty, Hacking Your Brain 101 looks at neuro-engineering, a discipline within biomedical engineering that uses engineering techniques to understand the brain, but the curriculum also introduces students to other potential areas of study such as neurobiology, engineering, pharmacology and psychology.
"My goals are to not only expose students to different career paths and different choices of major at UW Bothell but to also engage them with enough information so they can make informed decisions about how they live in the world," said Mourad.
To do this, he teaches students about four ways to improve brain function — through aesthetics, medicines, lifestyle and devices — while also discussing the ethical questions that come with altering the brain.
"People might want to optimize how their brain works beyond what nature gave them," said Mourad, "or improve brain function due to diseases and injury."
Understanding the brain
To start his students' exploration of brain function, Mourad interweaves material on neuroanatomy with aesthetics — a delicious cookie or a sunset, for instance — to show how these inputs are processed by the brain and hence affect brain function. From there, he explains how students might be able to use their favorite song to their advantage.
"If music puts you in a good mood and you want to be in a good mood, listen to the music and you'll be in a good mood," said Mourad. "You've now hacked your brain."
The class also explores how students can use lifestyle, including diet and exercise, to positively affect how their brain functions, even how they learn. Mourad calls this section "neuro-lifestyle."
"For example, if you're going to take notes in class, do so writing rather than typing. Why? Because if you're typing, you can go into automatic mode and not learn anything as you type. You just have a paper filled with words," he said. "When writing, you can't keep up, which means you start using working memory and storing things into long-term memory right away because you have to assimilate."
Thinking differently
In addition to these more external ways of affecting the brain, students in the class delve into how internal inputs, using medications or substances such as alcohol, can make an impact.
"Some people take migraine medicine. Some people take Adderall for ADHD. Some people trip on ecstasy. Some people smoke pot," Mourad said. "We study the neurobiology of these substances and their effects. Where in the brain down to the level of individual neurons do these drugs work?
"Students learn about the history of the drug, about where in the brain it works, about what it does at that portion of the brain, and about the pros and cons of a given medication."
Toward the end of the quarter, the class learns about neuro-devices: electromagnetic energy, ultrasound and medical implants in the brain, which Mourad considers "classical neuro-engineering."
Questioning the ethics
By covering all these areas of neuro-exploration, Mourad hopes to give students a well-rounded, interdisciplinary look at the discipline while also thinking critically about the ethics of these methods.
"There are multiple things to consider. One is, what if there are ways of enhancing your brain function — makes you smarter, remember more — and it's not equitably distributed or available to all? Is that good? What are the pros and cons of that? That's one example," Mourad said.
"And then there's the use of devices. When you do research, you really need to make sure that people are informed of the pros and cons.," he said. "For example, for some studies researchers implant something in your brain. Does the study include payment for taking it out? What if you like it, and you don't want it taken out? But then, who's going to keep track of it? Who's going to take care of you if something goes bad in 10 years?
"These are the kinds of ethical questions that arise."
Engaging and changing
This is the second time Mourad has taught Hacking Your Brain 101, and it has gone more smoothly than the first time around in spring 2020 when the class was interrupted and disrupted by the pandemic. This quarter, Mourad reported that the students are both engaged and inspired.
Maryam Maabreh, for one, said that she's now motivated both to clean up her lifestyle and potentially to study computer engineering.
"The first few weeks covered addictions. It feels unsettling to talk about partaking in ill-advised activities while knowing they're not good for you. This motivated me to fix up my sleep schedule and work on a few small bad habits," she said. "Through this course, I've gained a greater incentive to pursue Computer Science & Software Engineering and learn more programming languages."
Sean Murnane, who still intends to major in Business Finance, said he is now more interested in learning more about neurology. "I decided to take this course because it provided a perfect way to dip my toes into neurological topics," he said. "While I likely will not follow this path for my education, this course has piqued my interest in the neurological field."
He's also found himself much more aware of how his own brain functions, and how he can use that knowledge to his advantage while in school — exactly the effect Mourad hopes this class can have well into the future.
Making informed choices
"This course gives students the opportunity to examine their life choices and how they can experience life more broadly," said Mourad. "I'm excited to offer a class that has a chance to do that and, given the opportunity, I intend to continue to teach it and to refine it so that it's both informative and useful.
In spring quarter 2023, for example, he is planning to offer an expanded edition of the class that incorporates issues related to diversity, equity and inclusion, to be co-taught with Dr. Salwa Al-Noori, associate teaching professor in the School of STEM.
"These cross-disciplinary core courses are really important," Mourad said, "and a special part of how UW Bothell teaches its students."