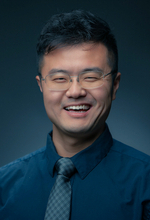 Dong Si, assistant professor in the University of Washington Bothell's School of STEM has been honored with the 2022 UW Bothell Outstanding Community-Engaged Scholar Award.
Created in 2020 by the Community Engagement Council, the annual award recognizes impactful community-engaged scholarship by UW Bothell faculty who collaborate between institutions of higher education and the larger community.
The selection committee for this award noted outstanding evidence of Si's relationship with community partners as well as his qualities of reciprocity and mutual respect. "We found Dong's application to be beyond outstanding," the committee wrote in a letter to Dr. Kristin G. Esterberg, chancellor of UW Bothell. "We were impressed by the breadth of Dong's work and the variety of partnerships he has fostered over time. We were able to observe how his engagements have given back to the community and contributed the advancement of the DEI initiatives."
Supporting student honors
Since joining UW Bothell in 2016, Si has developed the concepts for DeepTracer, CocoBot and iREACH, three advanced research projects that include colleagues at the University of Washington in Seattle and Tacoma.
DeepTracer, a software tool, uses deep learning to analyze a three-dimensional image of protein complex and trace the connections of its atoms. This is significant because "if you know the actual atomic structure of the viral protein, you will know how to speed up the development of vaccines or drugs," Si explained. The project was heavily covered in 2020 by media outlets including KIRO 7, The Daily Herald, KOMO TV and Diversity in Action Magazine because of its relevancy to COVID-19.
Si's other project, CocoBot, also serves the medical field. It is a mobile app designed to help caregivers better understand and serve patients in their families with chronic diseases. "It is a chatbot with the potential to help relieve the stress on caregivers in families with children with chronic health conditions," Si said. "Many caregivers often experience symptoms of depression and sleep problems due to stress, and this AI provides caregivers with more than a link to resources. It aims to detect how they are feeling and suggest self-help options that respond to their needs."
The most recent project, iREACH, aims to build a platform that uses research and evidence-based Cognitive Behavioral Therapy alongside AI and machine learning techniques to coach caretakers of psychosis patients.
Students Yinzhou Wang and Jenny Rong recently received Mary Gates Undergraduate Research Scholarships to assist Si on these projects. The competitive scholarships are intended to enhance the educational experiences of undergraduates while they are engaged in research guided by faculty.
Shaping future careers
During his time at UW Bothell, Si has mentored 44 students on their capstones, and many of his students, such Wang and Rong, have received highly esteemed awards. Alan Burnett and Michael Nissenson, for example, both received international awards.
Burnett, 2020 STEM alumnus, won the Best Presentation Award at the International Conference on Compute and Data Analysis in 2017. This award recognizes individuals whose work represents groundbreaking research in their respective areas. Burnett's presentation was titled Applications of Machine Learning to Aviation Accident Data and explored application of machine learning techniques for predicting conditions that increase the likelihood of aviation accidents involving fatalities and serious injuries. He proposed his project in Si's Machine Learning class and converted into a capstone project under Si's supervision.
Nissenson, 2017 STEM alumnus, received the Outstanding Undergraduate Research award, also in 2017, presented by the Association for Computing Machinery – Special Interest Group on Bioinformatics, Computational Biology and Biomedical Informatics. He was Si's first student at UW Bothell and under Si's guidance researched electron cryo-microscopy data processing. At the conference, he presented VolumeCut and VolumeCompare, two tools that allow users to quickly generate and compare 3D data in a visualization platform.
Si's mentorship extends beyond his classroom as he works directly with K-12 students at The Overlake School in Redmond, Washington, and at Interlake High School in Bellevue, Washington.
Influencing upcoming scholars
Adrian Avram, now a senior at Overlake, worked with Si during summer 2020 on the DeepTracer project as the front-end developer and described the experience as "an undoubtedly significant part of my life that will help to shape my future career goals."
He spent the summer working alongside students from Si's research group, Data Analysis & Intelligent Systems Group, who are investigating the use of artificial intelligence for smart health and next generation biomedicine.
"I quickly learned that one of the main strengths of this project is how it combines the fields of computer science and biology," Avram said. "The interdisciplinary nature gave me ample opportunity to refine my existing skills but also learn about entirely new subjects like cryogenic electron microscopy and its revolution.
"Looking back," Avram said, "I found it inspiring that even as a high schooler I was able to make significant contributions to the DeepTracer project and the greater COVID-19 effort as we worked to create software that could aid in the development of the vaccine."
Si's undergraduate students Luca Change, Kierman Connolly and Hanze Meng have continued working on the DeepTracer project and recently published their research findings in the prestigious Biophysical Journal-Cell Press.
Investing in the community
In addition to Avram, Si has also worked with many other students from Overlake and recently spoke to the school's programming club about the DeepTracer project to encourage further participation. "Afterwards, I received only positive feedback from club members, and many reached out to Dr. Si to learn more and became active participants in DAIS," Avram said.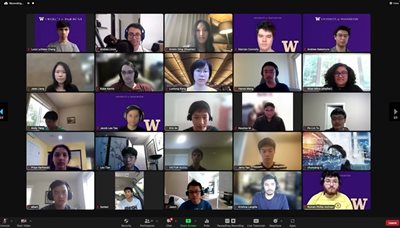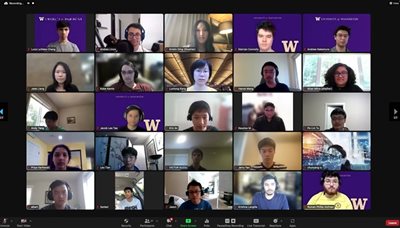 DAIS now has 25 UW students and six K-12 students assisting on projects. "I believe that The Overlake School's mission of aiming to inspire excellence combined with UW Bothell's emphasis on research and interdisciplinary studies together can provide greater educational opportunities for dedicated students — and set an example for the Puget Sound community," Avram said.
A central part of DAIS' mission is to encourage students at all levels, particularly those from underrepresented backgrounds, to pursue STEM careers. Among the 25 UW students, eight are female and 12 are international students. "Having diversity in this field is essential to increasing creativity and innovation in STEM," Si said. "It benefits our institutions, society and the world as a whole."
Through his work, Si wants to help create a more equitable and inclusive world, and he sees the award as inspiring recognition of his efforts. "I am honored to receive the Outstanding Community-Engaged Scholar Award," he said. "I want to thank the Community Engagement Council, the students and the collaborators.
"This award is a reflection of everyone's efforts. For all who worked with me, this award is about you, too."
By Elisabeth Schnebele