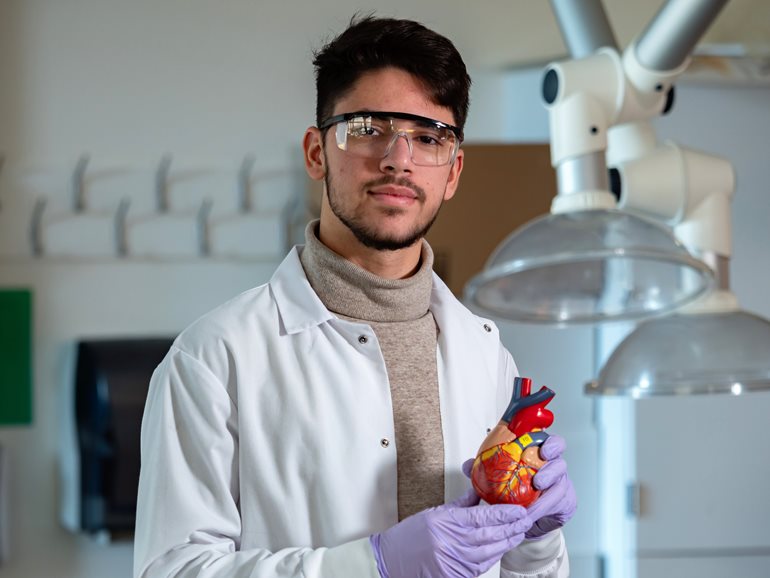 By Sean Park
Since he was a child, University of Washington Bothell sophomore Djelli Berisha has known he wanted to go into medicine when he grew up. Born in the United States with family in Albania, he remembers hearing about his relatives suffering at times because there was no access to health care in Dubovë e vogël, the small village where they live.
"As I got older, I became more aware of disparities in health care," said Berisha. "I want to work to create more access to medicine and to finding solutions to global health issues."
He also has a particular interest in studying the heart "because it's the organ that powers everything."
He got one step closer to his dream of a career in cardiology when he was awarded a 2019 summer fellowship through the University of Washington's Institute for Stem Cell & Regenerative Medicine. Berisha is the first UW Bothell student to receive this honor and one of only five students a year across the three UW campuses.
Learning from the best
To expand their research opportunities and help prepare them for their careers, fellows receive a stipend, waived tuition and the opportunity to participate in speaking engagements and public outreach.
Berisha wanted first-hand experience early in his college studies to help decide whether he would pursue a career in research or patient care. He also had heard that having lab experience would be beneficial when applying to medical school.
He had been reaching out to local hospitals about volunteer opportunities when he learned of the fellowship in a biology class taught by Bryan White, senior lecturer in Biological Sciences in the School of STEM. "The goal of UW Bothell's participation was to pick an exceptional young undergraduate student in their sophomore year who might not have felt traditionally represented in science," said White.
"This fellowship meant a lot to me," said Berisha, who is majoring in Biology with a minor in Chemistry. "It was really empowering to be part of this program and learn from some of the best scientific minds in Seattle.
"Getting paid while doing research in this field," he said, "was a dream come true."
Opening hearts, expanding minds
Almost every day last summer, Berisha spent hours at the institute's Heart & Muscle Mechanics Lab, where he was mentored by Dr. Farid Moussavi-Harami, assistant professor of Medicine/Cardiology; and Kristina Kooiker, research scientist.
The hands-on experience was exactly what he wanted: "I did experiments with heart cells from mice, first dissecting them, then cutting open their hearts."
His contributions were part of a lab project that aims to expand understanding of a specific pathway in the DNA sequence that may be able to help prevent heart failure.
Berisha built on previous research alongside his mentors and other students. "It's definitely a trial-and-error process. We would try one test based on what we already knew, then use those results to inform the next test," he said.
"I had no idea that I would have such an incredible opportunity after my first year in college."
The heart of it all
Berisha still volunteers at the lab twice a week. He says he is inspired by learning from experts in their field and motivated by the advanced work he is doing.
The regular commute to Seattle is on top of the 12 hours Berisha spends on the UW Bothell campus every weekday. In addition to his studies, he is director of student advocacy for the Associated Students of UW Bothell. "I ran for office at the start of my sophomore year because I wanted to be more involved on campus," he said. "In my role, I enjoy advocating for my fellow students and listening to what's important to them."
Does he worry about his over-full schedule affecting his heart?
"I'm careful about managing my schedule," he said, "While my weekdays are packed, I purposely never plan anything heavy on the weekends. I play tennis, hang out with my friends and catch up on my sleep."
His goals keep him going. "I want to contribute to solving some of the world's biggest health issues," Berisha said. "I'm hoping that pursuing cardiology will lead me to help expand equitable health care in rural communities, like the one my family is from in Albania."