One of the final courses seniors take in the University of Washington Bothell's School of Interdisciplinary Arts & Sciences (IAS) is BIS 499 Portfolio Capstone. This is where they sum up their undergraduate learning.
Their new skills often are heightened abilities to communicate and collaborate across different fields in order to innovate and solve problems.
Capstones also prompt students to reflect on who they have become as people and where they are going.
Finally, they must illustrate all that on a poster and defend it to anyone who walks by a presentation. The class led by Kristin Gustafson, IAS senior lecturer, presented their posters Dec. 6 in the third floor vista of Founders Hall. Here are a few of the students' stories.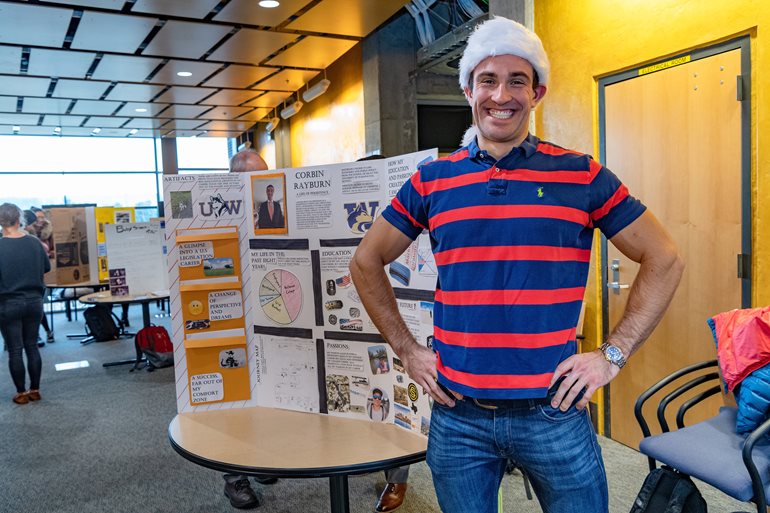 Corbin Rayburn
Law, Economics & Public Policy
Rayburn wore a Santa hat and a big smile. He was finally putting the cap on a college career that spanned eight years with stops at several other colleges where he tried "tech stuff" and received an associate degree in criminal justice. Meanwhile, he has been self-employed as a landscaper. "I'm very hands-on."
Rayburn said UW Bothell gave him options. As he graduated, he was looking at a job opportunity in financial advising, applying to the Bellevue Police Department where he had a friend and talking to an Army recruiter about Officer Training School, following in the footsteps of relatives.
"It's almost overwhelming how many options I have," Rayburn said. "It depends on the coming months."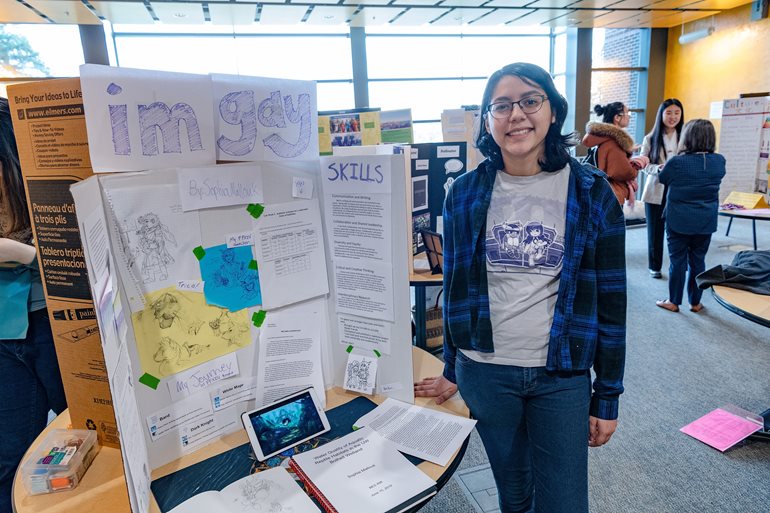 Sophia Mallouk
Environmental Science
A Running Start student who transferred from Everett Community College, Mallouk had to become comfortable as a person before focusing on the environment. Mallouk found the space to do that while helping design games at the Digital Future Lab.
"I was able to explore identity and equity. That's where I learned there's more than one gender identity," Mallouk said. "After I solidified my identity, I felt more confident in my work."
The passion Mallouk put into the game design studio might seem removed from environmental science, but they're complementary. "Learning about issues like equity and environmental justice is really important when we're talking about environmentalism as a whole."
Mallouk is working as a tutor and looking for an environmental job with a local government or agency. "Ideally, I want to work in the field, doing research."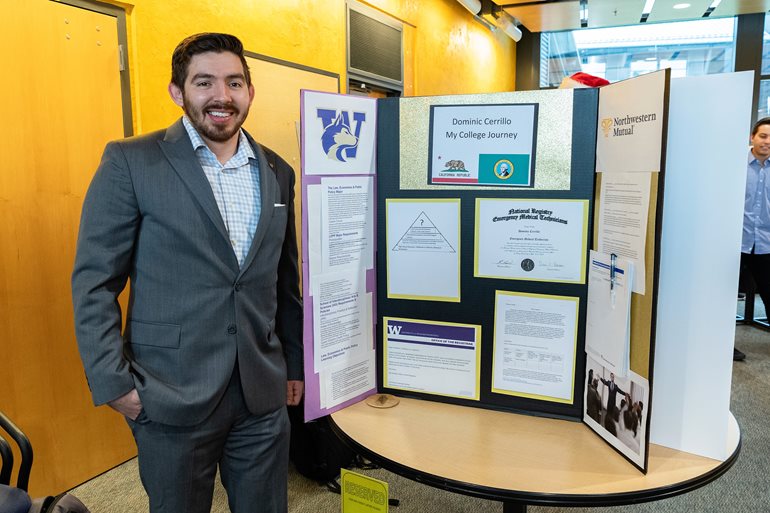 Dominic Cerillo
Law, Economics & Public Policy
Cerillo grew up in San Diego, but his family had moved to Washington by the time he started college. He had attended small, private schools, so UW Bothell felt like a good fit. "I loved the campus, loved the small classes, where I was close to professors. It was a lot like my high school experience."
In another way, it wasn't like high school at all; it was more challenging. After failing some early papers, Cerillo became a "best friend" of the Writing & Communication Center. Now, "I wouldn't say I'm great, but I'm way better than I once was," he said.
Cerillo, who dreaded public speaking and even talking to people one-to-one, overcame that with a lot of presentations, adding that "socializing with my fellow students really brought me out of my shell."
Cerillo interned as a financial planner at Northwestern Mutual Life. He liked the job, but he longed for Southern California. He called a company office in San Diego and applied for a position. Cerillo is starting there with the new year.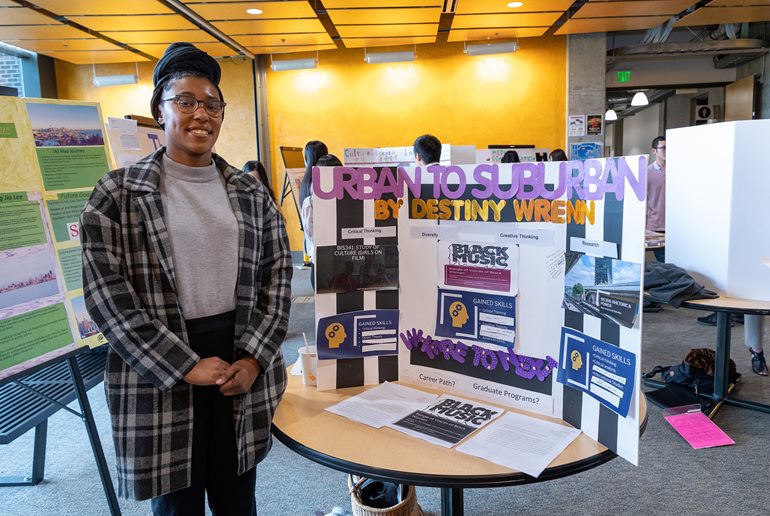 Destiny Wrenn
Society, Ethics & Human Behavior
As far back as eighth grade, when Wrenn's teacher told her that she should be a teacher, Wrenn has thought about teaching.
"I enjoy being that vocal person," she said. "I'm someone who advocates for a diverse teaching staff." But, she is still "looking for something to call to me or draw me in."
Wrenn received an associate degree from Green River College in business administration and was interested in Global Studies when she transferred to UW Bothell and found she could follow her interest in culture.
The first in her family to graduate from a four-year college, Wrenn is taking her time on a career decision, mulling graduate school. An ideal job would be dealing with diversity and inclusion in the workforce or school system.
The idea of teaching keeps coming up, as if it were her destiny. "It kind of is," she said.