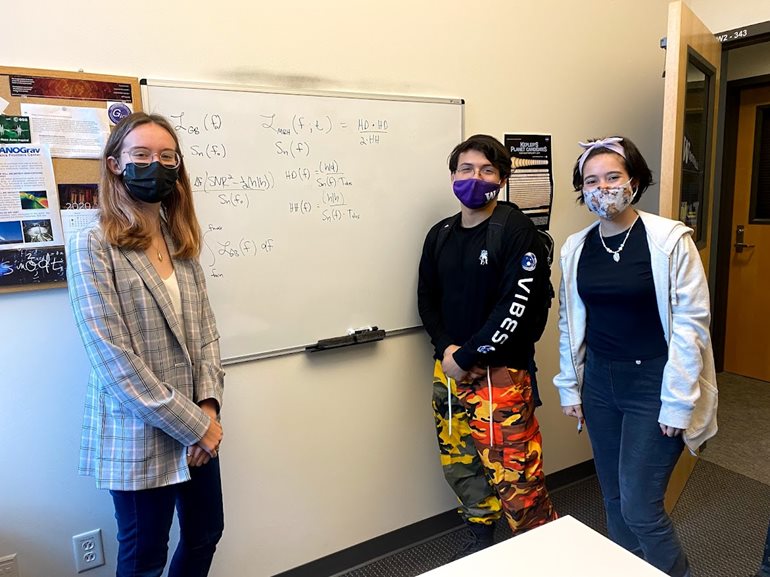 This REU physics program, supported by a three-year grant from the National Science Foundation, offered students the chance to participate in research projects, professional development activities and an introduction to research-oriented careers in physics and astronomy. Participants were matched with faculty mentors based on their interests and participated in weekly workshops where they could explore the ins and outs of research careers.
While UW Bothell has hosted REUs in math and electrical engineering, as well as a smaller research online research program in astrophysics, this is the first time the campus offered an immersive research opportunity of this scope to physics undergraduates throughout the United States, said UW Bothell assistant physics professors and REU mentors Dr. Joey Shapiro Key and Dr. Paola Rodríguez Hidalgo.
"This is the first year of the NSF award for a physics REU, although last summer we had an online summer research program with 10 students funded by a couple of different grants," said Shapiro Key. "Last year's program was smaller — and all online."
Inspired to create STEM equity
Inequities in STEM, particularly the lack of diversity in the field, was a big motivator behind Shapiro Key and Rodríguez Hidalgo's effort to bring this REU to fruition at UW Bothell. As they sought grant funding and spread the word about the REU to students, they focused particularly on creating a welcoming space for women and people of color in physics.
"One of the things that we emphasized, both in the proposal ;and when we were doing all of the grant work, was diversity. We wanted women in science. We wanted a variety of backgrounds and experiences," said Rodríguez Hidalgo.
In 2020, UW Bothell's Physics Department received more than $300,000 in funding from the NSF for the REU based on this premise, providing the department with the funds to host this program for three years. In March 2021, this year's REU student cohort selection, which included 23 students from all walks of life and types of institutions, was finalized.
In June 2021, each of the Physics REU students was matched with a research project and mentor based on their particular interests.
Tailored to student interests
Projects included defining Seattle heat waves, studying the spectral artifacts at the world's largest gravitational wave observatory, exploring strategies for teaching circuitry in small-group environments and more.
"The first two days of the program, all the mentors presented their projects and then the students got to pick what they wanted to work on," said Shapiro Key. "So we did some project matching. I didn't predict this but several of the students wanted to work on more than one project!"
Once they'd chosen their research project or projects, students worked to contribute to their faculty adviser's project and engaged in professional development activities meant to expose students to the realities of a research-oriented career in physics. The professional development and education helped clarify options for students nearing graduation in the 2021 cohort. Among them was Myrla Phillipe.
"I'm strongly considering applying to graduate school, but I also learned there are other options if I don't go to grad school. The REU showed me what I can do with a physics degree, so overall it was a great experience," said Phillipe, who is currently studying physics with a specialization in astronomy at the University of Central Florida. "Before I started, I was leaning 60% to applying for grad school now I think I'm leaning toward 80%."
Program benefits multiply
Likewise, Nathnael Kahassai, a sophomore at University of North Carolina whose primary REU project was with Rodríguez Hidalgo and focused on studying variability in extremely high-velocity quasars, or black holes, said such research wouldn't be accessible to him at his home institution.
"There's no one at UNC to my knowledge that's working on quasars," Kahassai said. "I feel like University of Washington Bothell is definitely on the radar now just because I've been exposed to a lot of quasar research this summer, and it really has helped guide me as I decide on next steps."
UW Bothell student Christopher McJunkin, who is entering his fifth and final year as an undergraduate, noted that the program allowed him to deepen his relationship with his program and institution. He was matched with Dr. Eric Salathé, associate professor in the School of STEM.
"There are many things I found rewarding about the program — being able to establish and grow new and already existing relationships with my peers and other professors but also being able to work on a project about the frequency of heatwaves and developing skills useful in or out of academia," McJunkin said. "Working with Dr. Salathe was great, too, because he's been working on climate science for the last 20 years, and he has a deep understanding of the physical mechanisms driving and perpetuating climate change."
High-level, hybrid collaboration
Because of the COVID-19 pandemic, the 2021 REU offered students the choice to study virtually or with a combination of in-person and virtual activities, based on each student's comfort level. This hybrid model offered many perks and challenges.
All the REU students, regardless of their decision to work in-person or virtually, got a $6,000 stipend as well as funding for travel and lodging. But the REU was flexible — and let some students come to Bothell just for one week when COVID-19 cases were low.
"We had students in Oklahoma and Florida who decided to stay where they were, but then we had a student from Missouri who came to Bothell. We allowed the students to decide whether to come or not," said Rodríguez Hidalgo. "One of the students who chose to participate fully online asked if she could come for a week, and we offered that option to some other all-virtual students because we had travel money for them. Some came out for a week and stayed at a hotel but got to meet people and work with their research groups in person. That was a cool part of the hybrid."
After an entire year of college online, the chance to collaborate in-person (following CDC-recommended safety precautions) in a new location for the summer, or even just for a week, was a major boon for some students.
Opportunities to engage
"I went to Seattle for the REU and currently am back in North Carolina, but it was definitely nice after being online my entire freshman year," said Kahassai. "I thought it was just really cool that over the summer I could go to a different institution, discover a new place and work on things that I couldn't& at UNC."
The hybrid model did offer some challenges. In particular, Shapiro Key and Rodríguez Hidalgo noted that they had to go above and beyond their original plans to keep everyone engaged. As opposed to the six mentors they had last year, the 2021 REU had 10 mentors this last summer to help Shapiro Key and Rodríguez Hidalgo stay on top of student communications and administrative tasks as they also focused on making each REU student's experience a high-quality one.
"Keeping the students who were online and in-person equally active in the program required an extra layer that I want to emphasize," said Rodríguez Hidalgo. "We were putting everything online while also mentoring our own students in-person and online. I think having extra mentors to manage the chat and email, like if I had to teach a class, definitely was a lot of help."
Setting up the future of physics
After 10 weeks, the physics students displayed a depth of knowledge, professionalism and camaraderie as they presented their research virtually to the cohort during the closing symposium. As students presented their work, mentors and students asked questions and dropped compliments in the chat — and went off mute after every presentation to clap.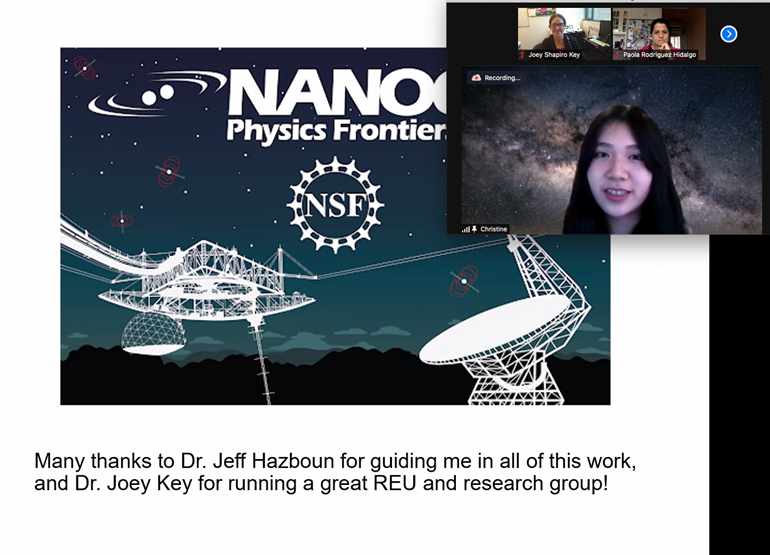 The symposium on August 20 was the capstone of a memorable experience that participating students of color say has made them more hopeful about joining and belonging to the science community.
"All of the mentors were super accessible. You could just go and ask them anything — and the students as well," Phillippe said. "My peers? They had the same vibe. It was a nice community and gave me an insight to what the scientific community is overall. I didn't feel alone."
On Friday, August 20, this summer's 10-week Research Experience for Undergraduates (REU) in physics hosted by UW Bothell culminated in the REU Physics Research Symposium, a day-long event during which the students presented the research they spent their summer doing.