The University of Washington Bothell's Master of Fine Arts in Creative Writing & Poetics celebrated its 10th anniversary this month as a groundbreaking program that puts a focus on interdisciplinary work, poetics and community building.
To commemorate the milestone, faculty and staff hosted two events that brought in top-tier writers and highlighted work by alumni and current students: the annual Fall Convergence and the first-ever Alumni Reunion.
These events highlighted the program's emphasis on poetics, which calls on students to inquire into the social, cultural and technological aspects of writing, said Dr. Amaranth Borsuk, associate professor in the School of Interdisciplinary Arts & Sciences.
"Our MFA program is purposefully interdisciplinary and invites students to work across genres and art forms while exploring what matters to them as writers and makers, Borsuk said."
Creating the Convergence
At the beginning of every academic year, the MFA program hosts a Fall Convergence to bring students, faculty and staff together to foster conversations that set the tone for the year.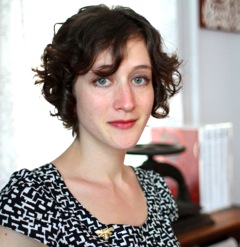 The idea to host these annual events came from Dr. Jeanne Heuving, professor in the School of IAS. The first event in 2013 was wildly popular, Borsuk noted.
"People traveled from across the country to be a part of the landmark launch event," Borsuk said. "Since then, they've varied in size and complexity, with the last three Convergences — including this year's — held online due to the pandemic."
For the 10th anniversary, organizers invited three speakers who have been part of past Convergence events to return and speak about their recent work and concerns. Each was asked to invite a co-panelist, providing an opportunity for communion with another thinker and maker with whom they feel a kinship and demonstrating a sense of the networks and interconnections that shape contemporary poetics.
The celebration also included a panel featuring the collaborative publishing project with Essay Press, whose executive editor is alumnus Travis Sharp, and a virtual reading by faculty and alumni at the Paterson Poetry Festival, which was founded by alumnus Talena Lachelle Queen.
Taking different approaches
MFA student Connor James, who volunteered during the event, said his favorite part was watching the conversations between the presenting writers. He specifically enjoyed the panel featuring Andrea Abi-Karam, a trans, Arab-American punk poet-performer as well as Philip Metres, a professor of English and director of the Peace, Justice and Human Rights program at John Carroll University.
The pair presented two quite different pieces of work: Abi-Karam's was a punk-experience piece that played with punctuation and capitalization, while Metres' piece used poetry to express his coming to terms with political strife. Despite the contrasting natures of their work, Abi-Karam and Metres' conversation unveiled some unexpected similarities between their approaches.
Said James, it was a great way to "experience what we kind of defined as serious play — trying to push the boundaries, having fun with experimentation. It's okay if you fail, but what's important is trying different approaches."
Returning to learn more
In addition to hosting a Convergence event celebrating 10 years, the School of IAS invited MFA alumni to come back to UW Bothell in early fall for the program's first-ever Alumni Reunion, which gave organizers a powerful glimpse into the far-reaching influence of the program.
"We knew with a 10-year anniversary, it was a moment to take stock, reflect on where we've been and then also look forward to see where the MFA might go in the next decade," Borsuk said.
Ashley Skartvedt '20 and Woogee Bae '19 helped coordinate the reunion, which featured workshops, readings and a keynote speech by Rebecca Brown, senior artist-in-residence and one of the program's founding faculty members.
The alumni pair,who previously worked with faculty organizers on the prestigious &Now Festival of innovative writing in 2019, said they each were deeply impacted by their experience as MFA students.
Hearing diverse voices
Skartvedt left her job as a recreational therapist at a psychiatric hospital to pursue her MFA in 2018. She had been volunteering with the Pongo Poetry Project when she discovered her love and talent for writing. She is now the co-executive director of programs for the organization.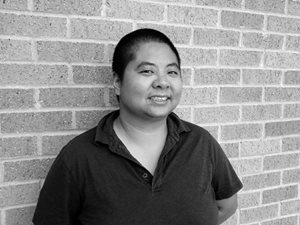 At Pongo, Skartvedt helps youth in juvenile detention centers and psychiatric hospitals express themselves by writing poetry. She said the MFA program exposed her to a more diverse range of writers that she brings into her work today.
"A lot of the authors we studied were racially diverse — authors that I hadn't read before or hadn't been exposed to — and that's a big part of what I do now," Skartvedt said. "We work with a lot of youth of color. I'm intentional with the poets I choose to bring in for them to listen to and be inspired by."
Dr. Ching-In Chen, assistant professor in the School of IAS, said the program highlights underrepresented identities to tie into the program's emphasis on poetics. Faculty ask students to think about what social and political issues matter to them, how their identity impacts their work and the big-picture questions they want their work to answer.
"I think some students find it intimidating. So … my aim is to have students think about how they're already doing poetics," Chen said. "I think of it as, 'What are the conversations you're having and with whom are you having these conversations?'"
Building community with storytelling
Skartvedt said the MFA program also helped her with community organizing and facilitating the creativity of her students at Pongo — just the sort of skills Borsuk said they offer MFA students at UW Bothell.
"Being in this program, it is so much about community building. You're in a cohort, which means you spend a lot of time with the same group of people," Borsuk said. "We also emphasize connections to communities outside of our own too, including lots of great literary and art communities in Seattle, and nationally as well."
All of the MFA students are in the same workshop and seminar, reading the same books, Borsuk said. This setup inspires them to work together and think of literary and artistic practice not as isolated, one-person activities — but as something you do "in community with others," Borsuk said.
"I feel like the graduates of our program really take that to heart and that they find ways to forge a community of their own," Borsuk said. "We've seen graduates start literary journals and reading series. We see them getting involved with nonprofits in our region."
Looking to the next 10 Years
Community and connection were the biggest takeaways for reunion organizer Bae when she graduated from the MFA in spring 2019, and she said she brings those values into her position as events and annual giving manager at Seattle Arts & Lectures. There, she manages fundraising events and giving campaigns while also working behind the scenes to cultivate more community spaces for the Seattle literary arts scene.
"The program solidified how important community is in one's writing practice," said Bae. "Even if the writing itself happens alone, having a cohort to share work, receive feedback and be in continued dialogue with is really important.
"I very much enjoyed the workshops and seminars, but what's left a lasting impression for me is the opportunities to take writing off the page, outside of a classroom and into different spaces of connection."
Looking toward the next decade, Borsuk and Chen hope to expand upon the diversity, community and interdisciplinarity that MFA students love so well.
Another direction that we might be heading is being even more foregrounded in our interdisciplinarity. We have colleagues teaching with us now — Anida Yoeu Ali and Naomi Macalalad Bragin — who have real expertise in performance and art," Borsuk said. "I think those aspects of our program are going to show up even stronger under their guidance."