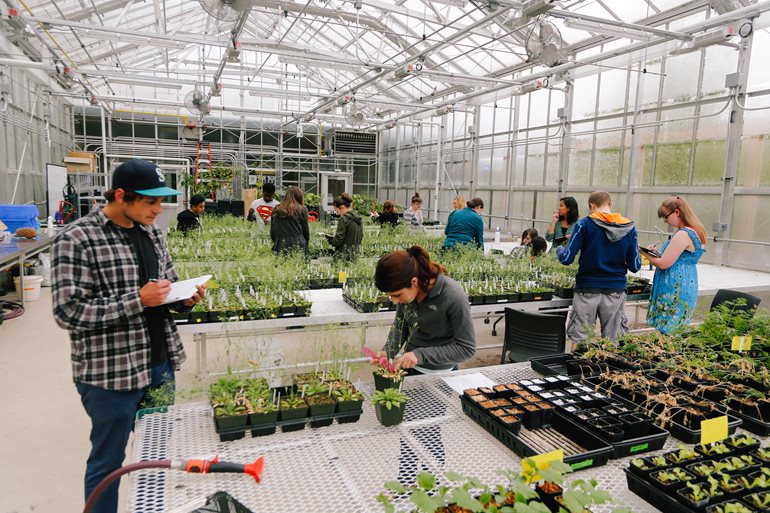 By Douglas Esser
Ecology students in the classroom at the Sarah Simonds Green Conservatory don't have far to look for inspiring, living examples, said Ursula Valdez, an instructor in the School of Interdisciplinary Arts & Sciences.
"One time I was talking about predation and, just there in front of our classroom window, a Cooper's hawk attempted a hunt," Valdez said.
Walking to the Conservatory, camera in hand, Valdez has recorded observations in the campus wetlands that she shares with students.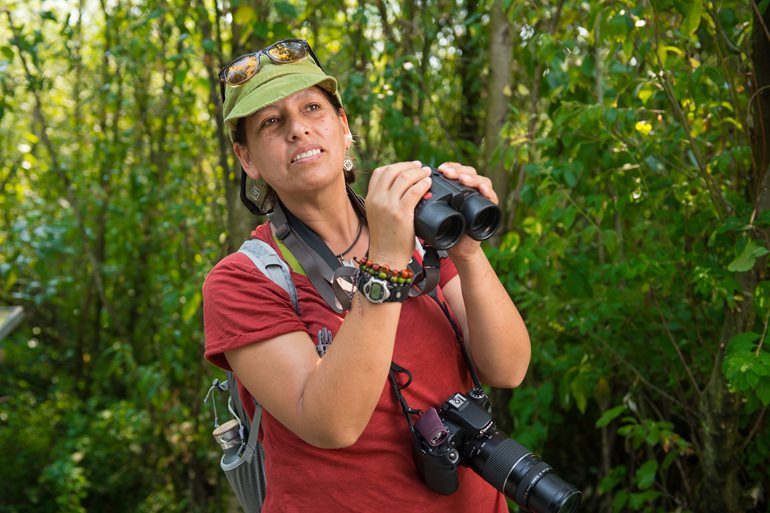 "I have identified two Anna's hummingbird territories that are used consistently. I have observed a Cooper's hawk and a bald eagle eating crows. I have observed a coyote chasing a rabbit, and many other birds, snakes and frog sightings," said Valdez. "Having a classroom in the middle of a natural laboratory is one of the best tools to engage students in ecology and natural history."
The Conservatory has been a landmark on the University of Washington Bothell campus for six years. The complex includes a greenhouse used for classes, faculty research and starting plants for campus grounds and wetland restoration. The Conservatory also houses the UW Bothell Herbarium.
Research starts here
An Introductory Biology course includes a two-week lab at the greenhouse. Students examine the relationship between plant diversity and ecosystem function using everyday garden vegetable plants, said Cynthia Chang, an assistant professor of biology in the School of Science, Technology, Engineering & Mathematics (STEM).
"The greenhouse is an integral part of our teaching, student learning and research here at UW Bothell," she said.
Chang's upper division Investigative Biology and Plant Ecology courses immerse students in the research process. And, Chang has used the greenhouse for her own research into plant diversity, along with Thelma Madzima, an assistant professor in STEM who researches how plants respond to environmental stress.
Working space at the Conservatory holds the UW Bothell Herbarium, a scientific collection of dried plants from the campus wetlands and the region, managed by Sarah Verlinde, a specialist in the UW Bothell Office of Research. A resource for students, the herbarium also connects to a worldwide network of herbaria through which researchers can exchange plants for botanical, invasive species or climate change studies.
The staff collaborates with Valdez to give her students a hands-on experience in building a botanical collection of scientific worth.
"Having resources like this in our own campus are invaluable for our student learning and our teaching," Valdez said.
Grounds for growth
Visitors to the greenhouse also might see tropical or subtropical plants such as the Australian tree fern, the insect-trapping pitcher plant or a coffee plant, which are maintained for studying plant morphology or structure.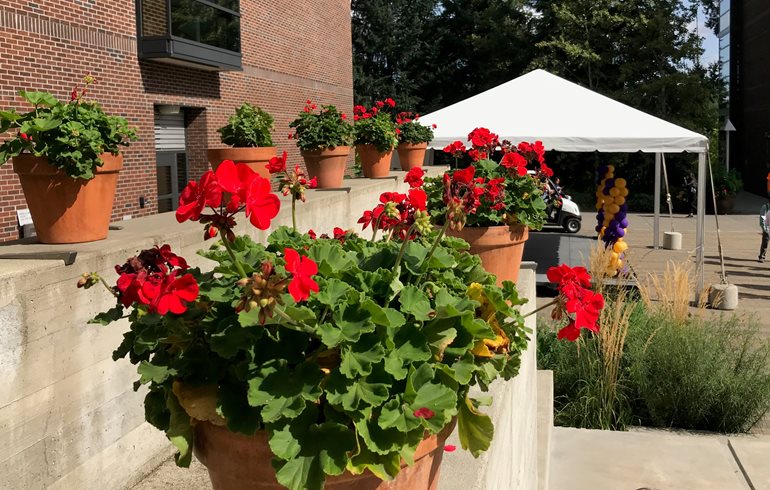 In addition, workers who maintain campus landscaping and restore the wetlands use the greenhouse, said Tyson Kemper, grounds supervisor. They propagate plants from seeds and cuttings. For example, potted red geraniums on the Plaza started in the greenhouse.
The greenhouse also starts vegetables — broccoli, kale, onions, tomatoes and peppers — for the Campus Farm. The raised garden beds, located on the north side of the sports fields, are another example of the campus commitment to sustainability.
The Conservatory serves as a base for the wetlands restoration team, too. In a separate plant nursery, they grow native trees such as western red cedar, spruce, Douglas fir, dogwood and willow, and shrubs such as ocean spray, ninebark and serviceberry, Kemper said.
The restoration team plants hundreds of trees each year in the wetlands, including trees to replace those gnawed down by beaver. It helps to have trees and shrubs "big enough to fight on their own," said Kemper.
When workers clear out blackberry vines, for example, they need native trees and shrubs ready to take over. "Their shade is the only long-term solution against invasive species," Kemper said.
In addition, the Conservatory serves as a home base for guided tours of the wetlands. It's an invaluable resource for UW Bothell faculty, students and staff, Kemper said.
A legacy gift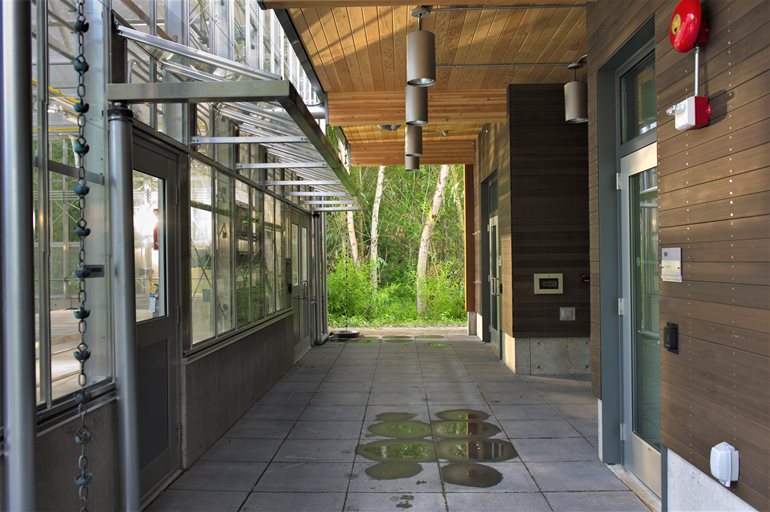 Completed in the summer of 2013, the Conservatory was funded by a gift from Gordon Charles Green, who named it for his mother, Sarah Simonds Green. The Green and Simonds families are prominent in Bothell's history. Janet Green Hunter, a grandchild of Sarah, is currently a member of the UW Bothell Advisory Board.
"My brothers, Ron and Darrell Green, and I are so glad our uncle chose the University of Washington Bothell for his dream of a conservatory in memory of our grandmother," Hunter said. "We are proud to see how the building is being used for research and know Gordon, whose career was in education, would be pleased to see how the students are thriving.
"For Gordon, the Sarah Simonds Green Conservatory combined his love of his hometown, education and his mother."