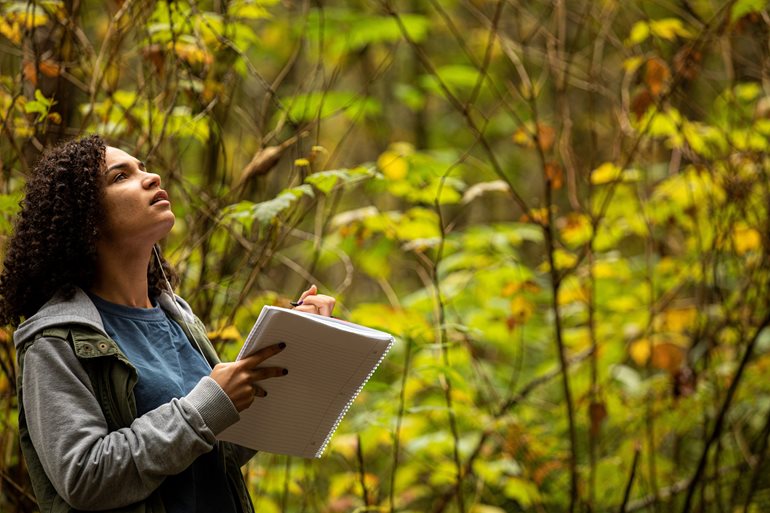 By N. L. Sweeney
As Warren Gold leads University of Washington Bothell students into the Paradise Valley Conservation Area in Woodinville, needles rustle and scatter in the wind. Dew dusts the blades of sword ferns and clings to the moss of toppled logs.
This calm space will serve as the classroom of Our Home in the Forest: Ecology, Literature and Culture for the day.
Gold, an associate professor in the School of Interdisciplinary Arts & Sciences (IAS), and Jennifer Atkinson, a senior lecturer in IAS, will co-teach Our Home in the Forest, which is among the 25 seminars offered this fall to first-year students as part of Discovery Core. Discovery Core is a three-quarter series that introduces students to UW Bothell's interdisciplinary approach.
Bridging connections between mythology, literature, ecology, politics, biology and culture, this seminar is structured to show students a better view of their relationship to the forest and, more broadly, to the environment.
"Successfully addressing today's environmental challenges will take more than just scientific knowledge," said Atkinson. "It also requires us to look at the stories, images, values and associations shaping our behavior toward nonhuman nature."
Structuring the course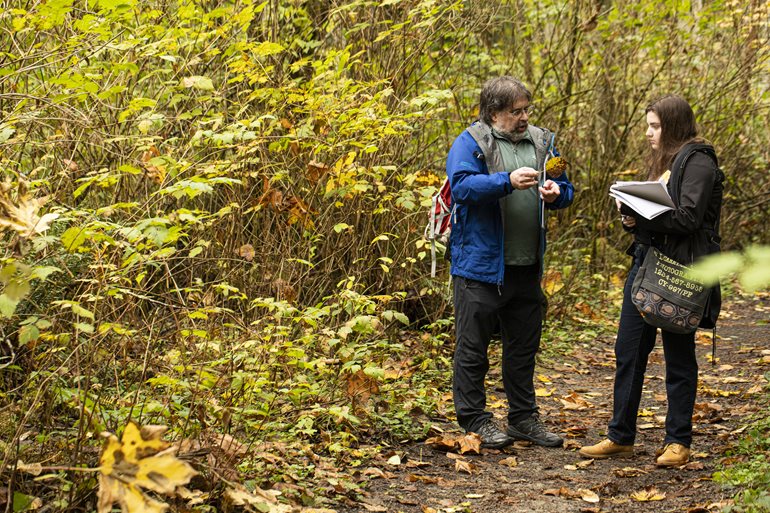 Each week, Atkinson and Gold alternate as the primary instructor, with Atkinson focusing on culture, myth and literature while Gold centers on ecology, biology and environmental science.
"Even though we focus mainly on our different disciplines, we work to integrate information from each other," said Gold, who is also director of the UW Restoration Ecology Network. "For example, with the poem 'Burial' by Ross Gay that Jennifer brought to the class, I was able to look at how the poet's use of scientific accuracy around decomposition informed the context and effect of the poem."
Jade English (Biology '23), said that the mix of culture and ecology highlighted new perspectives in both that she might otherwise never have considered. "Our Home in the Forest has been enlightening for me."
Teaching a 10-credit rather than a 5-credit course allowed Atkinson and Gold to incorporate field trips and data collection in forests in addition to guest speakers such as activist and community organizer Jim Freese as well as Tulalip storyteller and master woodcarver Kelly Moses.
"We want to make sure students can connect the information from class to the world outside of academia," said Atkinson.
Bringing life into science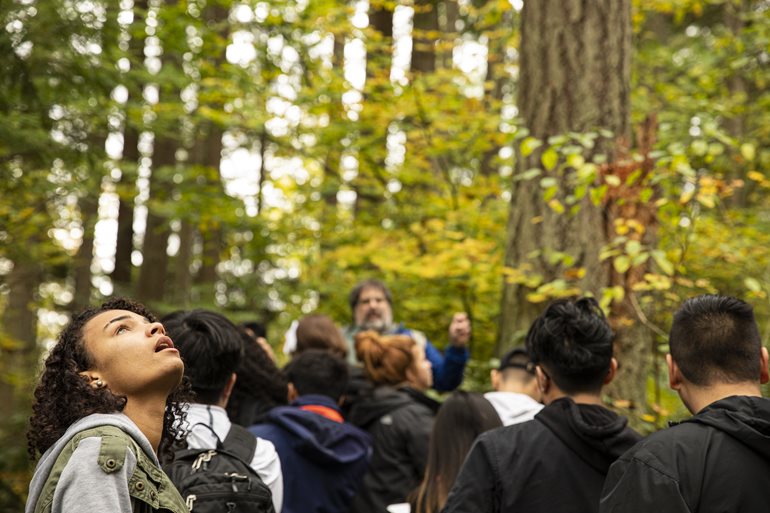 While it can be easy to see logic and emotions in opposition, Atkinson and Gold assert that some subjects are better taught in tandem. Science can provide the information necessary to make informed action, but it does not inspire everyone.
"If actions and emotional appeals can be backed by science, they create strong arguments for why we should care," said Gold. "Caring moves people to act."
Contemporary issues, such as climate change and environmental degradation, are rarely divided into tidy categories, which is why courses like Our Home in the Forest are important, Atkinson pointed out. Like a great web of interconnected factors, pulling on one connection affects the entire structure. Having knowledge of how people can connect with the forest emotionally, literarily and culturally allows someone to leverage scientific fact in a more effective way.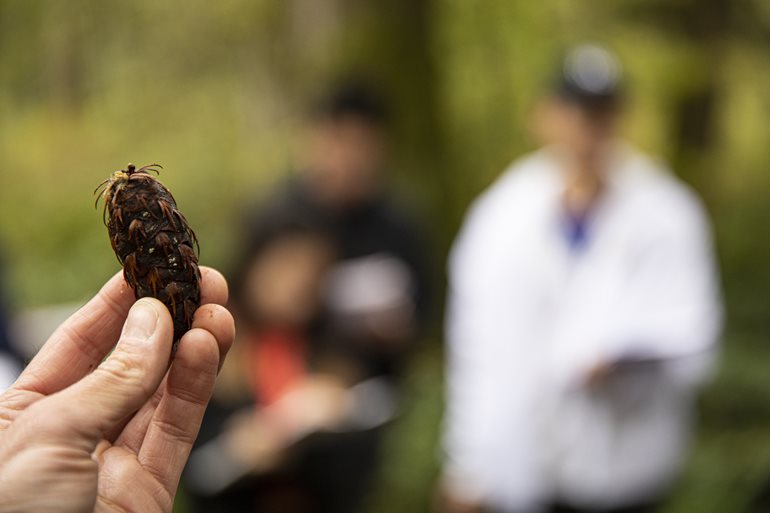 "There's a real urgency to educate students about the vital role they play in regulating climate," said Atkinson. "Examining the stories and values we live by in this class helps students understand the root causes of our environmental crisis — and how we might create new stories going forward."