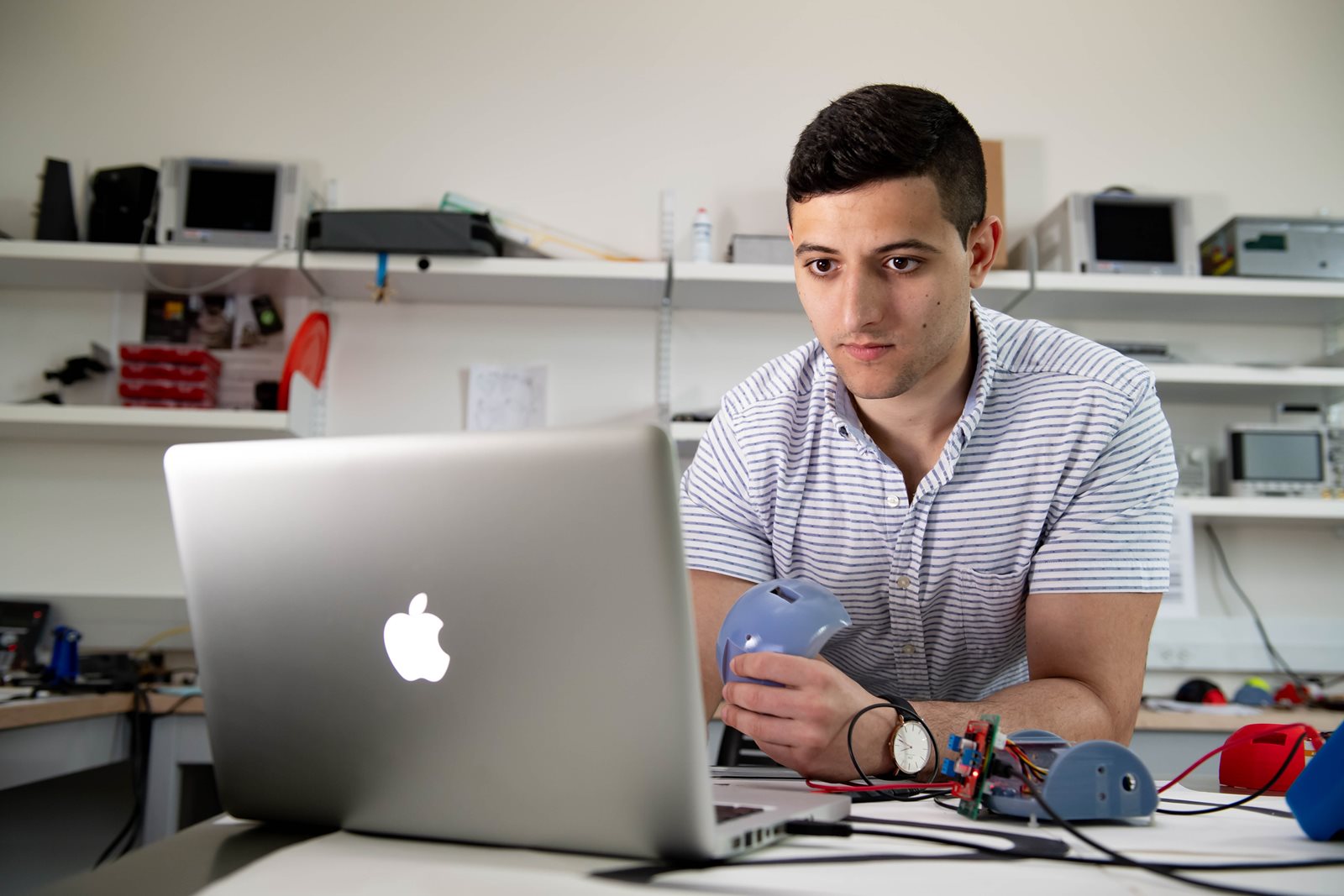 While earning one of the highest grade point averages in Electrical Engineering, Paul Hage, the recipient of the 2018 University of Washington Bothell President's Medal, also contributed to two research projects. One designed a rehabilitative robot for stroke patients and the other developed a screening tool for anemia.
The President's Medal recognizes the graduating senior with the most distinguished record of academic achievement and success. The recipient is selected from those who have a GPA in the top 2 percent of the graduating class in their program.
A transfer student from Bellevue College, Hage excelled at UW Bothell. He received the NASA Space Grant Research Scholarship and the Mary Gates Research Scholarship. He graduated magna cum laude in the fall of 2017 with a 3.93 grade point average. He will formally receive his Bachelor of Science degree in Electrical Engineering from the School of Science, Technology, Engineering & Mathematics at commencement on June 10.
Hage will move to Baltimore to continue his research in a doctorate program at Johns Hopkins University. He received a fully funded six-year Biomedical Engineering Fellowship in the School of Medicine.
Hage hopes to conduct more research like the anemia-screening tool he developed during a year as an undergraduate researcher with Assistant Professor Sohini Roychowdhury's Medical Image Processing Systems Laboratory. By scanning a photo of an eye or tongue, the web application can tell users whether they should see a doctor for a low level of oxygen-carrying hemoglobin in their blood.
He also hopes for more projects like his work as a research assistant with Professor Pierre Mourad's Alliance for Device Innovation Laboratory. In collaboration with Harborview Medical Center, the team is developing a small robot called Pheeni — named after Phoenix, a creature of rebirth. The wheeled half-dome robot will be tested with disabled stroke patients. The patients direct it around a game board or track on the floor by reaching out to touch it. The arm motions make physical therapy fun.
"Paul represents to me one of the next generation of scientific leaders of the sort who cannot only make fundamental discoveries but also make them manifest for the greater good," Mourad said.
Hage, 24, has had a sense of urgency since immigrating with his family to the United States from the United Arab Emirates at the age of 17. He developed a work ethic because he wanted an education that would enable him to support himself and his family. But, he credits his academic success to his research mentors.
"All I did in my academic career was chip away one day at a time on my studies and research," he said. "Really it's a testament to the amazing people I've had in my life, from my research partners to my family and my mentors who have aided me in reaching this point."
"These mentors gave me a platform that enabled me to do whatever I wanted to do and be successful in some capacity," Hage said. "I would love to be able to return that favor at some point in the future. I would love to grant students a platform in the same way it's been granted to me."
Hage, who decided to focus on biomedicine after witnessing a medical tragedy in a family dear to him, hopes to "push the boundaries of our knowledge of the human brain."
"The entire goal of developing technologies applied to biomedicine is to impact people's lives positively," he said.