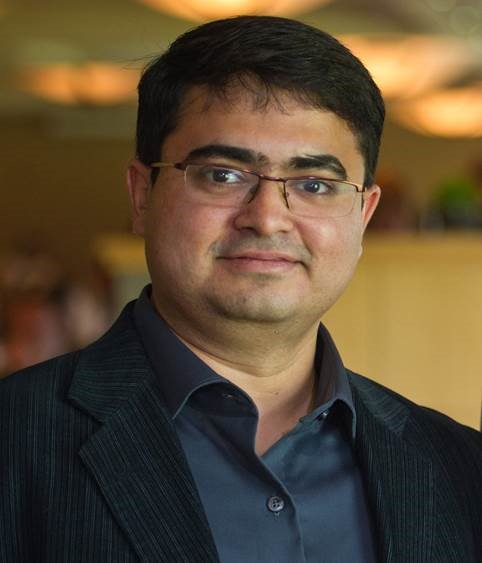 By Lisa Craze
Surya Pathak has been selected by the University of Washington Bothell as the 2019 recipient of its Distinguished Research, Scholarship and Creative Activity award, given each year to a member of the faculty to recognize scholarly or creative achievements and high standards of excellence. The award comes with a $5,000 honorarium.
An associate professor of Operations Management in the School of Business, Pathak is a pioneer in the field of supply network theory, which is the aggregate understanding of how materials and information flow to create a final product — from the production of a tangible item like a cup of coffee or a jet airplane to critical projects, such as examining ways to reduce carbon emissions and improve sustainability of an organization.
"Surya is held in high esteem as a member of our faculty as well as among scholars in his disciplines," said Chancellor Wolf Yeigh. "He has influenced a variety of circles from academic colleagues to students and has also extended his expertise to the community."
High performance
Pathak has been with UW Bothell since 2008. When he was hired, he was the only tenure-line faculty member teaching about business operations. But his groundbreaking research in supply networks has helped grow the program, attract new talent and increase that number to five.
Pathak was also part of a research team made up of experts from multiple universities that was awarded a grant from the National Science Foundation to study how technical networks, supply networks and environmental performance are linked together.
Starbucks and Boeing are just two of the many companies now turning to UW Bothell to understand how supply network research can improve their profits, productivity and sustainability.
When he was in graduate school, Pathak said nobody was teaching about this topic. "I was among the first batch of researchers interested in this theory," he said. "I couldn't get published because the idea wasn't mainstream. I had to fight, struggle to the point where I almost contemplated leaving academia because if you can't publish, you can't get hired."
One professor who appreciated Pathak's ideas was Thomas Choi at the University of Arizona. In 2007, he didn't give Pathak a job because of a lack of published articles — but he did invite him to join colleague Kevin Dooley and a group of other supply research scholars to share research agendas and create one of the foundational papers on the subject of complex adaptive supply networks.
That paper, Pathak said, is now the second-most downloaded paper in the field (2007-2012) and has more than 400 citations. The scholars also founded what is now known as the Complex Adaptive Supply Networks Research Accelerator at the University of Arizona's W.P. Carey School of Business.
Real-life rewards
Now, Pathak has an extensive list of articles — from papers in 12 top-tier journals to works and writings featured at more than 40 conferences and presentations. Most recently, he has jointly written the lead paper in the upcoming publication in the "The Journal of Operations Management."
In addition, he was the only academic professional invited to a keynote panel at the recent Global Artificial Intelligence Conference held in downtown Seattle. The topic: "Using A.I. to Solve Business Problems." Pathak was joined on the panel with experts from American Express, T-Mobile and Hulu.
Pathak views winning the Distinguished Research, Scholarship and Creative Activity award as an honor.
"But I thought oh, I have such a ways to go — there is so much more to understand," he said. "From a research standpoint, it feels like a re-payment to some of my mentors in and outside the school who never lost faith in me."
When asked what makes him feel most rewarded in his field, Pathak doesn't mention honors or publications. He said it's the accomplishments of his students that bring him the most satisfaction.
"Ultimately, as university faculty," he said, "when you see students you have trained receive internships and job offers, this is a huge success. You are impacting someone's life."
Read a feature about one of Pathak's class projects in the UW Bothell magazine.