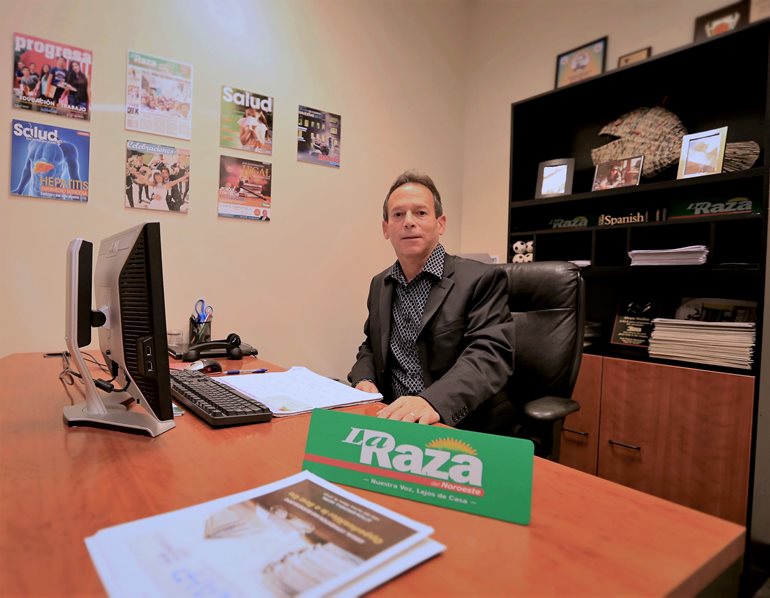 When University of Washington Bothell students learn journalism through community newspapers, they also learn about the ethnic and geographic communities served by the papers, said Kristin Gustafson, who has been teaching Introduction to Journalism since 2009.
This school year, students submitted stories to five Seattle-area publications: Real Change, the International Examiner, La Raza del Noroeste, the Bothell-Kenmore Reporter and Kirkland Reporter.
In a class of about 25 students, four or five choose each paper. After researching the paper and its audience, students discuss story ideas with Gustafson, a senior lecturer in the School of Interdisciplinary Arts & Sciences.
"They think this is just for a class and then — wow! This is for real."
At the newspaper, the students meet with an editor. They talk about the paper's mission, operation and story selection process.
Spanish hyperlocal
La Raza del Noroeste is a Spanish-language paper that has been working with UW Bothell students since 2014, said Alvaro Guillen, publisher of the weekly that is a product of Sound Publishing in Everett. Students provide relevant stories about immigration, health and education, said Guillen, who translates them into Spanish for the print paper. They appear in both Spanish and English online.
Despite the decline in some parts of the news industry, hyperlocal newspapers focused on a specific geographic area or community are doing fine, Guillen tells students. "We are not going anywhere," he said. "Journalists will still be important.
"I just can't imagine a world without journalists. It's key in our society to be able to listen to truth, written in different media outlets locally and across the nation," he said.
As La Raza del Noroeste benefits from student-provided content, it also contributes to the development of professional local journalists. "It's a great collaboration," Guillen said.
Beyond the basics
In Gustafson's class, students learn the basics of writing in the who, what, when, where and why style. They see how to structure a story in the traditional news-details-background format. Other skills include how to interview and attribute sources.
As part of the class, students blog about their work in a way that takes them into the social media style of writing. Blogging shows how writers gain credibility through subjectivity, which is different from traditional journalism's objectivity, Gustafson said.
Creating a blog together, students experiment with individual and group voices. They develop the skill of moving between different ways of presenting information.
"That's what made it different from other writing-required classes," said Hannah Horiatis, a December 2018 graduate in Media & Communications Studies. "It felt more relevant, and I think students like that, rather than just writing papers. It helped me to write online articles because there are space restrictions."
Hannah's story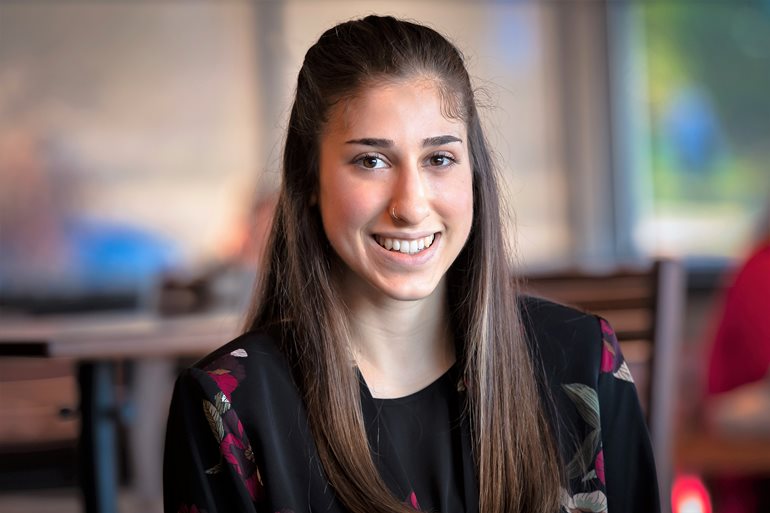 Learning journalism through a community-based experience was exceptional, Horiatis said.
"Not only does it help you feel more involved and connected to the community, it gives you so many more opportunities," she said. "It was great to get out of the classroom. You feel like more than just a student."
Having grown up in Woodinville, Horiatis chose the local Bothell-Kenmore Reporter for her fall 2017 Introduction to Journalism assignment. Researching the weekly, which also is part of Sound Publishing, Horiatis interviewed Samantha Pak, senior editor.
Horiatis decided to write about how housing development was changing downtown Bothell. She researched the housing market and interviewed Bothell's deputy mayor and a senior planner. When the paper published her story on rising rent and home prices online, Horiatis said it was one of the first things she was proud of, after having previously attended two other colleges.
"When I found journalism and had this success, I was really excited," Horiatis said. "I finally found something I enjoyed and was rewarded with being published."
That led to a directed study course with Gustafson in spring 2018 in which Horiatis wrote for the My Neighborhood News network. She covered stories in Edmonds, Lynnwood and Mountlake Terrace. That turned into a paid internship with more responsibilities, including the police blotter.
Universal skills
Horiatis returned to the Introduction to Journalism course in fall 2018 as a peer facilitator and had the experience of seeing the process in the role of a teacher and editor. After graduating, her confidence as a journalist helped Horiatis land a job at Volt, the workforce solutions company, as a recruiter.
"I had six months of experience and 35 published articles that made me stick out, and I could speak on my experience interviewing and reporting," Horiatis said. "I was able to jump into this job running. I interview people all day."
With few students likely to go into traditional journalism, the skills and experience they take away from the class have multiple applications, Gustafson said.
"Hopefully students emerge with a strong value for what journalism does and can do," Gustafson said. "They may not be a traditional journalist. They will be somebody who will tell stories. I also hope it helps them understand their community better."