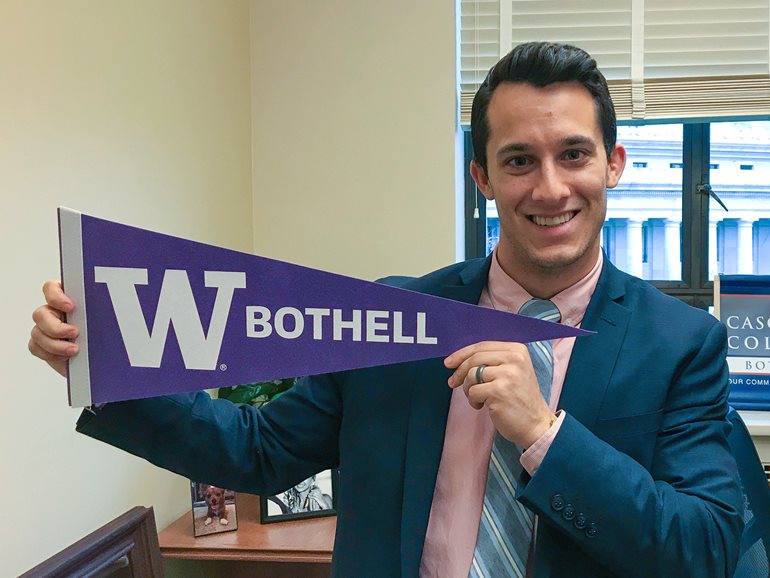 By Douglas Esser
A few days before the Washington Legislature convened in Olympia, newly elected state Rep. Jared Mead appeared on a panel offering advice to the more than 70 legislative interns for 2019.
"Five years ago, I was an intern. Five years later, I'm a state representative," he said. "You can do that if you want to."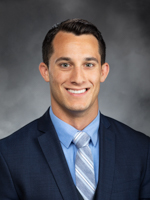 At 27, Mead is the youngest lawmaker in the state Legislature. He represents the district that includes Mill Creek, where he grew up. A 2014 University of Washington Bothell graduate who majored in Global Studies with a minor in Business, Mead thanks the university for his introduction to Olympia.
Introduction to issues
A favorite professor, Bruce Kochis, senior lecturer in the School of Interdisciplinary Arts & Sciences, encouraged Mead to apply for the Olympia internship and the Washington, D.C., Human Rights Seminar. The seminar is a UW Bothell program that gives students a first-hand look at federal policy making. Travel to Olympia was more affordable for Mead, and he doesn't regret his choice.
"The legislative internship ended up being huge for my life. It opened my eyes to state government."
Mead credits Kochis and UW Bothell for his political career in other ways as well. Kochis, who teaches human rights and public policy courses, had a class Mead was in talk about controversial topics — abortion, gun rights, same-sex marriage — on the first day.
"That made everybody perk up and pay more attention," Mead said. "I thought that was a really cool way for him to start a class and get the ice broken and get us comfortable enough to talk about other issues that were difficult."
The UW Bothell experience
Mead also found inspiration in UW Bothell's student population: the diversity in race, gender and backgrounds — first-generation students, former military personnel and parents raising families. With so many different types of people from so many walks of life, Mead said it was easier to talk about those difficult issues.
"I think the experience at UW Bothell allowed me to be able to explore so many different topics that maybe don't get talked about all the time," Mead said. "I think that experience is what got me really interested exploring policy in general."
Mead interned in 2014 with Sen. Steve Hobbs. After graduating, Mead worked for a year at a bank until he realized "I was ready to do something that meant more."
In 2016, Mead ran Guy Palumbo's successful state Senate race in the district that includes UW Bothell and later served as his legislative aid. Back in Mill Creek, Mead served on the planning commission and city council. In 2018, Mead ran for Legislature and won the state House race to represent the 44th District, which also includes Snohomish and Lake Stevens.
A different perspective
Because of his age and because his wife, Krystal, also is a UW Bothell graduate (American and Ethnic Studies '17), Mead said he can talk about issues such as college affordability and student debt from a different perspective. Attending Edmonds Community College and UW Bothell while living at home made college affordable for Mead.
"UW Bothell made it possible to get the degree I wanted at the school I wanted."
As a member of the College & Workforce Development Committee, Mead now is an advocate for schools such as UW Bothell and UW Tacoma and the various programs available at the Everett University Center.