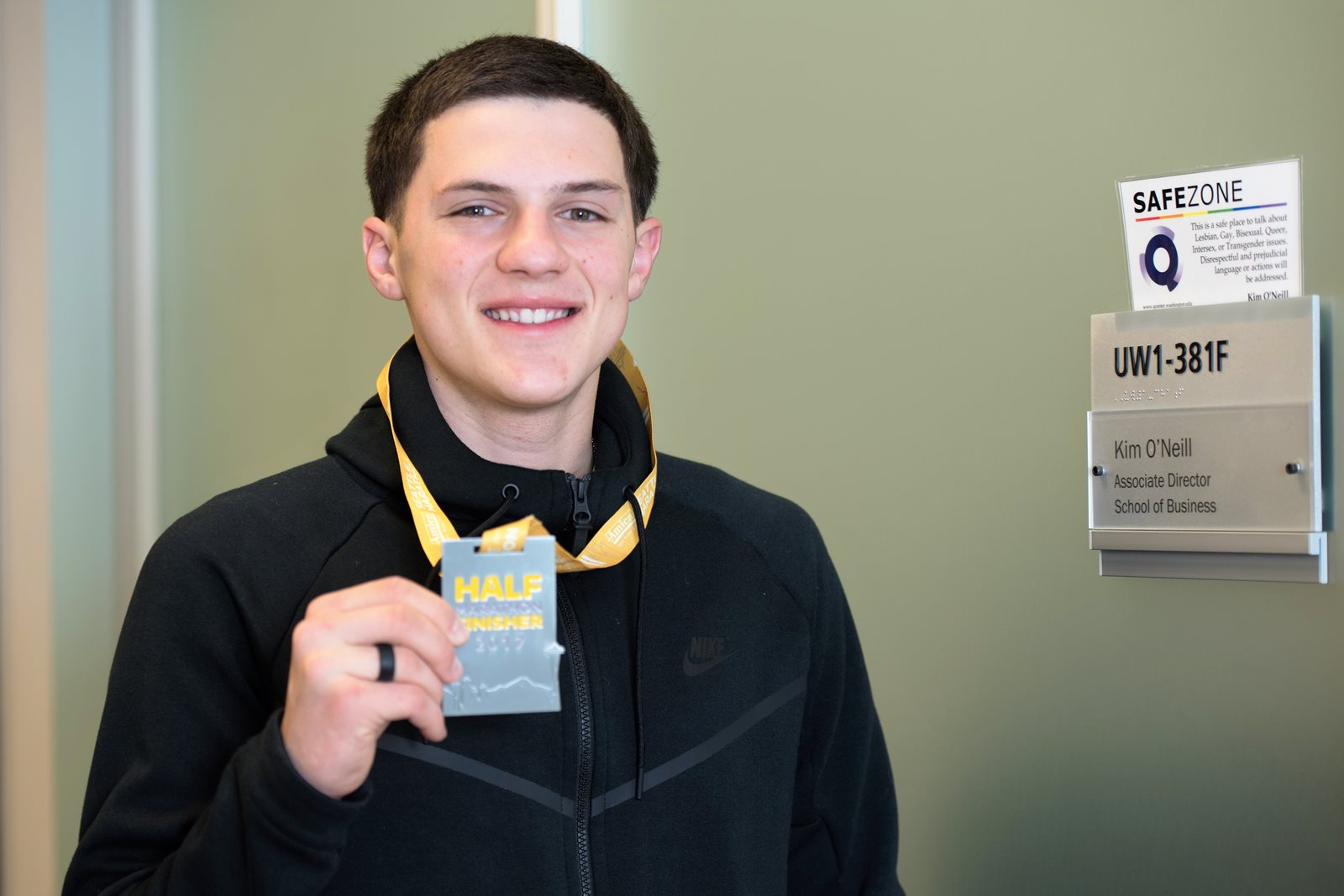 By Douglas Esser
First-year student Christian Clausen finished with more than he expected at the start of the University of Washington Bothell course, The Half-Marathon: What It Takes To Run 13.1 Miles.
"I thought the whole thing was going to be about training, but it was much more," said Clausen, a former high school basketball player from Mukilteo. "I learned a lot more than I initially thought I would."
Kim O'Neill, a School of Business lecturer, used running as a way to jog students into related topics of business, health and goal setting. The course is an example of UW Bothell's Discovery Core, a series of interdisciplinary seminars that help first year and pre-major students transition to the University.
It allows student to explore why they're in college — "a broader range of learning," said O'Neill, herself a runner who has completed a marathon in every state and the District of Columbia.
All 22 of the 30 students in the course who signed up for a half-marathon finished the race, which was part of the Seattle Marathon on a cold Thanksgiving weekend in the city. "I got smoked by an 80-year-old," Clausen found out after checking his time. "This has been my favorite class by far. I really enjoyed myself."
Actually running 13.1 miles was not a school requirement, said O'Neill. A few students ran a 5-kilometer (3.1 mile) race. A few others had injuries or time conflicts. But everyone learned what it takes to run a half-marathon. Here are some of the related topics the students covered in the long run:
Business: A representative from a shoe company talked to the class about design and multimillion-dollar marketing. A running-store operator talked about retailing shoes and other gear. Students volunteered at the Health and Fitness Expo, which was part of the Seattle Marathon, to learn more about what it takes to manage an event of that size.
Health: The students studied hydration and weighed themselves before and after training runs to calculate the amount of water lost in sweat. They studied nutrition, such as protein bars designed for endurance events. A physical therapist also spoke with the class about injuries and physical therapy as a career.
Life skills: "The class was very much about goal-setting," said O'Neill, who will teach the course again next fall. New college students learned about prioritizing their time, tracking progress and adjusting goals. Students realized it was possible to have a career, in tech or business for example, linked to a passion such as running. They saw the importance of having an outlet, as well. "Just because you're in school, you don't have to give up things you enjoy, such as exercise," O'Neill said.
Each student was required to write a weekly reflection and a final reflection paper on their experiences. They chose a movie about running to watch and wrote a paper about how it pertained to the course. Students also made classroom presentations on running-related subjects, such as sports drinks. These are a few of the ways students engage in a Discovery Core course.
"It inverts the conventional structure used at other universities where students do not take small, seminar-style courses until they reach upper-division status. At UW Bothell, this high-impact model is introduced from the very first year," said Jennifer Atkinson, associate director.
Discovery Core courses are often taught by teams of professors from different fields, working in subjects that connect to their research and passions, Atkinson said. Some other examples:
Philosophical Explorations of Science Fiction
The Politics and Practice of Yoga
Place and Performance in Hip Hop Culture
How Film and Comics Frame Social Issues and Solutions
Credibility, Journalists and Media
Discovery Core introduces first-year students at UW Bothell to different options for their majors and gives them opportunities for research and community-based learning. At the same time, students learn practical skills in critical thinking, writing and presentation. It puts them on a pace to encounter big ideas and real-world social issues. Sometimes students also take home medals.