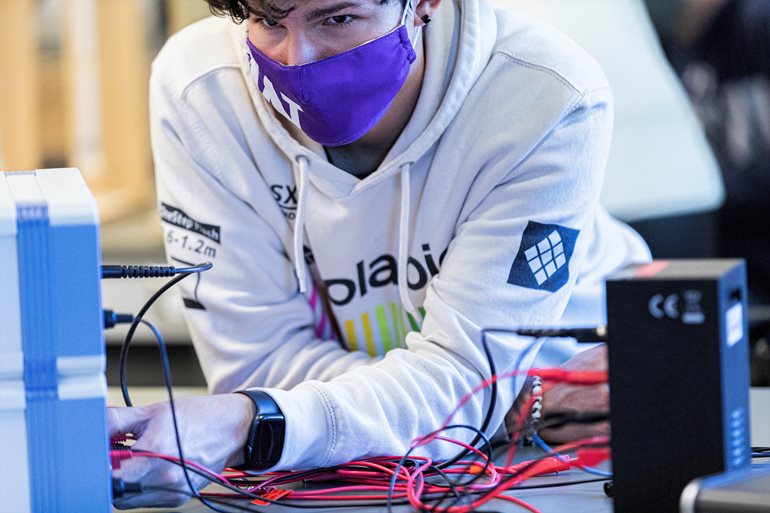 A community college transfer, Cort Thoreson started courses at the University of Washington Bothell for a Bachelor of Science in Physics in autumn quarter.
He knew that most teaching would be remote.
"We have to accept that this is the world we're living in, but I'm motivated," he said, adding that professors have done a great job, given the circumstances. Three of his courses were entirely online but not the Introduction to Experimental Physics lab
"This is the weirdest class of the entire year because it has to be an in-person class," he said.
Remote learning just won't work with the lab because, to name just one reason, they have to keep a close eye on the radioactive polonium.
Forces at work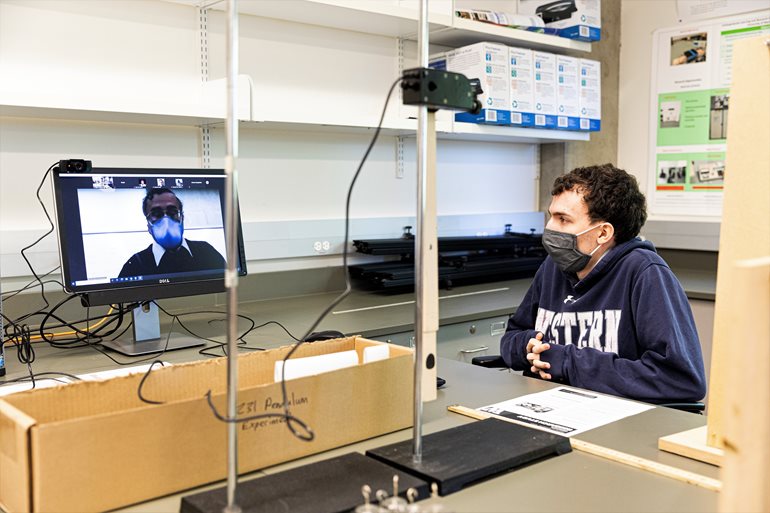 A bridge between introductory and advanced courses, the lab (BPHYS 231) is offered only in autumn quarter, so Physics majors can't skip it and stay on track. This fall, Subramanian Ramachandran, a part-time lecturer in the School of STEM since 2013, taught the course to 21 students.
After opening lectures on the basics, which he conducted by teleconference, it was lab time. Students began a series of experiments designed to showcase key findings in physics, such as the speed of light and atomic energy levels. The hardware is not only big, it's also expensive or potentially hazardous, Ramachandran said.
To learn about radioactivity — how to measure alpha, beta and gamma rays, and how to mitigate damage — students work at a station with samples of polonium, strontium, cobalt, carbon and cesium.
"Even these small quantities are highly regulated" through the UW Environmental Health & Safety Department and the lab manager, Ramachandran said. "We keep a tight lid on who gets it."
In addition to the radiation exercise, students reproduced the Franck-Hertz atomic energy experiment, measured the speed of light with a spinning mirror, calibrated a temperature sensor, studied mechanics with pendulums and used lasers and a spectrometer. It's not the kind of work anyone can do remotely.
The lab convened for three hours, twice a week, on Tuesdays and Thursdays. Pre-pandemic, teams of four students would progress across the lab's six stations for the various experiments. This fall, half as many were in the room at any one time. On Tuesdays, students worked in twos in the lab with the other two partners watching on a webcam. Then, on Thursdays, they traded places. Teams completed one experiment a week then moved to the next station.
Gravity of the situation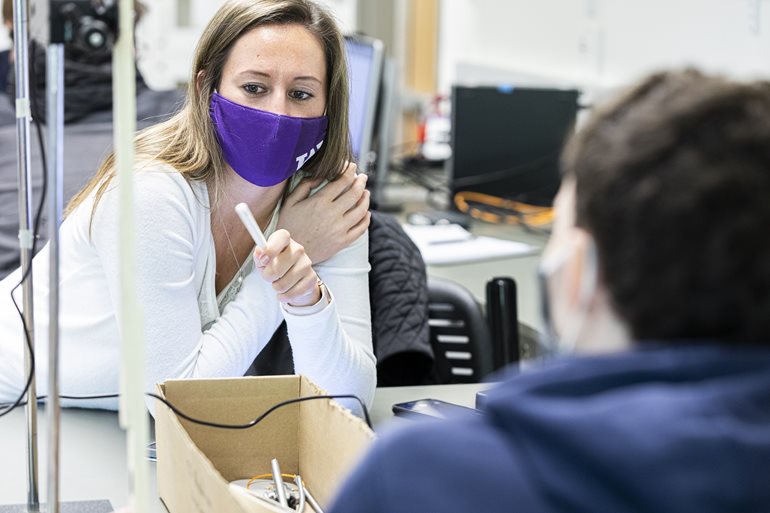 Unusual times require unusual protocols, Ramachandran said.
In addition to the scheduling adjustments, there were separately marked entry and exit doors for the lab in Room 368 of Discovery Hall.
Everyone wore masks, observed the 6-feet-distancing marks on the floor and stayed on opposite sides of work tables. "We are being extra careful," he said.
The coronavirus precautions make sense but were difficult to maintain sometimes, Thoreson said.
"The challenging part is actually performing the experiment because usually it requires two or more people being very close together, like trying to adjust lenses or mirrors," he said.
Despite all the handicaps, it was worth it, said Jewell Carr, who is planning to graduate in spring 2021 with a Bachelor of Science in Physics.
"While being more challenging than previous quarters, the experience of getting your hands on the equipment in a lab class is invaluable, and I am glad to have been given the opportunity," Carr said.
Learning leverage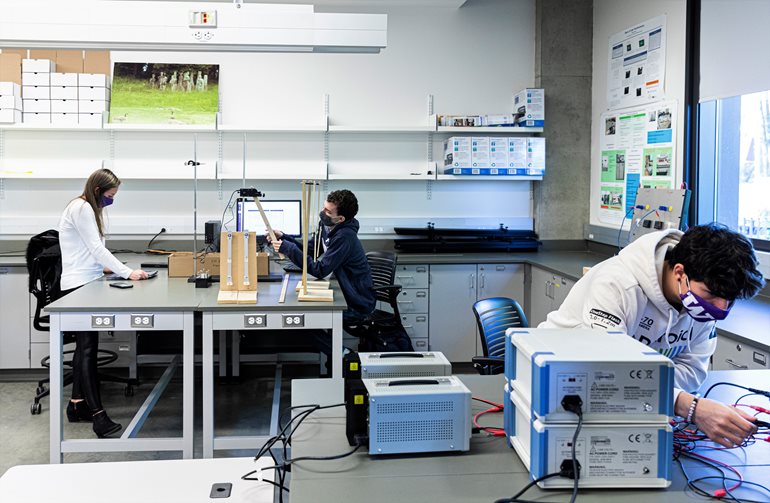 In one sense, the spacing restrictions were advantageous, Ramachandran said.
That's because having teams of two students each is better than teams of four at giving each individual the full force of participation.
"Whether we like it or not, there seems to be some positive because each activity is done by a smaller group," he said. "The two students in the lab are getting the most out of it."
No one got by only watching. "They have to really do it," Ramachandran said.
And, it forced all four members of each team to fully collaborate in measurements and data collection. "This has given us a very disciplined way of doing it."
Photos were taken following appropriate coronavirus safety protocols.