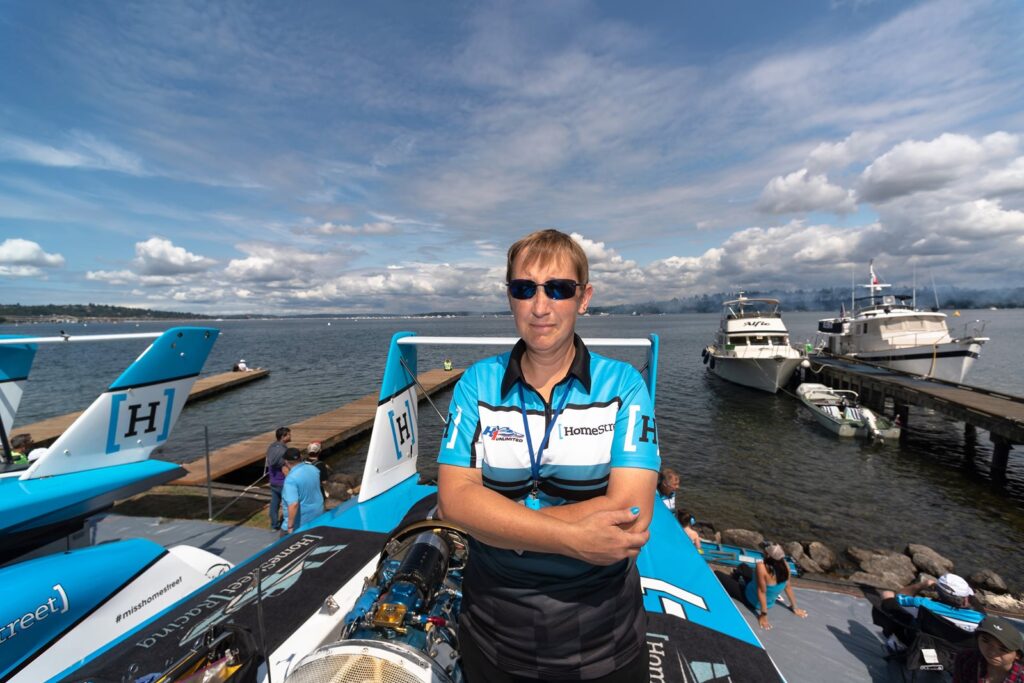 By Maria Lamarca Anderson
At first glance, sitting at a desk scrutinizing grant proposals has nothing in common with climbing on top of a hydroplane and checking the motor for damage.
To Cindy Shirley, the director of University of Washington Bothell's Office of Research who was named crew chief for the Miss HomeStreet unlimited hydroplane this year, the two are closely related.
"At work I have to read through every detail of each proposal before submitting it for funding," Shirley said. "If even one number is off, it puts the research at risk of not getting support."
"Likewise, my team and I have to go through each and every part of the boat's motor before putting it on the water. If the numbers aren't coming out right because a part isn't tightened for optimization or there's obstruction, we put our driver at the greatest risk."
With her director hat on, Shirley works diligently with principal investigators from the beginning of their quest to get funding for their research. She asks many questions to ensure she has the same vision they have for the process and outcomes. Some questions begin with "What if …" to capture important information that might otherwise be missed. As the one person on campus authorized to sign proposals, she must attend to the most minute of facts.
"This work comprises millions of dollars and affects peoples' livelihoods," she said. "It is intense."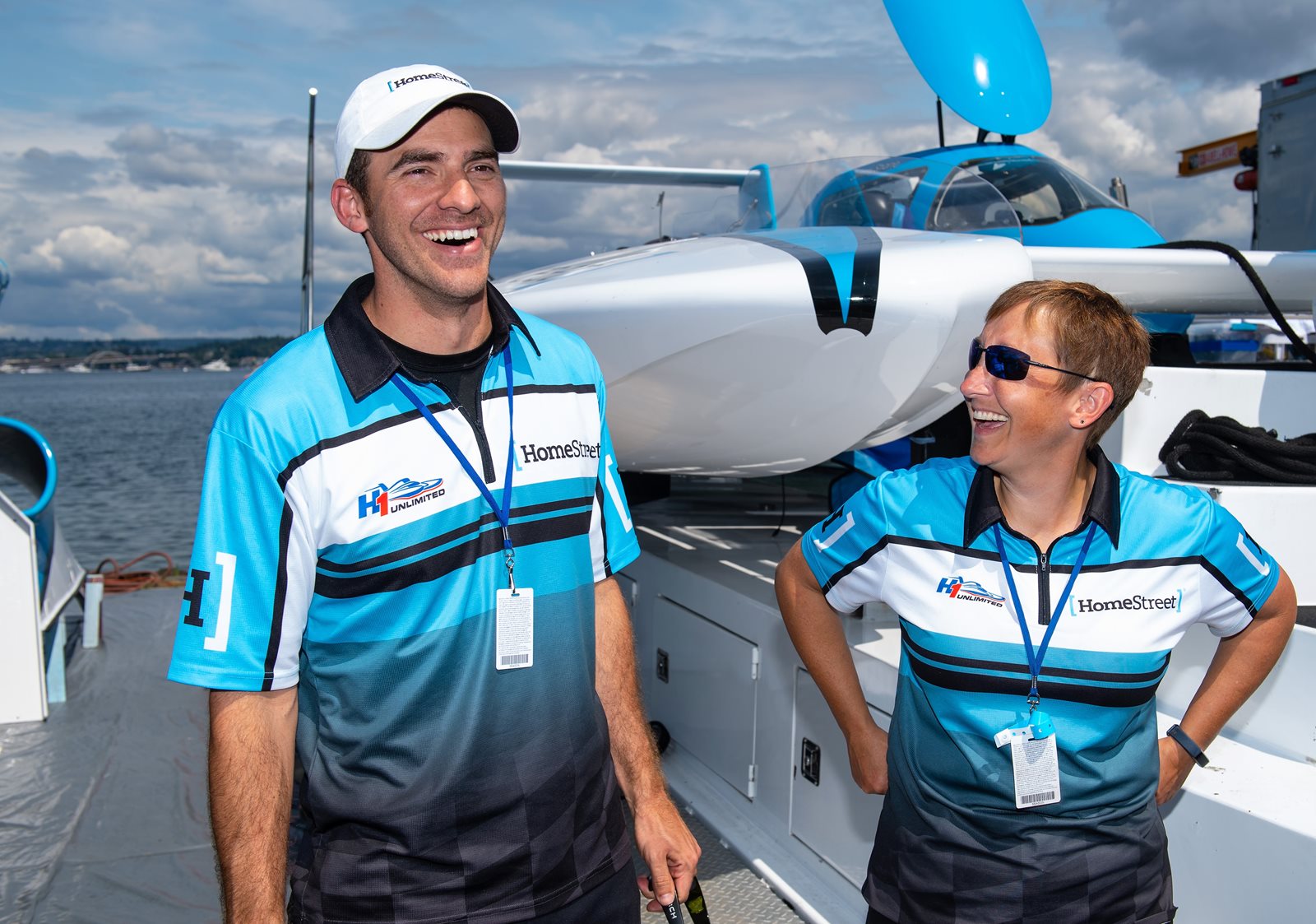 So is being a crew chief for a boat that skims the water surface at more than 200 mph. Shirley must have a deep understanding of the boat and all its nuances in order to make split-second decisions that will keep the driver safe and the boat on the water.
"Both of Cindy's roles complement each other well," said Carolyn Brennan, assistant vice chancellor for research. "They each require grace under pressure and an eye on the big picture while keeping a laser beam focus on the things that can set her team up to be the fastest and to win, whether they're racing to meet a deadline with a winning proposal or to cross the finish line."
At the start of Seattle's Seafair Festival weekend, students from UW Bothell's math and engineering REU (Research Experiences for Undergraduates) programs had first-hand experience of Shirley's focus while she gave them a tour of the brand new Miss HomeStreet at the Stan Sayres Memorial Pits on Lake Washington. The boat was getting increased attention because it was set to debut the next day. In the middle of her remarks, a crewmember approached her about an issue. She finished her sentence, went to confer with her team and came back to the students without missing a beat.
The tour included learning about the propeller, looking at the motor and hearing about the dynamics of keeping the boat on the water at top speeds without it taking off like an airplane. At the end, the students were surprised with the opportunity to sit in the cockpit and get a sense of driver Jimmy Shane's surroundings in the tight quarters.
Deonna London, a computer engineering student from Prairie View A&M University in Texas, got a better appreciation for the importance of research and multiple rounds of testing after hearing from Shane. "The systems we design really do affect peoples' lives," she said. "Jimmy talked about breaking his ribs in a race. Afterward they did more trial and error, and discovered that adjusting the seat specifications would prevent that from happening."
"That's a good lesson to take back to class," she said.
"The part that intrigued me the most was looking at the motor," said Annika Lawrence, a UW Bothell student majoring in Electrical Engineering. "Cindy said it typically runs at 19,000 rpm. In class we centrifuge liquid and the fastest sample we've done was at 14,800 rpm. It's hard to comprehend 19,000!"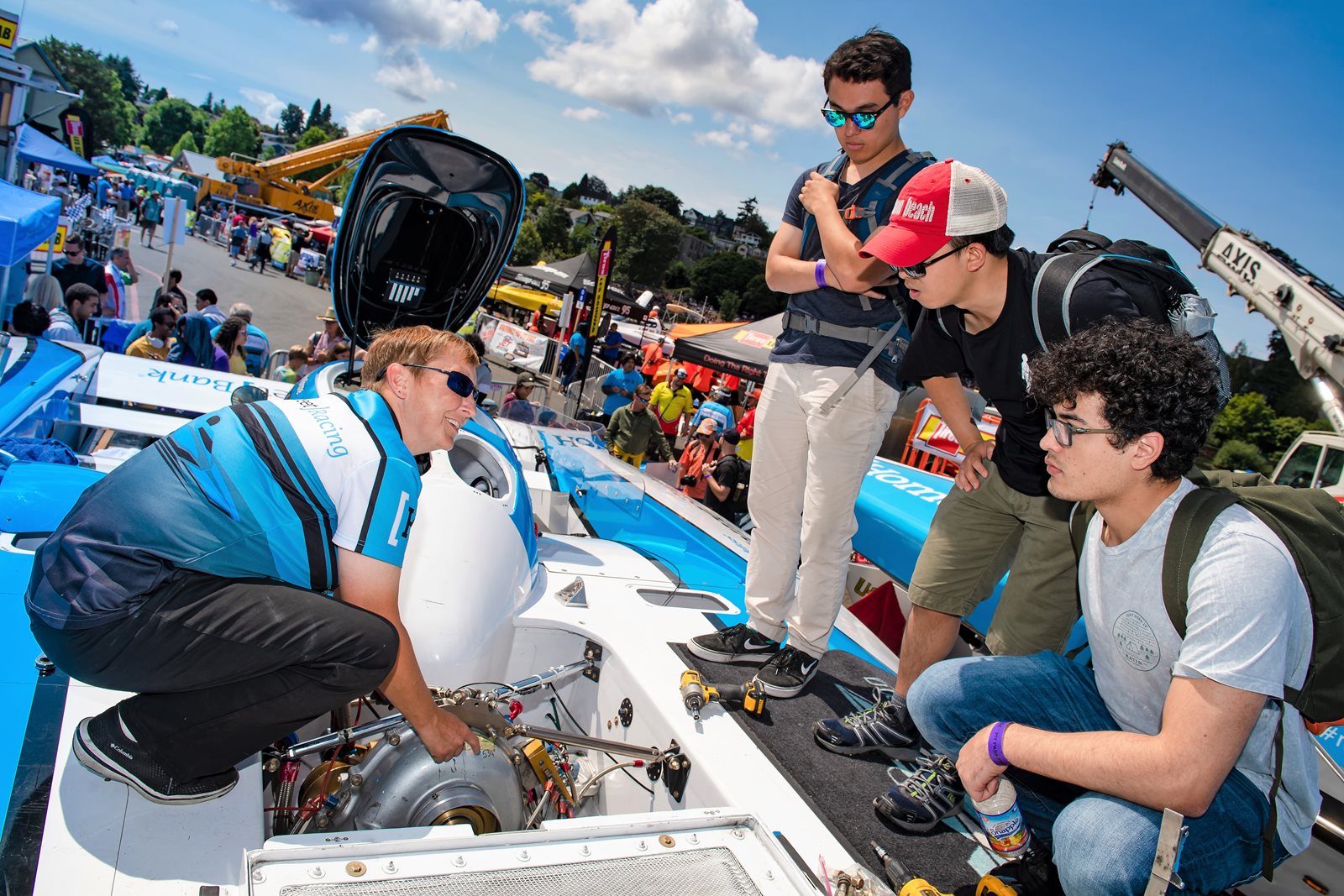 Shirley's first look at a motor came at a young age when she joined her father at the hydroplane races in Madison, Indiana. After he retired from Humana Inc. in 1995, a team sponsored by DeWalt tools needed a display boat driver, and he got the job. Shirley accompanied him and began to volunteer, starting out by washing parts for the boat. For more than 20 years, she worked her way up the ranks.
Shirley made history when she was chosen to be Miss HomeStreet's new crew chief in April 2018: She is the first woman to lead a team at the championship level in the turbine era of professional hydroplane racing.
"I don't fit the typical mold," said Shirley. "I don't have all the technical skills most crew chiefs have, even after all this time. What's most important is the ability to keep all the moving parts in order and make smart decisions quickly. Ten years at UW Bothell have taught me how to keep cool in tense situations and how to prepare for and meet tight deadlines."
Shirley noted that she has experts for every section of the boat. "My goal is to keep everything together," she said. "I'm honored to lead this team."
"This is a great example of teamwork," said Essey Reda, an electrical engineering student at UW Bothell. "It's not enough to have people around you who are great at what they do. They also need to know how to work well with others. Having the right team around me will help my research succeed."