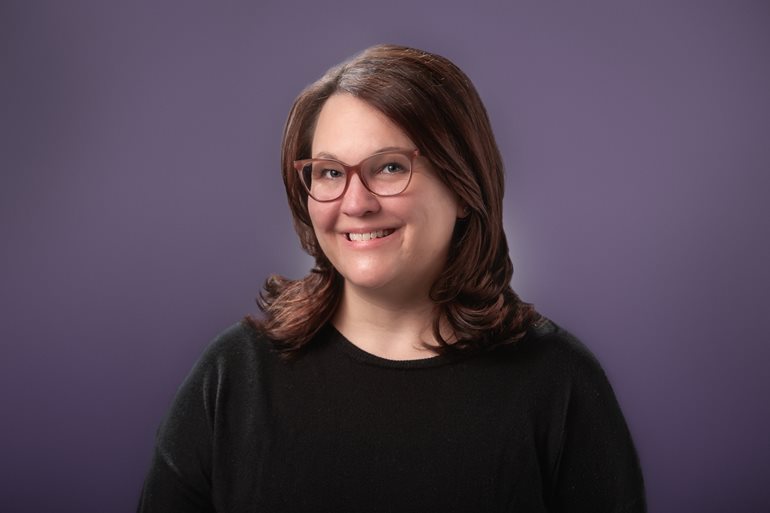 In Dr. Stefanie Iverson Cabral's seven years of teaching at the University of Washington Bothell, she has learned that one of her strongest skills is to take the often-intimidating subject matter associated with biology and make it applicable to students of all backgrounds.
Her impressive skillset complements her teaching philosophy which is centered on engaging each and every student — regardless of interest, major or background. "Stefanie makes things interesting with slide shows, statistical data and even personal stories about her grandfather getting mesothelioma," wrote Kelly Stevens, former student of Iverson Cabral. "You can tell she is genuinely interested in what she is teaching. A three-hour class with her just flies by.
"I am four classes from graduation, so I have taken many classes, and she is by far the best instructor I have had."
In recognition of her commitment to student learning, Iverson Cabral has been named the recipient of UW Bothell's 2022 Distinguished Teaching Award. Created in 1995, the award — which includes a $5,000 honorarium — is based on numerous criteria, including the ability to engage students, exemplify an enthusiasm for and mastery of subject matters, and demonstrate innovation in the teaching and learning process.
"Not only does Dr. Iverson Cabral deeply engage and challenge the students in her classroom, she exemplifies dedication at every stage of the teaching process," said UW Bothell Chancellor Kristin G. Esterberg. "Her exceptional work with students is an example of her commitment to the University of Washington Bothell."
Leaving flashcards behind
Iverson Cabral was taught the importance of being a flexible and creative educator early in her teaching career. Before graduate school, she worked as a teacher's aide in San Jose, California, at the Morgan Center, a school for neurodiverse students, primarily those on the autism spectrum. Her job was to teach math, and she spent months trying to get the students to learn the multiplication table.
Despite her best efforts, she was unsuccessful at first but refused to give up. She decided to switch from her then-traditional methods and abandoned the flashcards and drills. She replaced them with a workbook that incorporated equations to create a story that could be illustrated when the students were done. "The students loved fairy tales, and this was at the time Shrek first came out. I wrote a whole workbook that told the story of Shrek and Fiona that had math problems every sentence or so," she said. "I remember one was 'The villagers came after Shrek with torches. There were seven villagers each carrying two torches. How many torches were there?'"
While she may not have time now to create individual workbooks for every college student she teaches, the experience taught her the importance of meeting students where they are and of being resourceful.
She has honed and developed these skills in her time at UW Bothell's School of Nursing & Health Studies, and to this day, she makes adjustments when needed to better serve her students. In fact, it was her innovative approach to teaching that caught the attention of the DTA committee members. They cited a number of nominations, including this one from a former student:
"I remember this one class about cancer when a bunch of us just weren't getting the lesson, so she created a game that got us involved physically and made the subject easier to grasp. This last quarter, she had a mid-quarter survey to see where students were as far as learning during a pandemic, and once she tallied the results, she adjusted the assignments (not the objectives) for our class to make it a reasonable amount of learning/work. She seems to be genuinely concerned with whether I understand the subject but also whether I am growing from learning about it. By doing this, she cultivates a bond of trust and inspires me to want to do my best."
Illustrating science through art
To further expand her creativity in teaching, Iverson Cabral has developed more than 10 different electives that explore how STEM can be taught in accessible, relatable and interesting ways.
For instance, in her Visual, Learning and Performing Arts elective titled Art and Infectious Disease, students learn about microbiology and the emotional/social impact of infectious disease — all while exploring how visual art can be used to educate, record, process and grieve epidemics.
"While historical pieces focused on how Hansen's Disease [leprosy] or plague can use infectious disease as a warning or tell the story of death, contemporary pieces can explore the role of art in advocacy, stigma, resiliency and healing," Iverson Cabral said. "These concepts are especially relevant today as many of my students are health care workers trying to process the trauma and stress of the current pandemic."
She has also found history to be an effective way to connect basic science with topics related to community, diversity and social justice. This is best exemplified with her recent experiences developing and teaching the course Quarantine and Isolation, which debuted in spring 2020 just as the campus went into remote operations.
"Teaching and learning about quarantine while living through the beginning of a pandemic was impactful for both the students and me," she said.
Teaching history in the present
In this course, Iverson Cabral and her students did their best to learn, understand and process the current pandemic, while also focusing on historical outbreaks. One of the events they studied was the threat of typhus crossing the southern U.S. border during the Mexican Revolution.
"In these discussions, we not only cover the biology of how this pathogen causes disease but also consider how stigma, poverty, immigration and racism shaped the public health response," she said. "The fear over typhus was used as scientific justification for racist public health practices that culminated in the Bath Riots of 1917."
Iverson Cabral explained that people crossing the border were sprayed with a highly flammable mixture of gasoline, kerosine and vinegar to combat typhus, which is spread by body lice. "While this may be effective at killing lice, so is a warm shower. Instead of investing in facilities to give warm showers to people or simply asking to use the facilities on the Mexican side of the border, they developed this public health practice," she said. "It caused a major fire where 27 people died after someone lit a cigarette near the 'bath.' Another disturbing point is that the Nazis heard of this practice at the border and praised it for its effectiveness, and then adapted it for use against people in the concentration camps during WWII."
Iverson Cabral said the typhus content is just one of countless examples of how intertwined infectious disease is with racism, politics and poverty. "Unfortunately, the xenophobia and anti-Asian rhetoric we've seen with COVID-19, in addition to the health inequities in cases and deaths, is nothing new."
While these subjects can be heavy and dark, Iverson Cabral said that her students have told her that these courses and her teaching helps them process the history they are currently living through.
"Throughout the past two years, students commented that knowing how major epidemics and pandemics have unfolded in the past helped give them perspective as they struggled to navigate the current health crisis," she said.
A light in a time of darkness
Chancellor Esterberg said she and the selection committee were "deeply impressed with Dr. Iverson Cabral's exceptional dossier and her innovative approach to teaching.
"The breadth of modalities she has explored during her time at UW Bothell stood out to the committee, and her ability to teach shone during the pandemic as she leveraged that experience to continue reaching and impacting students," Esterberg said.
The Distinguished Teaching Award is among 15 awards of excellence presented by the University of Washington. Recipients of all awards will be honored at a ceremony on June 9 at Meany Hall in Seattle. In addition, Iverson Cabral will be recognized at UW Bothell's Commencement Ceremony on June 15 at the Alaska Airlines Arena at Hec Edmundson Pavilion.
"I have wanted to teach since I was little, so to be recognized with this award means a lot. And it means even more knowing that the nomination came from students," Iverson Cabral said. "UW Bothell is such a special community; I couldn't imagine working with a better group of students or colleagues."
In honor of National Nurses Week May 6-12, we recognize the faculty, staff, students and alumni of our School of Nursing & Health Studies.