On Tuesday, Sept. 26, more than 500 first-year students walked on to the University of Washington Bothell sports field for the 18th annual Convocation ceremony marking the start of the academic year. The blustery day couldn't dampen their spirits as they listened to campus leadership welcome them to their journey toward a University of Washington degree.
Chancellor Kristin G. Esterberg greeted the students — about half of the Class of 2027 — who have come to UW Bothell from as close as Bellevue and as far away as Ethiopia. Her remarks set the stage for the students to feel at home on campus. "You all belong here. Each of you," she said. "However you come to us, whatever is important to you, wherever this path will lead you — you belong here."
She advised the students to take every opportunity to participate in the campus community and to meet the people, both faculty and staff, who are committed to their success. She also noted the importance of meeting people with whom they have seemingly nothing in common and of trying new classes and activities that might be out of their comfort zone.
"Engaging in higher education calls for all of us to listen to others with open minds and hearts," Esterberg said. "It challenges us to learn to have conversations about things that matter with people who think differently from ourselves.
"That's what an education is about. And I believe our democracy depends on it."
In his keynote address, Dr. Yusuf Pisan, associate teaching professor in the School of STEM and the recipient of the 2023 Distinguished Teaching Award, shared his journey coming to the United States from Istanbul to attend college. He acknowledged that the students might be feeling as he did the first days: scared, excited and out of place. "Let me reassure you," he said. "You deserve to be here. You have worked hard to get here."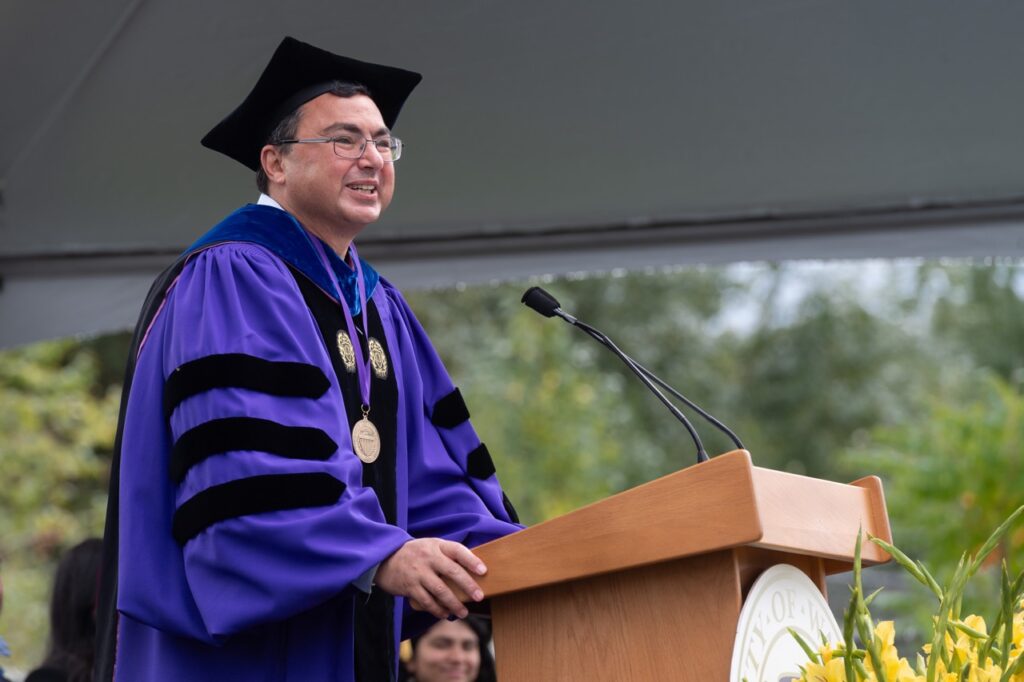 Pisan then offered some advice from more than 20 years of teaching:
Believe in yourself: Shake off the imposter syndrome, shake off the feeling of not belonging and trust yourself to succeed. All of us here, faculty and staff, believe in you and believe that you will succeed.
Build community: This is not a solo adventure. Connect with other students — and to know your professors and advisers. Join student clubs. When you find yourself struggling, reach out to this community. Finding people who understand and who have been through similar experiences will give you the strength to take the next step.
Connect with your professors: Go to their office hours. Ask for help on difficult homework. Use the time to bounce ideas off professors on your future plans. Professors love connecting with students and helping them out.
Embrace diversity: You will find people who are similar to you, and you will meet people who are polar opposites. Each one of you has unique experiences to share. Learn from each other. Extend your empathy. Push yourself to understand what it means to be a first-generation student, what it means to be a veteran, what it means to be a parent attending university, what it means to be alone, what it means to be part of a very large family, what it means to be an international student or a student who is working full-time while attending school. Treat everybody with kindness and learn from their experiences.
And don't forget to have fun along the way … This is a unique time of life. Remember and cherish it.
Connect with your professors. Go to their office hours, ask for help on difficult homework, use the time to bounce ideas off professors on your future plans. Professors love connecting with students, love helping them out.

Dr. Yusuf Pisan, 2023 Distinguished Teaching Award recipient
Sophomore Puneet Birk, president of the Associated Students of UW Bothell, closed the ceremony after leading the new students in the traditional ceremony of putting their UW Bothell pin on their lapel. They all then shared lunch and conversation on the Plaza with members of the faculty and staff as the new students began their journey to belonging at UW Bothell.
The new academic year festivities began with Move-In Day during which students and their parents packed Summit Hall, the first of three new residence halls to open on campus over the next two years.