Growing up, Amina Hilfi (Health Studies, '23) was always fascinated by those who had chosen to dedicate their careers to helping others.
"I would see a firefighter and think 'That's so cool, they get to help others and save lives.' Or I would go to a doctor and think, 'I want to do that, I want to have an impact on a patient's life,'" she said.
From a young age, she also set her sights on a career in health care. She pursued various avenues — such as a nursing assistant course in high school and volunteering at a dental clinic in downtown Seattle — but she didn't quite find an inspirational spark to motivate her one way or another.
It wasn't until she found herself in the patient's seat at Seattle Children's Hospital that she decided pediatrics was her true calling. Little did she know she would someday return to the same hospital as a summer scholar.
A running start
Hilfi's parents emigrated from Iraq after facing tough times due to war. Seeking stability and a better future, they moved to Jordan, where Hilfi was born. The family then moved to Seattle in 2012, again seeking a better future and more educational opportunities for their children.
"My parents both graduated from high school, and they didn't have the opportunity to go to college and achieve their dreams," Hilfi said. "They've always pushed us to reach for the stars, and their support means everything. I wouldn't be here without them."
Hilfi is the oldest of five children and the first in her family to graduate from college. In high school, she participated in a number of student organizations and as many college prep opportunities as she could. She also worked as a peer navigator, helping other students enroll in college and supporting them in their academic journeys.
Through this work, she visited several schools before she discovered her own dream school — the University of Washington Bothell.
Also while attending Chief Sealth International High School, she participated in Running Start at South Seattle College for a year and then completed her associate degree in 2020. After graduating, she applied for UW Bothell's Health Studies program.
Surgery and siblings
At age 15, Hilfi was diagnosed with hyperthyroidism. Initially, the condition was managed with medication, and she received ongoing treatment at Seattle Children's Hospital. After she started college, Hilfi's health began to decline, and it was clear the medication was no longer effective.
"Three years ago, I had life-changing surgery," she said. "It opened up a whole new world of possibilities, and I was going after every opportunity I could to solidify this passion [for health care] and and follow my heart."
As a patient, Hilfi had a front row seat to the world of medicine and patient care. She also had access to medical professionals who could answer her questions about how to pursue a career in medicine.
Eager to find her niche, she began reaching out to doctors she could 'job shadow' — exploring specialties such as family medicine, endocrinology and pediatrics. She also started volunteering in the emergency room at Seattle Children's Hospital and at Harborview Medical Center, where she continues to volunteer today.
One of the main factors that ultimately narrowed her career search to pediatrics was her role as a sibling.
"Being a big sister, I've seen my younger siblings grow up and helped to take care of them and encourage them," she said. "I like how I can be an advocate for children because they're so little. They're not always able to express themselves. It just seems like a fun world to be in pediatrics."
Strong community fit
As a UW Bothell student, Hilfi continued to seek opportunities and resources to help her along her journey. She connected with fellow students pursuing careers in medicine and was a member of the Pre-Med Club.
"It's really a community. We all have aligned interests — and the mentors, the professors, the students, they're all here to support one another. They're sweet, kind-hearted people, and they want to help you succeed," she said. "I felt really supported. It was also a welcoming environment in that there were other females who looked like me and who were on the same path."
Hilfi says a number of faculty and staff helped her complete her degree and pre-med requirements, including Kaitlin Wolf, an academic adviser in the School of Nursing & Health Studies.
"Amina and I met for one-to-one advising appointments countless times," Wolf said, "not only to discuss her path to graduation but also to explore ways to connect on and off campus to contribute to the health of diverse communities.
"She has thrived in this environment, receiving high marks in our courses with community-engaged learning and pursuing co-curricular opportunities outside of the classroom in a meaningful way. This ability to put her education into immediate practice proves that Amina is committed to health equity and driven to succeed."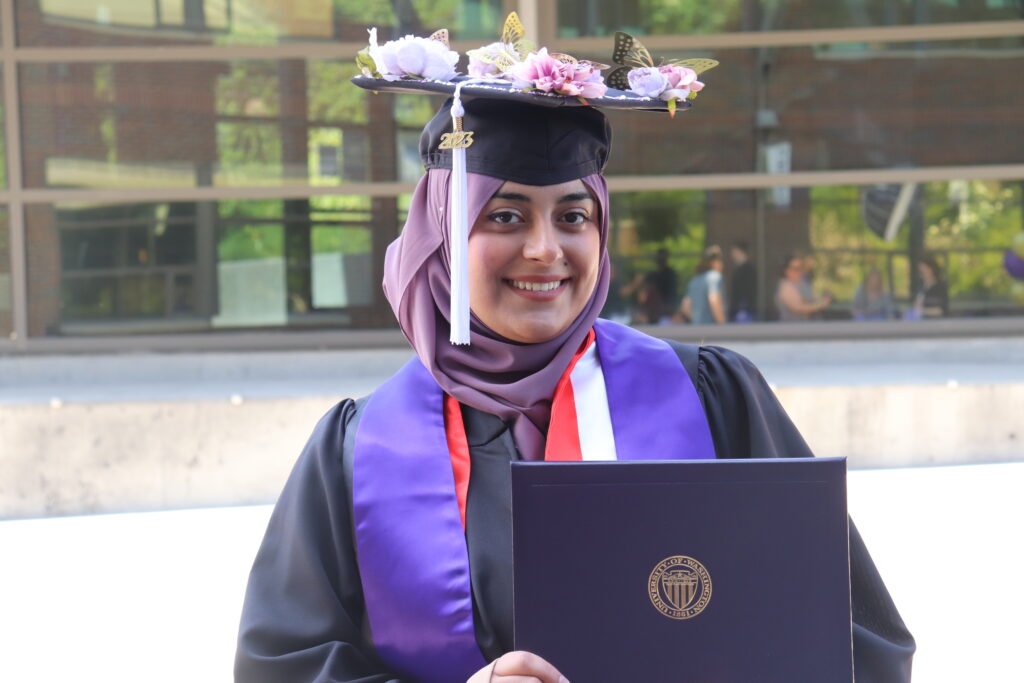 Full circle experiences
When Hilfi learned that Seattle Children's Hospital had a Summer Scholars Program for a variety of areas in medicine, she jumped at the opportunity to apply and hoped she could do cancer research, having lost a family member to cancer.
Her wish came true: Hilfi and another summer scholar were selected to work in the lab of Dr. Shannon Oda, assistant professor at the University of Washington's School of Medicine and a principal investigator at the Seattle Children's Research Institute's Ben Towne Center for Childhood Cancer Research. Oda and her team research cancer immunotherapy and cell therapy, engineering immune cells to target and destroy cancer as a more natural alternative to chemotherapy, drugs and radiation. 
"Amina impressed us with her ability to learn new techniques in a short summer experience. Amina then took it a step further, and did experiments to answer questions that had never been done before, and shared the results of her work to a group of her peers and other scientists. That's the exciting part of discovery research, to uncover something new and to share it with others," Oda said.
Ryma Toumi, a research scientist in the lab, oversaw the day-to-day work of the student scholars, including Hilfi.
"For Amina, who aspires to become a doctor, it's great for her to see that while patients usually receive treatment from doctors, there are dedicated individuals behind the scenes working hard to innovate new therapies. She saw how much involvement and dedication is needed to ensure progress to reach our goal of discovering better therapies against cancer," Toumi said.
"She was highly motivated to contribute to our project, and I believe she quickly realized that even in a short period of time she can contribute and make an impact in our research."
Science and support
Hilfi and the other scholar in the lab were involved in all aspects of operations,  from lab meetings and department seminars to experiments and research discussions. As part of the program, the scholars also attended classes where they learned how to make scientific presentations and do various types of analysis before putting them to practice. 
In the mornings, the two scholars would work together on an experiment, and in the afternoons they would use statistical software to analyze the data they had gathered. In one experiment, they examined how T-cells, a type of white blood cell, can modify the programming of other cells. They conducted their experiments in vitro, meaning in plastic dishes or outside of a living organism. They then shadowed researchers who performed similar in vivo, or living, experiments on mice. 
As much as she enjoyed the science behind her work, Hilfi said the highlight of her summer scholar experience was the chance to work as part of a team, with mentors who fostered her curiosity.
"They are so willing to go above and beyond to be there for you and support you, and to answer the many questions that come up," she said. "I'm so grateful to have had the chance to explore and open the door to the possibilities of research.
"UW Bothell was an important milestone in my career. It really helped prepare me for this research position through hands-on labs and gave me an opportunity to apply what I learned in the real world."
UW Bothell was an important milestone in my career. It really helped prepare me for this research position through hands-on labs and gave me an opportunity to apply what I learned in the real world.

Amina Hilfi, Health Studies '23
Take every opportunity
Hilfi is currently studying for the Medical College Admission Test and plans to attend medical school in 2024.
When asked what advice she would give other students pursuing a career in medicine, she said it would be to get involved, join clubs, reach out to professors and take every opportunity that comes their way.
"I'm so glad I went through different routes to figure out what I want," she said. "Whatever opportunities come to me, I take them and I seek them out.
"I'm so excited to be on this journey. It's hard, but it's a beautiful journey — and I can't wait to see the impact that I can have on someone's future and their health."