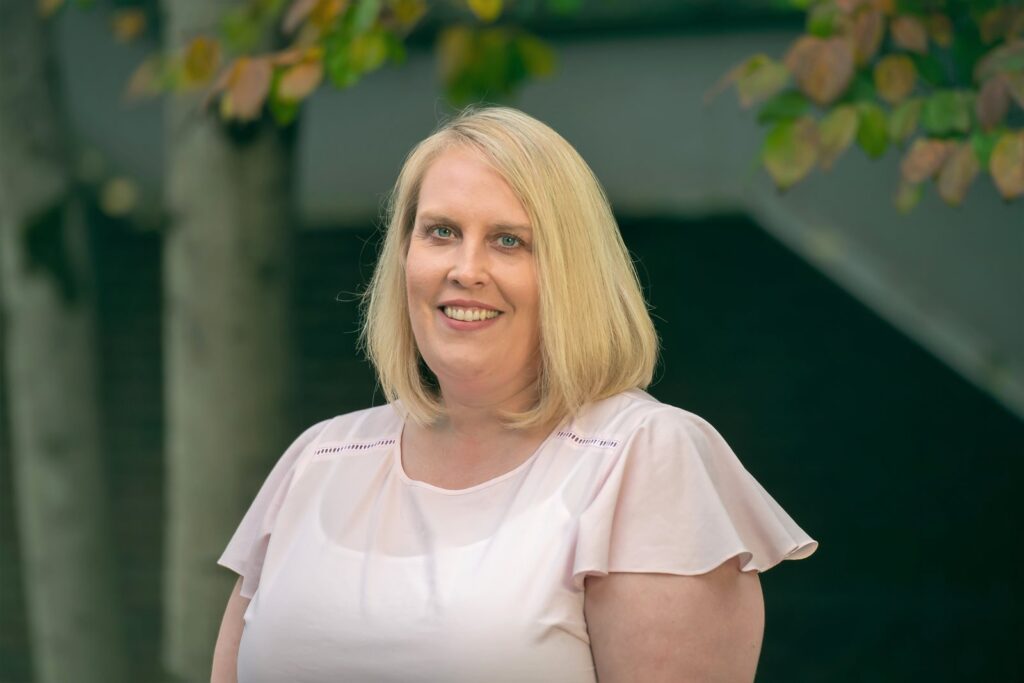 By Douglas Esser
In her nursing career, Jennifer Collins was an emergency medical technician on a volunteer ambulance crew, served as a sports-injury trainer for a college football team, worked the night shift at a critical care hospital and thought about becoming a midwife before she settled on perianesthesia nursing. That's the care of patients undergoing or recovering from anesthesia.
Collins then found what she says is her most satisfying work when she moved into managing other nurses.
"I feel strongly about improving the work that nurses do by removing barriers, helping them grow and develop — and that's where I found my passion," Collins said.
Now, as a nurse manager at Swedish Medical Center's Cherry Hill campus in Seattle, Collins manages about 150 people. She is the front-line leader for daily operations in three units. By taking on greater responsibilities, she is able to make a bigger impact on patient care.
To open the door for further professional opportunities, Collins received a Master of Nursing degree with the administrative leadership option (MN-AL) in 2018 from the University of Washington Bothell.
"It was the step into leadership that helped me understand the importance of education that goes along with it," Collins said.
The MN-AL is a partnership between the School of Nursing & Health Studies and the School of Business. It is particularly valuable for nurses like Collins who are looking to move into higher administrative positions and advance in their profession.
The program serves working nurses with courses that meet one day a week or with an online component that allows them to maintain their full-time job. A cohort of up to 25 nurses is admitted each fall. They can complete the MN-AL in two or three years. Program details are available on the website.
The push for an administrative leadership master's arose from nursing leaders at Swedish. Collins credits the idea to Tamara Uson, Swedish operating room nurse manager, who also was part of the initial cohort that graduated in 2018.
"As we noticed big changes coming into health care overall, the national health care world, we realized that nurse leaders really needed some of the business aspects to be able to lead through some of the changes," Collins said.
The "Swedish cohort" launched in 2016 through the efforts of School of Nursing & Health Studies Professor Mayumi Willgerodt and master's adviser Linda Bale in collaboration with the School of Business.
"It was fun to be the first cohort," Collins said. "It was great to see from conception all the way to graduation."
Some memorable faculty members for Collins include Annie Bruck, her faculty adviser, whose lesson on health care disparities Collins calls life altering.
Stoerm Anderson, senior lecturer, required students to present talks in less than seven minutes using the 20-slides, 20-seconds PechaKucha style. "Stoerm really helped me grow my presentation style," Collins said.
Jerilyn Resnick, principal lecturer emeritus, taught an aesthetics class that resulted in Swedish revamping the artwork at the Cherry Hill campus, Collins said.
From the School of Business, Sophie Leroy, associate professor, offered lessons about how people respond to stress. "I have a notebook from that class that I go back to when I'm struggling with my team or an individual," Collins said.
Surya Pathak, associate professor, took a process management class on a trip to Boeing to demonstrate how business principles apply to health care.
"Health care is its own business, and while it's the business of caring for people and the inventory is patients, it's still business," Collins said. "We have to keep our doors open, and we have to refine our processes and work to make them efficient, effective, safe and reliable."
Collins said Bale, the adviser, and Jamie Shirley, the director of nursing programs, debriefed the cohort after each quarter, asking, "What do you need more of? Less of?"
Because of close collaboration with the faculty, the nurse leaders were able to apply their coursework on the job. Collins said that led to a new staffing model for admitting patients that cut 20 minutes off the "admit time," bringing it to under an hour and generating a savings of $220,000 a year. The change had the added benefit of ensuring that nurses took breaks, which helps to reduce errors and improve patient satisfaction.
Even with Swedish giving the nurses one day a week for classes in a hospital conference room, it was stressful to meet school and work obligations and maintain a family life, Collins said. She and her husband have three children, a 15-year-old son and daughters, ages 9 and 7. Collins made the most of her commute from the Kitsap Peninsula by using her laptop on the ferry. She also stayed on track by focusing on the next assignment instead of being overwhelmed by a whole quarter.
Looking forward to the next step in her career, Collins is pursuing a nursing director position at Swedish. She remains a part of UW Bothell as a member of a committee offering advice on the nursing curriculum, mentoring Bachelor of Nursing students and telling nurses who are considering the MN-AL how it can open doors for them.
"It encourages people to think bigger, think systems, think programs and how you can influence others," she said.